UTILIZING ARTIFICIAL INTELLIGENCE / MACHINE LEARNING TO MONITOR BOTH PHYSICAL AND MENTAL HEALTH … AND REACT IN REAL TIME
$7.5 MILLION IN PROJECTED REVENUE FROM LICENSING & PARTNERSHIPS
AI/ML Innovations Inc. Profile
WHAT DOES AI / ML DO? THE LAYMAN DESCRIPTION EASY AS 1-2-3
1. AI/ML Innovations Combines
Wearables

+ Artificial Intelligence (AI)

+ Machine Learning (ML)
2. To Deliver
Real-time data capture of our physical or mental health

+ Fast Feedback
3. Resulting In
Ability To Make Immediate And Better Health Choices.

Better Recovery Outcomes

Healthy Living Objectives
In addition to the obvious benefit to individuals, the other major beneficiaries of $AIML are:
SOCIETY

- If An

"Ounce Of Prevention Is Worth A Pound Of Cure"

The Mass Deployment Of $AIML Solutions Directly Reduces Costs And Stresses On The Overburdened Healthcare Infrastructure Of Every Country

WORK FORCES

- By The Same Token, Companies And Their Workforces Are Significantly More Efficient When Their Physical & Mental Health Are Optimized. Companies Deploying $AIML Solutions Gain A Significant Hiring Advantage
AI/ML Innovations Engages Octagon Media/Wall Street Reporter for Market Awareness and Announces Stock Option Grant
3RD PARTY VALIDATION - SUCCESSFUL PROOF OF CONCEPT WITH BILL AND MELINDA GATES FOUNDATION
WHILE MANY SMALLCAP COMPANIES "TALK" HEALTHCARE - $AIML WALKS THE WALK WITH REAL LICENSING CONTRACTS AND PARTNERSHIPS
$AIML has completed 2 acquisitions in digital health monitoring and digital mental health, leading to B2B and B2B2C SaaS business models with multiple revenue streams.
$AIML TWO AREAS OF FOCUS - CHRONIC DISEASE & MENTAL HEALTH
CHRONIC DISEASE SOLUTION - HEALTH GAUGE
Health Gauge is an end-to-end solution that is customized for each user, thereby empowering them to participate in their health management to an extent that was never possible before now.
More than just lip service, Health Gauge current licensing contracts are projected ~ $7.5 MILLION in annual revenue from some of the biggest enterprise clients in the world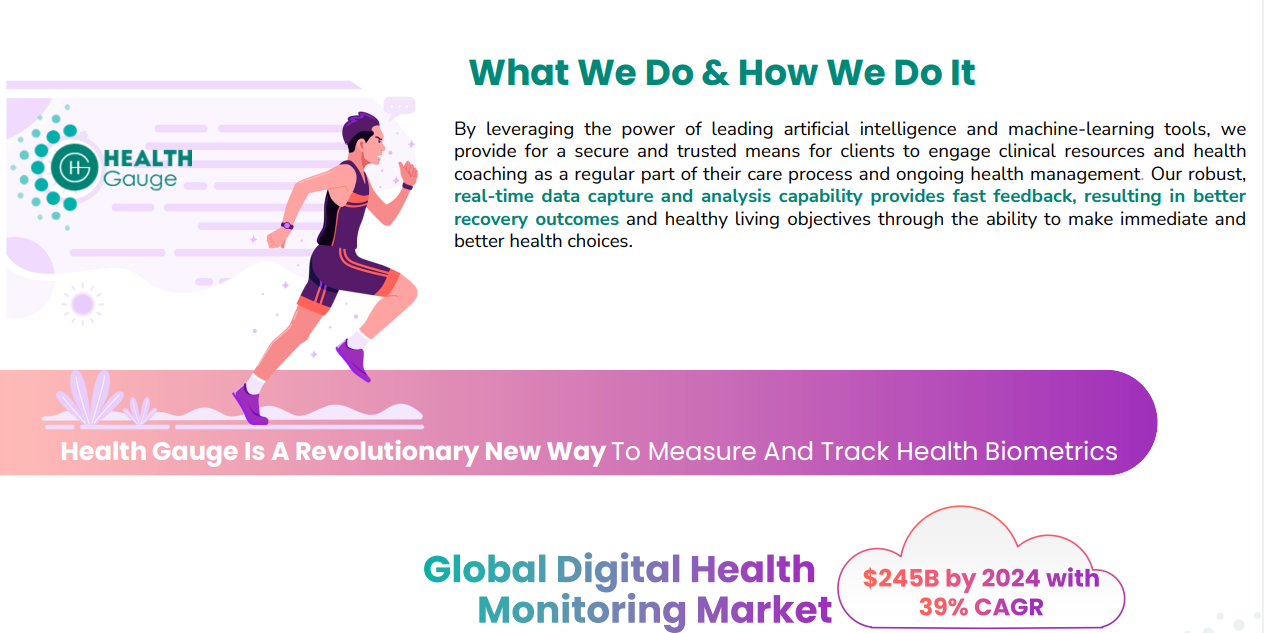 HEALTH GAUGE GRANTED LANDMARK US PATENT
On February 1, 2022 Health Gauge was granted a patent by the United States Patent and Trademark Office
(US Patent No. 11183303), titled "Wearable Health Monitors and Methods of Monitoring Health", regarding Health
Gauge's proprietary wearable health monitoring solution. The Patent includes the use of multiple configurations of
wearable health monitors (hardware designs), in conjunction with methods of analyzing bio-signals and monitorin
health metrics (via Health Gauge's AI-driven software) for the purpose of assisting the user in achieving their personal
health and wellness objectives.
HOW IS HEALTH GAUGE DIFFERENT FROM FITNESS WEARABLES LIKE APPLE?
HOW IS HEALTH GAUGE DIFFERENT FROM A DOCTOR'S VISIT
HEALTH GAUGE IS ALSO AN EXAMPLE OF $AIML PROVEN M&A STRATEGY
MENTAL HEALTH SOLUTION - TECH2HEAL - MULTI-YEAR MULTI-MILLIOIN DIGITAL MENTAL HEALTH CONTRACTS WITH LEADING EUROPEAN COMPANIES
IMMINENT LAUNCH INTO US MARKET
$AIML & Tech2Heal are preparing for imminent launch into the U.S. market, with a basket of wellness and health-tech products and services utilizing a unique blend of proprietary digital assets, remote live counseling, and a physical wellness center.
TECH2HEAL IS ANOTHER EXAMPLE OF $AIML PROVEN M&A STRATEGY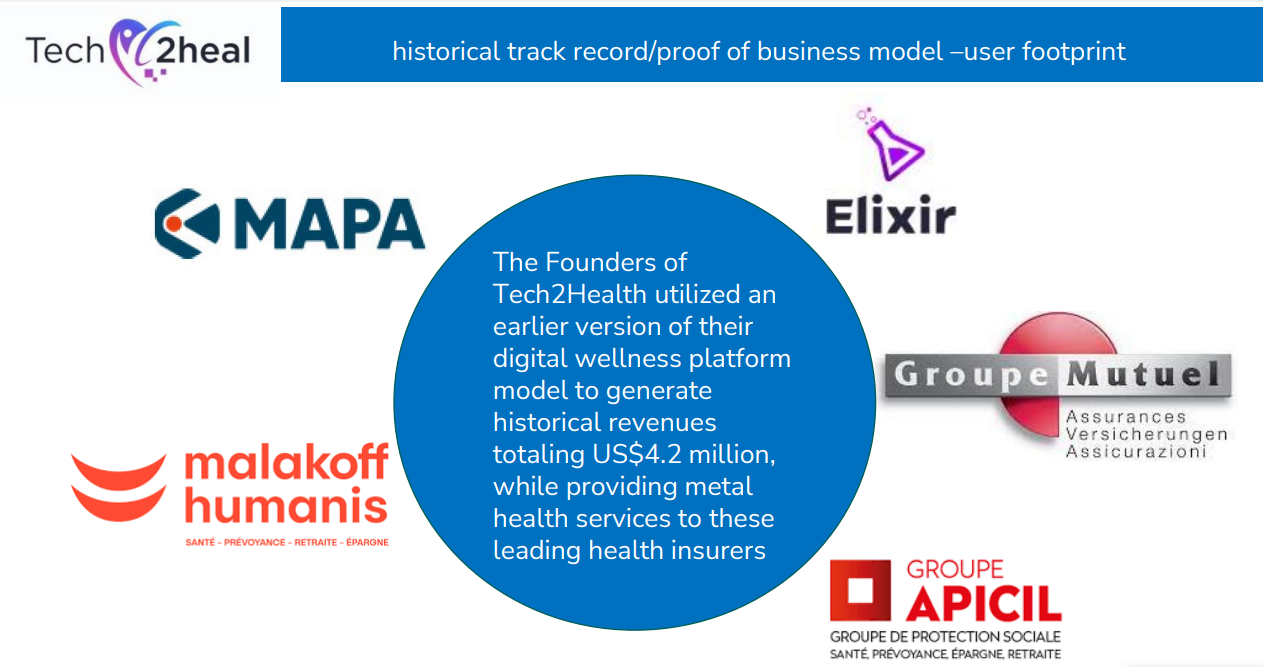 HOW $AIML SOLUTIONS DRIVEN BY ARTIFICIAL INTELLIGENCE AND MACHINE LEARNING WILL HELP SOLVE MAJOR SOCIETAL PROBLEMS
HEALTH GAUGE
TECH2HEAL
$AIML IS OFF TO A GREAT START - BUT THERE IS PLENTY OF GROWTH AHEAD

HOW B2B GROWTH HELPS $AIML ACQUIRE THOUSANDS OF CUSTOMERS AT ONCE
3RD PARTY VALIDATION - OVER $330,000 IN GRANTS FROM PUBLIC SECTOR
AI/ML's Health Gauge has been awarded $330,000 in grants from Public Sector Innovation Partners, as it continues to forge numerous strategic private and public sector relationships. The grants allow $AIML to best leverage the human, technological and financial resources of world-class organizations in order to most efficiently and effectively commercialize its AI-driven, health-tech platform.
NATIONAL RESEARCH COUNCIL (NRC) CANADA
Health Gauge has received grants totaling $130,000 from the NRC, through four separate R&D grants over the past four years which were applied towards R&D and corporate resources.

NRC is Canada's largest federal research and development organization.

The NRC partners with Canadian industry to take research from the lab to the marketplace.

Health Gauge has worked with the NRC since 2016, which has aided in local and international events to support new trade strategies for the Company's business.
ALBERTA INNOVATES
Health Gauge was awarded a $140,000 Alberta Innovates development grant, which was instrumental in establishing Health Gauge's initial digital platform and devices

Alberta Innovates continues to provide guidance and input to Health Gauge in the areas of market testing and commercialization.

Alberta Innovates is the Canadian province's largest research and innovation agency, supporting advancements in health research, better patient care and outcomes, and reduction in the health-care system costs.
MITACS CANADA
AI/ML has received more than $60,000 in grant funding and acquired a number of key resources by working with MITACs.

Mitacs is a national, not-for-profit organization that has designed and delivered research and training programs in Canada, working with 70 universities and 6,000 companies for 20 years.

Health Gauge has been supported by MITACs for nearly four years in helping hire top-line development resources in advanced fields of AI/ML work.
EXPERIENCED TEAM WITH 100+ YEARS OF RELEVANT EXPERIENCE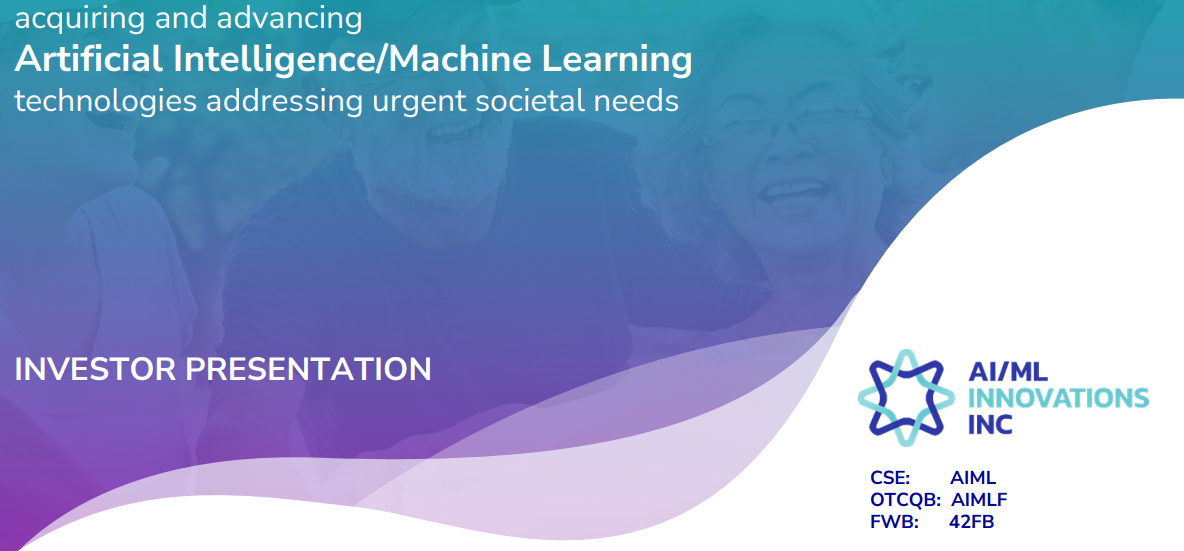 Last changed at 17-May-2022 11:13AM by AGORACOM-BM