Treaty Creek Ranked As One Of The Top Ten Gold Deposits Globally
Indicated Mineral Resource of 23.37 Million Ounces of Gold Equivalent
American Creek Resources Profile
WHY AMERICAN CREEK RESOURCES?
20% Ownership of 30 Million Gold Equivalent Ounces at 1g/t Au/Eq ( Inferred & Indicated )

2.1 Billion Pounds Copper Indicated at 0.15%

The Treaty Creek Project in BC's Golden Triangle hosts the potential to be a Top-Tier

deposit that could support a large, long-life mine complex in a Tier 1 mining jurisdiction

Potential for numerous district-scale deposits including one called Goldstorm

73,000+ meters drilled since resource estimate – significant increase in size and grade

Open in all directions including depth – still haven't found the edges

Recognized as a Top Ten Deposit Globally
Updated Mineral Resource Estimate on the Goldstorm Deposit at the Project:
Indicated Mineral Resource of 23.37 million ounces (Moz) of gold equivalent (AuEQ) within 641.93 million tonnes (Mt) at a grade of 1.13 g/t AuEQ; comprised of:
18.75 Moz of gold (Au) at 0.91 g/t, 112.44 Moz of silver (Ag) at 5.45 g/t, and 2.18 billion pounds (Blbs) of copper (Cu) at 0.15 %.
Inferred Mineral Resource of 7.35 Moz AuEQ within 233.90 Mt at a grade of 0.98 g/t AuEQ; comprised of:
5.54 Moz Au at 0.74 g/t, 45.08 Moz Ag at 5.99 g/t, and 848.00 million pounds (Mlbs) of Cu at 0.16 %.
CS-600 Domain is comprised of an intrusive hosted gold-copper porphyry system and hosts an Indicated Mineral Resource of 9.86 Moz of AuEQ within 278.02 Mt at a grade of 1.10 g/t AuEQ; comprised of:
6.22 Moz Au at 0.70 g/t; and 1.98 Blbs of Cu at 0.32 %.
A 1.0 g/t sensitivity cut-off for all the Indicated Mineral Resource (open-pit and underground) measures 15.18 Moz of AuEQ at a grade of 1.48 g/t AuEQ; comprised of:
12.29 Moz of Au at 1.20 g/t, 72.07 Moz of Ag at 7.02 g/t and 1.35 Blbs of Cu at 0.19 %.
Improved the definition and spatial continuity of the Goldstorm porphyry system which is comprised of six separate mineral domains over an area that measures approximately 2,500 m in length, 1,000 m in width and 1,400 m in depth.
The Goldstorm Deposit remains open to the south, north, northeast and at depth.
Treaty Creek's Drill Results, and the Best Hole to Date:
Drill hole GS-21-113-W2: 1.12 g/t Au Eq over 1,497.5 meters including 2.48 g/t Au Eq over 168.0 meters;

Drill hole GS-22-134: 20.86 g/t Au Eq over 4.50 meters within an intercept of 25.5 meters of 9.96 g/t Au Eq;

Drill hole GS-22-143: 70.96 g/t Au Eq over 1.00 meter within an intercept of 2.00 meters of 39.15 g/t Au Eq;

Drill hole GS-20-65: 1.161 g/t AuEq over 930 meters including 2.12 g/t Au Eq over 348 meters;

Drill hole GS-20-92: 0.999 g/t Au Eq over 531 meters including 3.286 g/t Au Eq over 82.5 meters;

Drill hole GS-20-91: 0.856 g/t Au Eq over 1,033.5 meters including 1.112 g/t Au Eq over 532.5 meters;

Drill hole GS-21-113-W1: 4.07 g/t Au Eq over 78.0 meters within 1.30 g/t Au Eq over 459.0 meters; • Drill hole GS-20-83: 0.821 g/t Au Eq over 921 meters including 1.078 g/t Au Eq over 345 meters;

Drill hole GS-20-73: 0.932 g/t Au Eq over 775.5 meters including 1.502 g/t Au Eq over 229.5 metres;

Drill hole GS-19-42: 0.849 g/t Au Eq over 780 meters including 1.275 g/t Au Eq over 370.5 meters within the 300 horizon zone;

Drill hole GS-22-159: 1.12 g/t Au Eq over 489 meters including 1.71 g/t Au Eq over 180 meters
The Treat Creek Project: Positioning For A Takeover By A Major Producer
American Creek continues to own 20% of the Treaty Creek Property.

Ownership interest is fully carried until a production notice is given by the Operator

Until such time, Tudor is required to fund all exploration and development costs without any contribution from American Creek

Located in a Tier 1 mining jurisdiction, Golden Triangle, Northwest BC
Both American Creek and Tudor have now divested the majority of their other assets into separate entities, and as such, their respective share of Treaty Creek accounts for the remaining value in each company. Tudor owns 60% of Treaty Creek while American Creek owns a fully carried 20% creating a 3:1 ownership relationship (American Creek's ownership is approximately 33% of Tudor's)
Ken Konkin, Tudor President and CEO stated:
"The potential of this thing is incredible!"
"Just be patient. I think we will be rewarded. This is absolutely a dream project in probably one of the most stable geopolitical areas out there. We're just blessed we've got this for sure."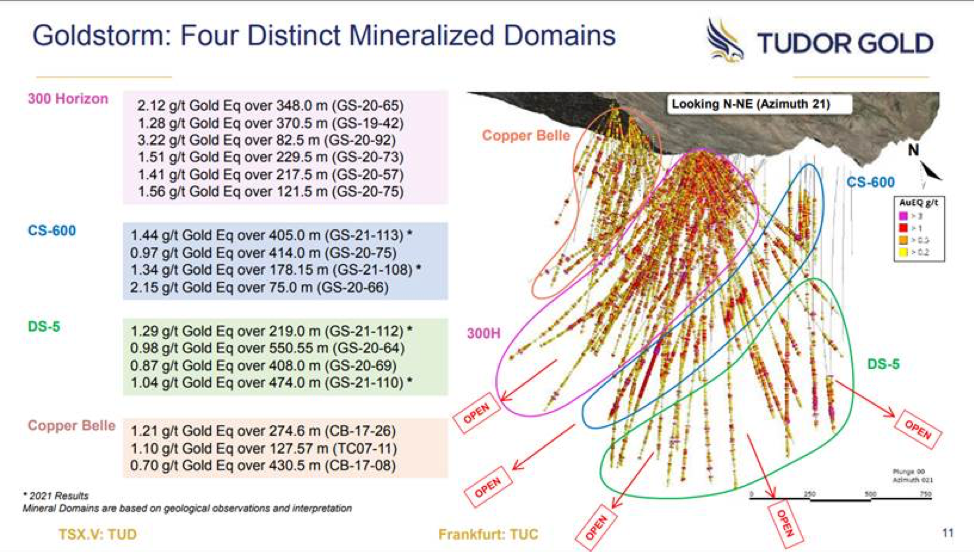 Copper in Goldstorm:
1.426 billion pounds of copper (646,823Mt)
1.096 billion pounds (Measured and Indicated) and

330 million pounds (Inferred)

CS-600 zone has enriched values of copper and now has enough volume and grade to be a potential copper mine irrespective of the gold and silver
String of Pearls – Just Really Big Pearls!
Treaty Creek property hosts potential for multiple deposits starting with the multi-million-ounce

Goldstorm zone

with higher grades and better logistics than the adjoining Seabridge KSM deposits (largest undeveloped gold deposit in the world by reserves).

Treaty Creek property is located in the

same hydrothermal system as the Pretivm and Seabridge deposits.

Treaty Creek geology and geophysics are indicating the potential for similar scale deposits to those found on the neighbouring Seabridge and Newcrest properties.

Eric Sprott Strategic Shareholder with 52.5m Shares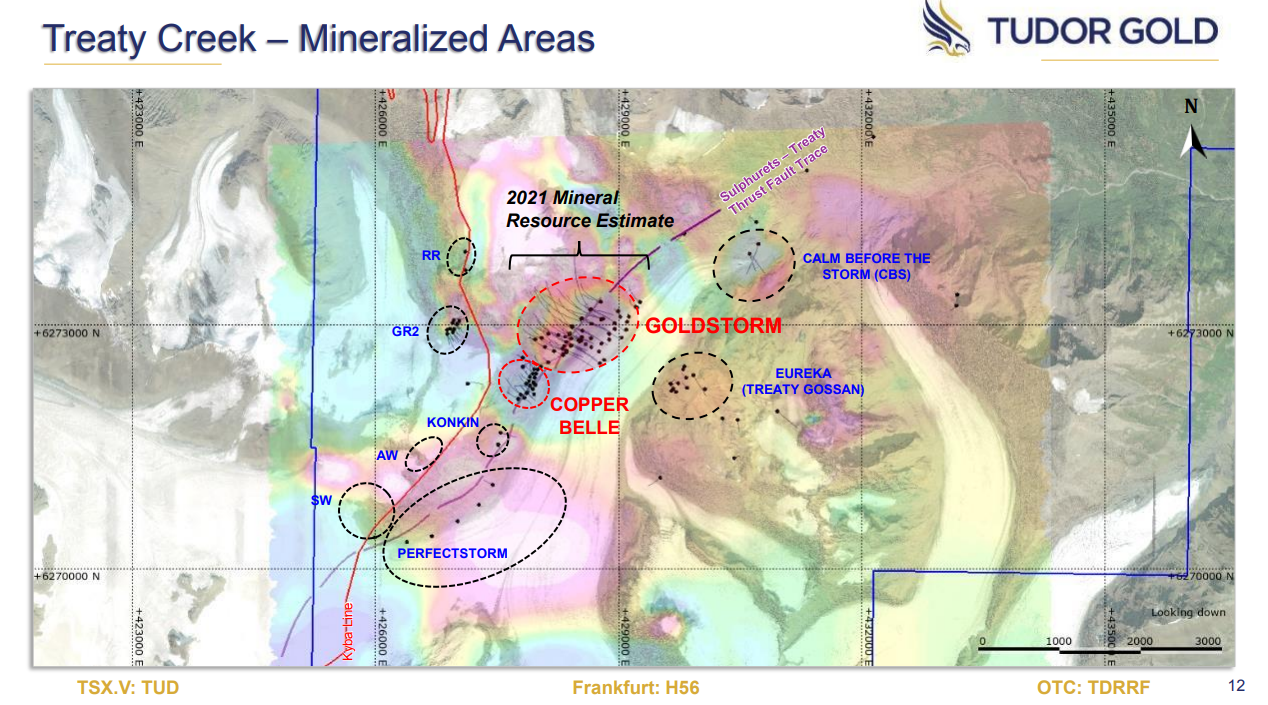 Recent Drilling and Surface Sampling Highlights:
GOLDSTORM
GS-21-125

intercepted the DS5 domain, which averaged

0.82 g/t AuEq over 258.0 m

, including

1.91 g/t AuEq over 85.4 m

. The hole ended in gold-copper mineralization as unstable ground conditions prevented the completion of the hole.

GS-21-127

, the farthest northeast step-out hole completed to date (approximately 200 m northeast of GS-21-119), targeted the deep DS5 domain. This hole successfully intersected the top of DS5 and ended in mineralization before being shut down due to poor field conditions. Results include

0.75 g/t AuEq over 46.5 m

and

0.43 g/t AuEq over 70.0 m

, which extended to the end of the hole. This target will be re-drilled in 2022.

GS-21-128

targeted the easterly extension of the CS600 and DS5 domains. The hole intercepted

0.61 g/t AuEq over 43.9 m

within CS600. The hole ended in mineralization as field conditions prevented completion of the hole; the final

17.6 m averaged 1.31 g/t AuEq

. This intersection is currently interpreted to be the upper part of DS5 and plans are to re-drill this target in 2022.
CALM BEFORE THE STORM
CBS-21-03

returned a near-surface interval that graded

0.85 g/t AuEq over 25.5 m

and a second significant interval of mineralization farther down the hole that averaged

0.61 g/t AuEq over 33.15 m, with an enriched mineralized core of 0.94 g/t AuEq over 10.0 m

.

CBS-21-03

confirms that gold mineralization is gaining strength westward and to depth.
EUREKA SURFACE SAMPLING
Channel sample line EK-21-CHN-01

extended the Eureka Zone 300 m to the north of previous drilling intercepts with a continuous surface sample line returning

0.72 g/t AuEq over 139.0 m, including 1.01 g/t AuEq over 69.0 m

.

Plans for 2022 include drilling the area beneath this channel sample line, as well as testing the current model that Eureka may be the eastern extension to surface of the DS-5 domain of the Goldstorm Deposit.
GEOLOGY
The Treaty Creek property is located in the richest part of B.C.'s Golden Triangle "extending from near the town of Stewart north to the Treaty glacier" – Kyba, Nelson 2014 (regional government geologists)
Geology, geophysics and extensive drilling all confirm that the Treaty Creek Project hosts world class gold/copper deposits with good infrastructure in a politically stable jurisdiction (British Columbia).

Part of the Sulphurets Hydrothermal System (SHS) that contains 188M oz gold, 1.2B oz silver and 55B lbs of copper (all categories) to date. The system extends from the Kerr deposit in the south to the Calm Before the Storm zone in the north. Deposits occur in a rhythm or sequence every 2-3 km.

Northern portion of the SHS has similar geological, geophysical, structural signatures and potential scale as the more developed southern half of the SHS ( including Seabridge's KSM Project, now the largest undeveloped gold deposit in the world by reserves).

Drilling into similar type of geophysical anomalies that resulted in major discoveries at Seabridge and Pretivm to the south.
STRUCTURE
Joint Venture with Tudor Gold (operator) whose founding CEO, (the late) Walter Storm, was an integral part of Osisko's development and sale of its Canadian Malartic gold mine ($3.9 billion).

Ken Konkin, Tudor CEO is the former head geologist for Pretivm who developed the nearby high-grade Brucejack mine which was acquired in early 2022 by Newcrest Mining for $3.5 billion CAD. Ken knows the SHS region intimately.

American Creek holds a 20% FULLY CARRIED INTEREST (free ride) meaning AMK is not required to contribute toward exploration and development until a production notice is given.
LOGISTICS∙
Treaty Creek is located just 25km from highway 67. Seabridge Gold has constructed a bridge over the Bell river and the first 15km of a road onto Treaty Creek. The road is projected to be completed in 2023. Seabridge is also constructing a power substation to take power from the NW high voltage Transmission Line along highway 67 to the Treaty Creek property.

Two deep-sea bulk-tonnage ports are located in Stewart, BC, just 150km down highway 67.

Treaty Creek has plenty of water
POTENTIAL


Treaty Creek hosts potential for multiple mines starting with a multi-million-ounce open pit mine at the Goldstorm zone with higher gold grades and better logistics than the KSM.
Last changed at 19-May-2023 02:07PM by AGORACOM