Canada Carbon: very rare high purity, nuclear graphite quality
100% interest: 4 strategic graphite properties / 2 past producing graphite mines in Ontario and Québec
Message: Jay Currie - August Seeking Alpha Newsletter
Good to refresh the mind as we continue to a mine. 
Canada Carbon: High Purity Graphite In Quebec
Aug. 25, 2020 2:53 PM ET
Summary
Preliminary positive orientation from Quebec regulator.
Minimal CAPEX to bring Miller Graphite Mine into production.
Sale of non-core royalty for cash.
CCB introducing its high purity, nuclear grade, graphite to potential users.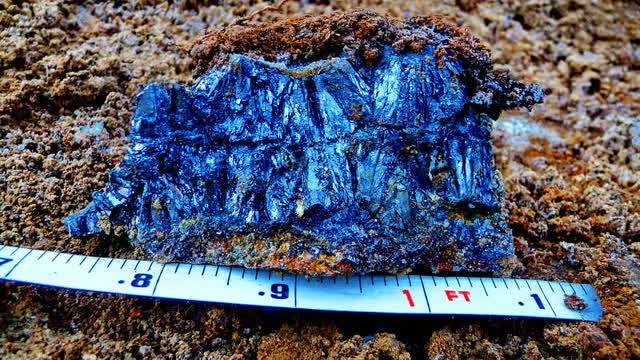 One of the effects of COVID is that it is easy to lose track of stories and companies you have been following. While it feels like everything has been in suspended animation since March, the fact is that many juniors have been able to modify their operations to accommodate the lockdowns and travel restrictions.
Bruce Duncan, CEO of Canada Carbon (V.CCB), has been busy and two recent press releases just scratch the surface.
The first, issued July 27th, Canada Carbon Obtains Preliminary Positive Orientation from the CPTAQ is the culmination of several years work on preparing the Miller Graphite project for permitting. As the release states, "Since submitting its application to the CPTAQ in 2016, Canada Carbon has provided extensive third-party reports addressing the geological, hydrogeological, hydrological, economical, ecological and forest management impacts of the Miller Project."
The fact that the CPTAQ has given a preliminary positive orientation with a few, not very onerous, conditions, triggers a 30 day[ON1] period for additional information to be filed. As well, a public meeting[ON2] may be requested with the CPTAQ. However, the preliminary positive orientation starts the clock towards a final decision.
In the months leading up to the preliminary positive orientation, the CPTAQ received submissions and requests for information from the public which were then passed on to Canada Carbon. In virtually every case, Canada Carbon had already prepared third party reports which directly addressed the issues the public raised. Co-ordinating this response kept Duncan and his CFO, Olga Nikitovic very busy as they stayed at home waiting out the virus. To be responsive they had to know what was in their 3rd party reports and how to use that material to advantage.
Just how well Canada Carbon did is reflected in the minimal "conditions" imposed by the CPTAQ in its preliminary orientation. [ON3] Canada Carbon will, however, press for a good deal of flexibility in the land on which it will be able to operate as it still is in the process of determining where the best resource locations on the property are.
While there are still more than a few permits to get and bridges to cross, the fact is that Canada Carbon is well on its way to obtaining the permits required to mine the high purity graphite at the Miller project. It bears repeating that the CAPEX at Miller is minimal. Essentially, once all the regulatory hurdles have been cleared, CCB will hire a contractor to actually mine the graphite. Details of where the material will be processed still needs to be evaluated. CCB has already processed a sample of its material to a concentrate stage so it has proof of concept. All of which means that, if the demand is there, CCB can be up and running shortly after it receives its final permits.
While all of this is excellent news, the junior resource market, aside from precious metals has been going through a slump. Which means that financing has been tough to find. Duncan recognized that and was very pleased to announce the sale of a non-core asset: its royalty in the Red Chris South property. In the July 29th press release announcing the sale Duncan commented, "This sale of a non-core royalty unlocks additional cash and allows us to focus on Canada Carbon's core business of advancing the Miller Project toward production in a manner that will minimize environmental impact. We appreciate the efficiency and professionalism of the Vox team and we look forward to reaching an outcome on the ROFR with Newcrest; then promptly completing the royalty sale." Once completed the sale will yield $225,000 cash. Not a lot of money but very useful to CCB which, at the moment, has very few significant expenses.
Along with clearing the regulatory hurdles, Duncan has also been working on introducing Canada Carbon's ultra high purity graphite to potential users. Nothing press releasable yet, but a number of very high technology projects are looking at the Miller graphite. Samples are being requested and sent. Word is out in the scientific, research and engineering world that CCB's nuclear grade graphite provides the five 9s purity essential for everything from mini-nuclear reactors to space applications.
The other thing Duncan has been dealing with is interest in CCB from investment entities looking for alternative and green investments. Again, nothing which can be publicly disclosed as yet. However, COVID has not stopped large investment funds from reaching out to see what might be possible with Canada Carbon.
From the investor's perspective, CCB is trading between $0.25 and $0.35 on decent volumes. The preliminary positive orientation and the sale of the royalty served to firm the share price. Positive news, an off take agreement, a firm order from a R&D entity or a significant investment by a major fund could all trigger significant share price appreciation.
Disclosure: I am/we are long CCB.v.
Please login to post a reply