Lithium Exploration Adjacent to Nemaska Lithium's Whabouchi property in Quebec
Message: Durango To Begin Dewatering Historical Trench at Dianna Lake Silver, Sask.
Did you know? You can earn activity points by filling your profile with information about yourself (what city you live in, your favorite team, blogs etc.)
Vancouver, BC / August 08, 2017 - Durango Resources Inc. (TSX.V-DGO) (OTC- ATOXF) (Frankfurt-86A1), (the "Company" or "Durango") announces that further to the news releases dated May 2 and May 11, 2017, the dewatering of Pit#1 on its Dianna Lake Silver Project in northern Saskatchewan will commence shortly.
As previously announced on September 6, 2016, Durango's team was successful in locating and mapping nearly all historical drill holes, pits, and trenches. In addition, several new silver, copper, and gold-bearing showings were discovered during the 2016 reconnaissance program. The program encountered high-grade silver and copper anomalies which were taken in channel samples from the main zone of historic workings and grab samples from the surrounding areas.
Durango's exploration crew is commencing the follow-up program for the wholly owned Dianna Lake property beginning in mid-August which will entail further investigation of the anomalies discovered in 2016 and will also include work on historical Pit#1 (see news releases of July 13, 2016 and September 6, 2016). In 2016, Pit #1 was flooded with water, however, based on historical documentation, the highest-grade silver material was recovered from this historic pit. Durango plans to dewater Pit#1, and the Company plans to fully sample the pit in the upcoming exploration campaign.
Marcy Kiesman, CEO of Durango, comments, "Durango looks forward to dewatering and sampling the historical pit, and looks to verify the historically documented silver results of Dianna Lake during the August program. Durango remains positioned for discovery at the Dianna Lake Silver prospect in Saskatchewan and will provide further details on the results of the exploration program as they become available."
Figure 1: Sampling Locations Within Historical Pit Area (Highlights)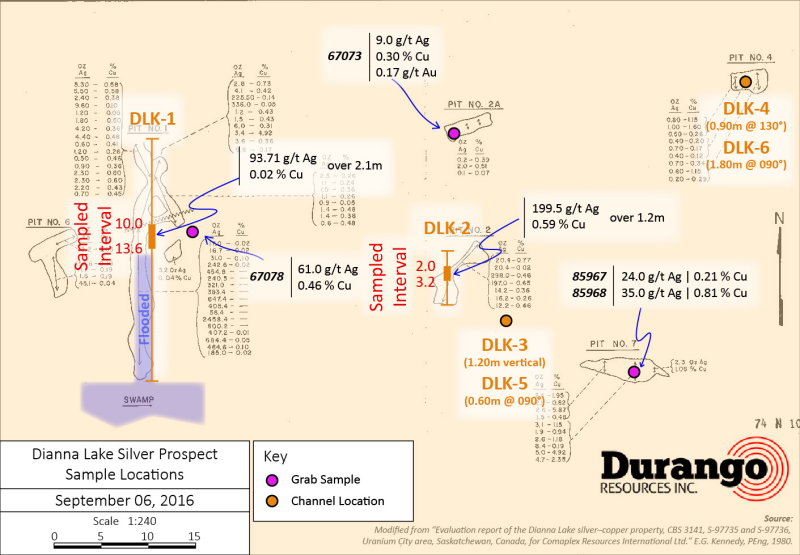 Click Image To View Full Size
Full-size image at: http://www.durangoresourcesinc.com/dianna-lake-silver-saskatchewan/
About Dianna Lake Silver, Saskatchewan
Durango's Dianna Lake silver prospect covers an historical area in which, from 1968 to 1969, two-high grade, primarily native silver-bearing exploration targets of between 30,000 tonnes and 50,000 tonnes grading five to ten ounces per ton silver, approximately 600 meters apart, were determined by trench grab sample assays, according to an historical evaluation report composed for Comaplex Resources in 1980 (1)*.
* Potential quantities and grades are conceptual in nature. There has been insufficient exploration to define a mineral resource, and it is uncertain if further exploration will result in the target being delineated as a mineral resource.
References
(1)"Evaluation report of the Dianna Lake silver-copper property, CBS 3141, S-97735 and S-97736, Uranium City area, Saskatchewan, Canada, for Comaplex Resources International Ltd.," E.G. Kennedy, P.Eng., 1980.
About Durango
Durango is a natural resources company engaged in the acquisition and exploration of mineral properties. The Company has a 100% interest in the Mayner's Fortune and Smith Island limestone properties in northwest British Columbia, the Decouverte and Trove gold properties in the Abitibi Region of Quebec, and certain lithium properties near the Whabouchi mine, the Buckshot graphite property near the Miller Mine in Quebec, the Dianna Lake silver project in northern Saskatchewan, and the Whitney Northwest property near the Lake Shore Gold and Goldcorp joint venture in Ontario.
For further information on Durango, please refer to its SEDAR profile at www.sedar.com.
Marcy Kiesman, Chief Executive Officer
Telephone: 604.428.2900 or 604.339.2243
Facsimile: 888.266.3983
Email: [email protected]
Website: www.durangoresourcesinc.com
Forward-Looking Statements
This document may contain or refer to forward-looking information based on current expectations, including, but not limited to Durango achieving permits, engaging in future drilling or work programs, raising additional funds, exploration results on any of its properties or the and the impact on the Company of these events. Forward-looking information is subject to significant risks and uncertainties, as actual results may differ materially from forecasted results. Forward-looking information is provided as of the date hereof and we assume no responsibility to update or revise them to reflect new events or circumstances. For a detailed list of risks and uncertainties relating to Durango, please refer to the Company's prospectus filed on its SEDAR profile at www.sedar.com.
Neither TSX Venture Exchange nor its Regulation Services Provider (as that term is defined in the policies of the TSX Venture Exchange) accepts responsibility for the adequacy or accuracy of this release.
Please login to post a reply