Positioned To Be A Leader In The Integrated Healthcare Space
Offering innovative healthcare that provides body and mind wellness for patients through its clinics with digital and telemedicine
Empower Clinics Inc Profile
Empower is an integrated healthcare company that provides body and mind wellness for patients through its clinics, with digital and telemedicine care, and world-class medical diagnostics laboratories.
Clinics in both the US and Canada, with

a stated goal of 34 clinics Operational - In Development
a pipeline of 15 clinics already announced (includes

SIGNED LEASES with construction underway

,

LEASES Signed & Pending Signature, PENDING LOI'S & LEASES) Per Aug 16 release

each location expected to generate $2,560,000 - $3,600,000 in annual revenue.
including a partnership with REXALL/PHARMA PLUS PHARMACIES + Pharmasave+ IDA Pharmacy
8 The Medi Cllective Clinics Open

A leading medical diagnostics laboratory

Processing thousands of COVID-19 specimens
Developing novel COVID-19 testing protocols for CE, FDA EUA and Health Canada approval
Telemedecine platform
Patient Count 800K plus
Highlights
2020 revenues at $3,209,196

representing 58% year over year growth.
Record Q1 2021 Results with Revenues Over $2.5M CAD

258% year over year increase,

excess of $7,900,000 CAD in cash and a vastly improved balance sheet

Q2 2021 revenue

$861,826 vs.

$85,775 for

Q2 2020

representing 1005% year over year growth

$5,776,335 resulting from the exercise of warrants and stock options.
Six-month pilot program with PharmaChoice to sell Kai Care saliva test kits.

PharmaChoice independently owned Canadian Pharmacy network with more than 900 locations covering the PharmaChoice and RxHealthMed brands.

Acquisitions: In June 2021, the Company signed a non-binding term sheet to acquire Medisure + Sure Canada Inc. who are a leading Canadian manufacture of medical devices for patients managing diabetes.
COVID-19 Referral Agreement with Air Canada
Announced Sale of Its Cannabis Related Assets
Q3 Revenue $405,707 + 372% compared to $85,960 in Q3 2020
9 month Revenue $3.22M + 1,349%,
Q3 month Net income $2.33M vs. net loss of $313,622 in 2020
Program to provide COVID-19 Testing Solutions to 900 Pharmacies across Canada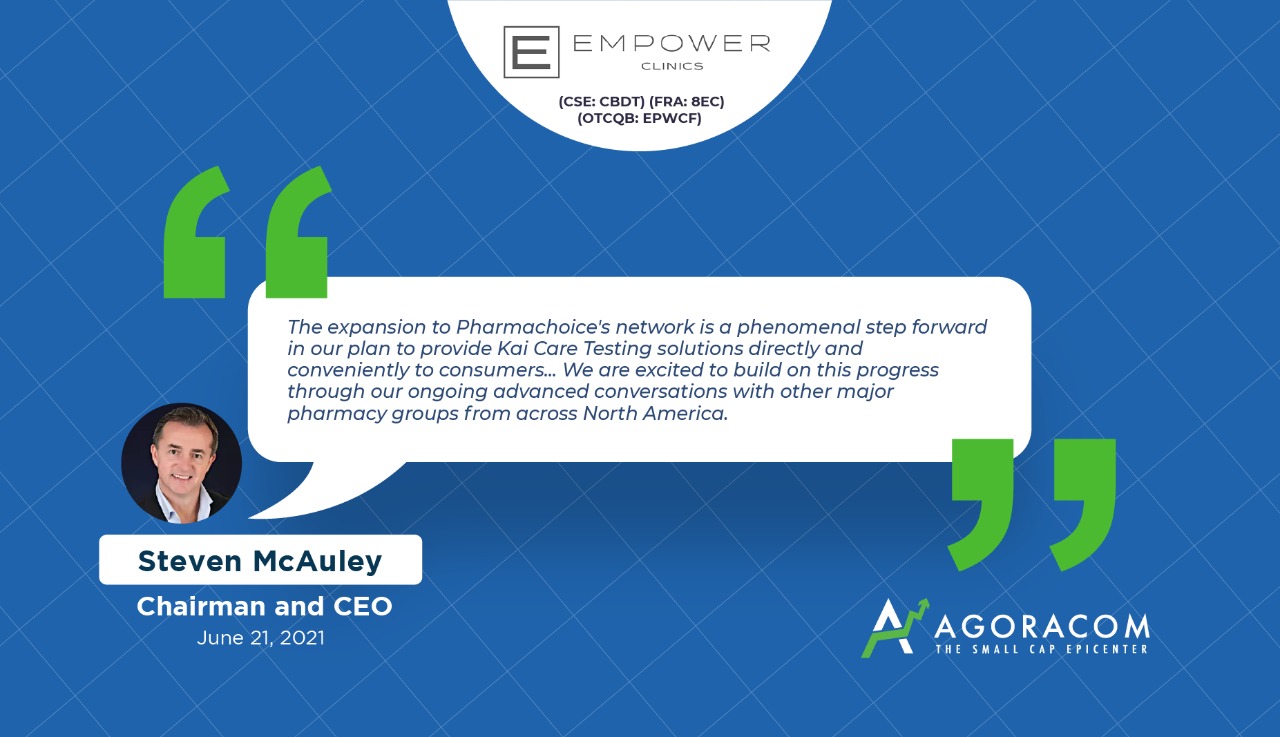 Clinic buildouts to commence in Ontario, Canada with annualized revenues for the six locations estimated between $12 million and $18 million CAD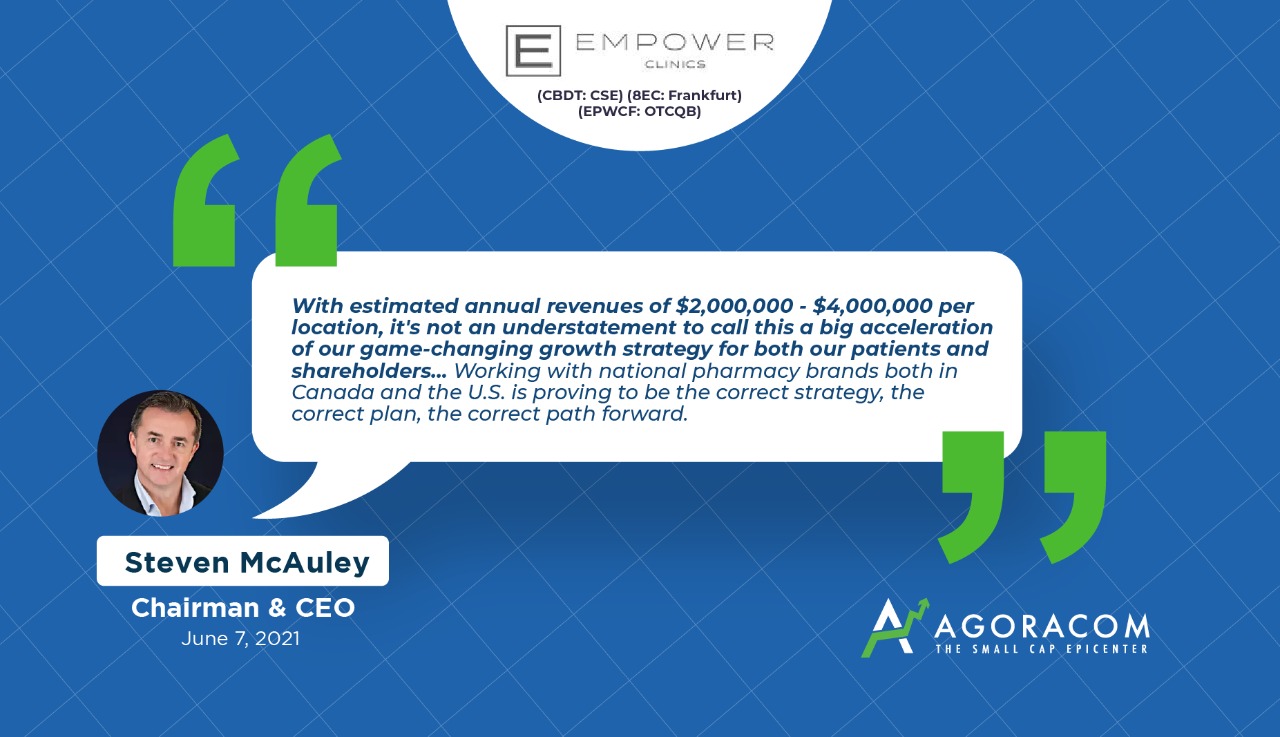 COVID-19 testing provided by Empower subsidiary Kai Medical Laboratory
When booking a flight or navigating the airline website, passengers will have option to be referred to Kai Care websites www.kaitests.com and www.kaitests.ca to purchase an RT- PCR Kai Saliva Test Kit
Doesn't need to be administered by health care provider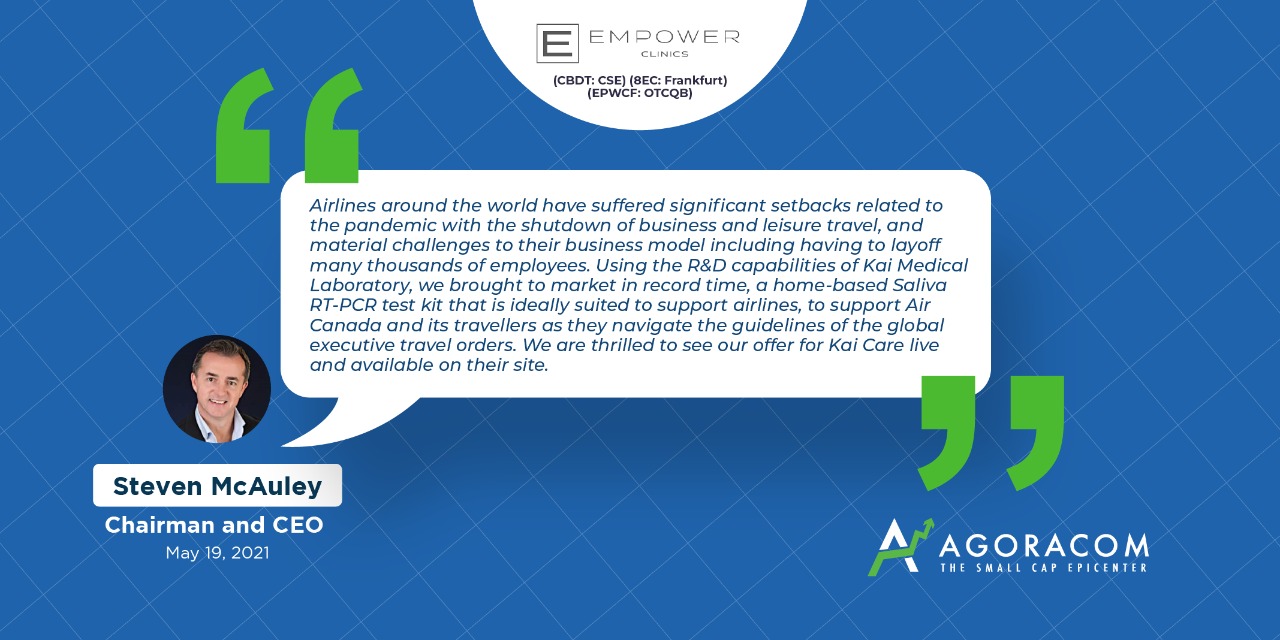 Rexall and Empower have identified numerous initial locations throughout Ontario, spanning from Ottawa to London and around the GTA
The size of the locations can range from 1,500 to 4,000 square feet
Primary care services include: Family physicians, Walk-in physicians, Tele-medicine and virtual care
Paramedical services include: Chiropractic, Physiotherapy, Registered Massage Therapy, Chiropody, Acupuncturists, Osteopaths, Nutritionists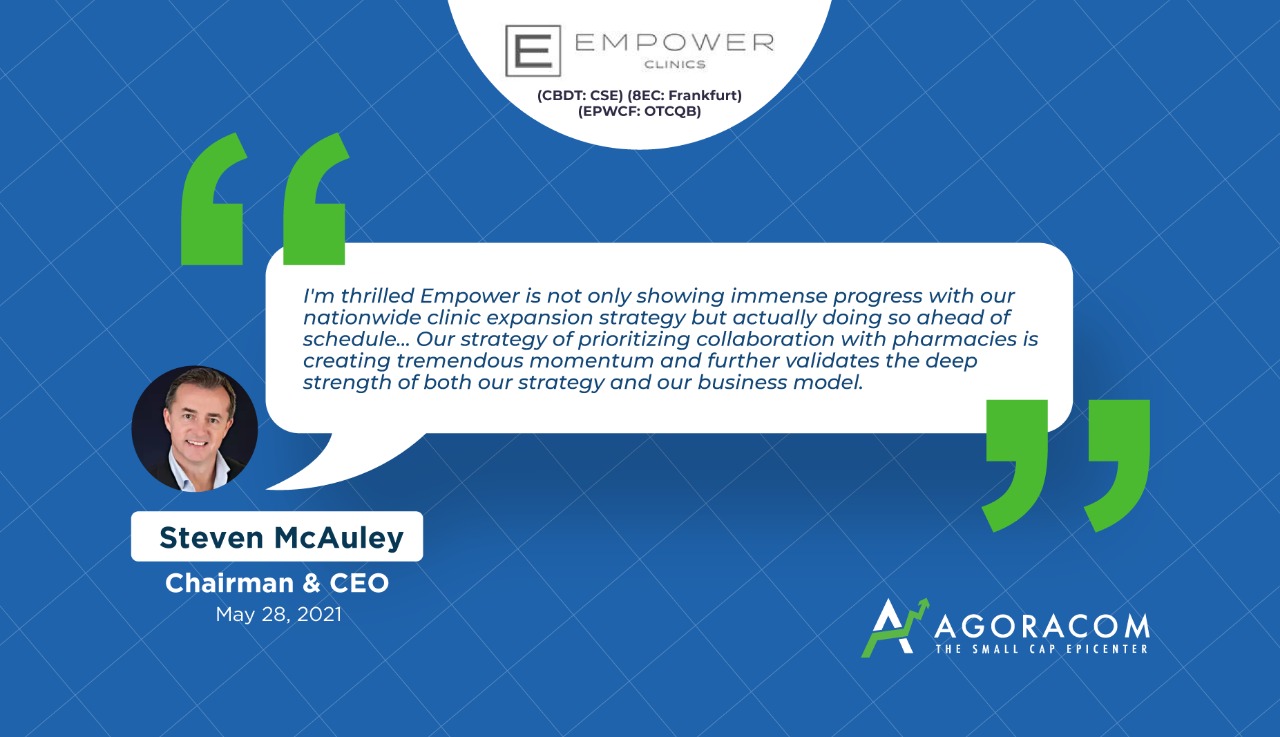 How significant is this acquisition? At the lowest price of $USD 80 per test and operating on just 1,000 tests per day, the clinic would deliver $USD 80,000 in revenue PER DAY.
Kai Medical Lab Received Record Order in Excess of $1,000,000 USD for COVID-19 Tests from Film and Television Production
9,000 TEST ORDER FOR FILM & TELEVISION PRODUCTION REPRESENTS A RECORD ORDER
KAI /Empower announced an agreement to process approximately 1,000 COVID-19 RT-PCR tests for a major film & TV production over a 30-day period, with the possibility of more business upon successful completion of the initial tests.
Represents a repeat and significantly higher purchase order of 9,000 RT-PCR tests to be processed over a four-month period by Kai Medical Laboratory
The total revenue from this order is anticipated to be in excess of $USD 1,000,000.
REVENUE GROWTH USD
PATIENT GROWTH
SUMMARY
Positioned to be a leader in the integrated healthcare space
Offering innovative and rapid COVID-19 testing solutions
Telemedicine and state of the art technology layer
Traction and regulatory-approved medical operations in massive US market
Engaged in aggressive growth of clinical and digital presence across the US and Canada
Oh, and did we mention that CEO Steven McAuley is Six Sigma certified under the quality initiative of legendary GE (General Electric) Chairman Jack Welch? We've never seen a Six Sigma certified CEO in the Canadian small cap markets. Never. Which explains how McAuley has been able to guide Empower Clinics through the most disruptive retail environment in recent history and turn it into significant growth.
Last changed at 11-Aug-2022 11:54AM by AGORACOM-Multimedia