Building the Future of Esports Betting & Entertainment
There are ~ 2.5B gamers globally, almost 600M are esports viewers
Esports Entertainment Group Profile
(Nasdaq: GMBL)
What Is Esports?
The professionalization or world of completive gaming
Played in teams or individually

Played online or in stadiums and arenas around the world

Viewed by 350+ million people online

Stadiums like Madison Square Garden (world's most famous arena) host sold out events

2.5-3.5 billion gamers globally, a majority of which are younger than a typical casino-goer or gambler (ages 18-35), more diverse and wealthier (43% have an annual household income >$75K) than a typical American sports audience.

2023 projected audience to be 600 million fans

Global esports could ultimately generate $40-50B in wagers and $5B in revenues at maturity in next 10 years

61% of Gen Z prefer esports to traditional sports
Youth once ridiculed for gaming have now made millions playing in tournaments and sponsorships while amassing a global fan bases as large as the traditional sports athletes
Popular Games
Dota

Call of duty

Fifa

League of legends

Overwatch

Counterstrike

Fortnite
WHY EEG?
Full-stack esports and online gambling company fueled by the growth of video-gaming and the ascendance of esports with new generations.
Fiscal First Quarter 2022 Financial Results
Net Revenue $16.4 Million

86% increase compared to Q4 2021

Gross Profit of $10 Million

92% increase compared to Q4 2021

Gross margin of 61%,

Compared to 59% in Q4 2021
"With the strong start to FY22 and continued momentum in our business, we are reiterating our expectation that Esports Entertainment will eclipse more than $100 million in revenue this fiscal year." – Grant Johnson Founder and CEO
Other Highlights
GMBL trading on NASDAQ

2021 revenue $16.8M vs. nil in 2020

Diversified Revenue Streams Provide Broad Industry Exposure

One-Stop-Shop Infrastructure Solution for the Esports Industry

Strong Track Record of M&A

Official Esports tournament platform for a number of professional sports teams,

Including the New England Patriots, Philadelphia Eagles, Los Angeles Kings and Cleveland Cavaliers Esports centers launching at UCLA, Pro Football Hall of Fame

Launched fan-centered EGL ClubClash program with professional sports teams

Partnered with Hall of Fame Resort and Entertainment Company to become the official esports provider for the Hall of Fame Village powered by Johnson Controls

Entered into agreement to launch state-of-the-art Helix eSports gaming facility at UCLA

Established content partnership with ESTV EsportsTV,

World's first 24-7 live linear video channel dedicated to Esports

Tier -1 Gambling Licenses

Malta

UK

Ireland

New Jersey (pending approval)

Sweden (pending approval)

Spain (pending approval)

Esports wagering is completely legal in NJ, NV, TN and WV, and regulated (certain restrictions apply but not illegal) in AR, DE, NY, IA, IL, MI, RI, MT, NM, OR and PA, with more states in the pipeline.
11 Pro Sport Team Partnerships
With Some of The Largest and Greatest Sport Teams in The World
Arsenal Football Club, New England Patriots, New York Rangers

(Massive Clubs in respective leagues)

Growing Pipeline, Goal to acquire deals with all 32 American Football Teams

100M+ Combined Fan Base

Major Growth in Asia, Middle East, and Africa for some of these Organizations

Teams promote EEG as official esports partner and provide apparel, tickets, social media and team prizes

EEG hosts esports competitions on-line to enable better engagement between teams/fan base
WHAT DOES EEG DO?
EEG has two distinct divisions with multiple subsidiaries within each division:
iGaming
NJ gaming License in the pipeline

Gaming licenses in UK, Sweden, Ireland, Malta and Spain - access to 149 countries

Digital gaming businesses acquired:

Argyll Entertainment

Lucky Dino Gaming

Bethard

Vie.G
List of Subsidiaries
EEG Esports:
EGL ESPORTS GAMING LEAGUE:
EGL is a B2B-centric provider of live and online events and tournaments where gamers can compete and enjoy a wide range of content relating to esports and video games on a proprietary technology platform with over 350,000 registered gamers. Services include full turnkey esports events, live broadcast production, game launches, and online branded tournaments
EEG Labs:
EEG Labs, an esports-oriented analytics provider for game publishers and brands. EEG Labs uses computer vision, natural language processing, and machine learning tools, to provide customizable data delivery for audience and performance intelligence, broadcast and profile generation.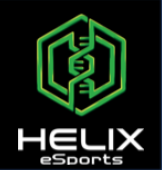 HELIX ESPORTS CENTERS
Helix eSports, owns and operates five esports entertainment centers. Two of those are among the five largest such facilities in the U.S. Helix offers a variety of experiences including casual play, competitive tournaments, STEM programming, high school leagues, large groups, and esports bootcamps.
GG CIRCUIT
SOFTWARE SOLUTIONS
GGCircuit, is a business-to-business software company that provides cloud-based management for gaming centers, tournament platforms, and integrated wallet/point-of-sale solutions for enterprise customers. It helps companies run their physical esports locations.
Highlights
NFL, NHL, MLS and other pro sport team partnerships

Tribal Casinos

Digital and retail (Helix Centers)

B2B products

GGC software services: 600venues/colleges; 15k screens/2m players

Data farming and collection (EEG Labs)

Data collected on gamer performance and spectator betting activity
Competition
EEG is Undervalued Relative to Comps: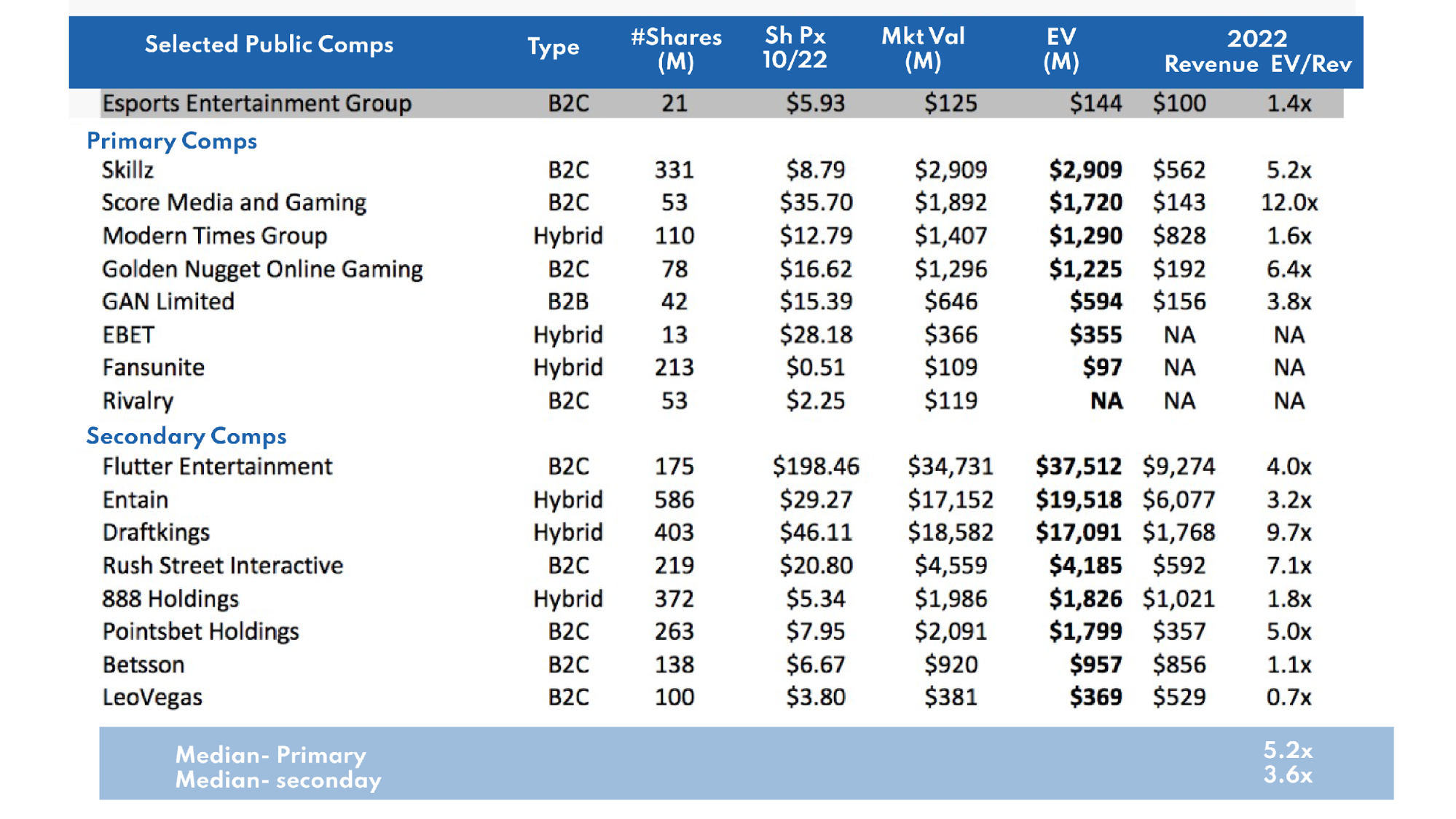 Last changed at 09-Aug-2022 11:02AM by AGORACOM