Imagine AR is an Augmented Reality platform that allows businesses to easily launch AR campaigns
Clients Include: NBA Sacramento Kings, Mall of America, Real Sociedad and Valencia C.F. of La Liga
Why ImagineAR?
(IP:CSE) (IPNFF:OTCQB)
The Augmented Reality (AR) market is expected to reach over $300 USD billion (with VR) by 2025, led by with validation and adoption from global giants such as Apple and Google

ImagineAR has formed a partnership to produce revolutionary AR-enabled NFTs to take experiences like NBA Top Shots to the next level. (Fully explained below)

Full validation of AR technology in the sports world, partnering with The Sacramento Kings, La Liga clubs Valencia and Real Sociedad, The NFL Alumni, and the global Book Your Stadiumfan engagement platform.

Six figure deals with Rugby Tens Global League and SlapItOn, as well as a close partnership with the former managing partner of the New York Yankees

ImagineAR working with First Tube Media to deliver WebAr Immersive Experiences for GrubHub Sound Bites Live Stream Concert on 3/26 featuring one of the biggest music artists Megan Thee Stallion

Education and training partnerships with Shoppers Drug Mart (training 2500 employees nation-wide) and The Black Voice Foundation

Expansion already underway in Europe and Japan

Major North American patents providing a moat for their technology

Fully cashed up with no financing requirements
WHAT IS AUGMENTED REALITY?
AR is going to dominate our daily lives sooner than you think. Why else do you think Tim Cook is so bullish? But it's still a new concept that most people haven't seen yet, so let's use a basic example.
An ImagineAR client (i.e. Sacramento Kings) tells its fans to simply point their mobile device at something (i.e. Sacramento Kings Logo) and watch their phone come to life (i.e. a player posing for a picture, a mascot dancing, collecting a reward - the possibilities are endless).
The result is that mobile phones can now be used to engage fans way beyond simple social media by bringing their worlds to life. In the Sacramento Kings example above, fans at home can do the exact same thing and have a player appear right in their living rooms!
ImagineAR clients can use logos, signs, buildings, products, landmarks and more to instantly engage with videos, information, advertisements, coupons, 3D holograms and any interactive content.
The best part? Customers don't need a big, expensive tech team to deploy ImagineAR. The Company's "AR-as-a-Service" Platform enables businesses of any size to create and implement their own AR campaigns with no programming or technology experience.
WHAT IS THE DIFFERENCE BETWEEN AUGMENTED REALITY AND VIRTUAL REALITY?
We knew some of you may have been thinking this, so here's a quick and easy answer.
AR uses your existing environment and overlays new information (as in the example above).
VR creates a completely new virtual environment (i.e. a sci-fi fantasy world).
SEEING IS BELIEVING!
Now that you have a baseline understanding of the power ofAR, the next thing to do is see it for yourself. Watch these videos of ImagineAR in action and with some really happy users.

AR Market Forecast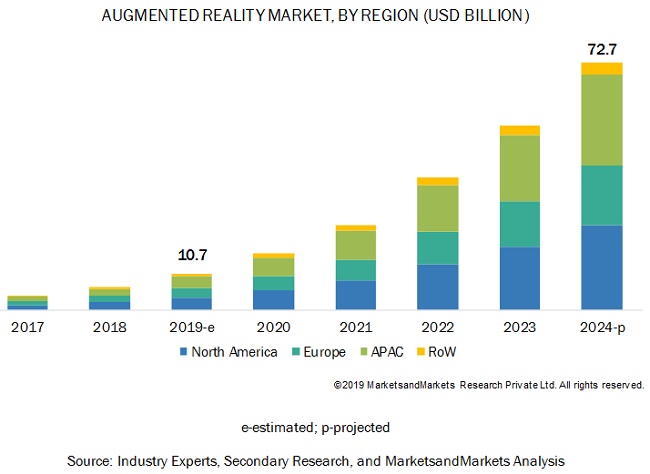 CLIENTS

PRODUCTS
ImagineAR™ Augmented Reality Platform
The industry's most versatile AR platform

Allowing the choice of engagement by marker, location, and Web-based activation.

Real-time data reporting


provides valuable marketing intelligence, with information securely stored on the Cloud.

ImagineAR SDK integrates with existing mobile apps

The ImagineAR SDK (Software Development Kit) integrates easily with existing mobile apps.

Competitively priced

AR solution provides unrivaled value to industries, including Retail, Sports/Live Events, Advertising/Promotions, E-Sports and Fundraising.
ImagineAR.com
"AR-as-a-Service" platform for desktops that enables businesses of any size to create and implement their own AR campaigns with no programming or technology experience
Every organization, from professional sports franchises to small retailers, can develop interactive AR campaigns that blend the real and digital worlds using ImagineAR™.
ImagineAR™ Mobile App
Consumers download & use the ImagineAR™ mobile app to experience it
But ImagineAR™ does WAY more than just activate and visualize AR.
ImagineAR™ delivers AR Scavenger Hunts, Sweepstakes, Rewards, Coupons, e-digital cards, and more
ImagineAR™ SDK/API
Companies can integrate the ImagineAR™ platform with their existing mobile app
Larger companies and brands, who have significantly invested in their mobile app, can instantly create AR immersive campaigns to further expand consumer usage, activation, and downloads.
Snapchat, Facebook, and WebAR Augmented Reality Services
New Experience Design & Development studio that will collaborate with brands to create custom "no app download required" experiences for Snapchat, Facebook and Mobile-Browser Augmented Reality (AR) experiences.
Assembled a team of technically savvy imaginative experience designers and developers who specialize in AR experiences.
ImagineAR™ Cloud
A centralized CMS (Content Management System) where all AR is securely stored and managed
When you create AR activations in ImagineAR™ Client Studio, they are stored in ImagineAR™ Cloud
Advanced AR activations are created in ImagineAR™ Cloud where you can assign AR Rewards to deliver when AR is activated.
Industries
Retail
Provides a unique engagement for shoppers to look up product information, scan signage, and enhance their overall shopping experience
And by measuring and analyzing the customer behavior in the real world using AR, retailers can improve the in-store engagement and ultimately drive increased revenue.
Use Cases
Enhance the in-store experience by integrating AR with in-store signage, window displays, and promotional mailings to customers
Shoppers scan product signs and tags to view product details, pricing specials, and even enter to win sweepstakes
Sports/Live Events
Using mobile phone AR activation, digital signage and promotional giveaways provide exciting new interactions which drive opt-in email signup and the opportunity to collect information about the attendees
Can be used to increase ticket sales as well as sponsorship revenue with a new interactive gamification experience
Use Cases
Engage fans with an AR Scavenger Hunt through the Stadium or Arena
Bring promotional giveaways to life with an AR activation.
Bobbleheads, cups, stickers can deliver mobile AR experiences to fans and be changed as desired.
Digital Signs, including the Jumbotron, can provide an interactive AR experience to fans simultaneously.
Advertising/Promotion
Augmented Reality advertising and promotions are immersive and engaging which generates an emotional connection with consumers
By providing a mobile interaction, consumers enjoy the brand messaging similar to a gaming experience
Ultimately, this builds brand awareness which is shared on social media and conveys an overall positive message to your target audience
Use Cases
Bring a catalog, print advertisement, or brand package to life by using AR to offer special content, videos and even coupons.
Use an AR Story (Scavenger hunt) to engage consumers to engage your brand throughout a physical or digital location and enter into a sweepstake to win a prize.
Advertising and Promotional Content can be changed anytime by yourself to promote specific campaigns, seasonal programs, or other special engagement opportunities.
Fundraising
AR provides not-for-profits a new dynamic tool to provide an experiential messaging platform for potential donors to better understand their mission and how their financial support positively impacts people
This emotional connection thru a video or animated hologram inspires people to act by donating or to lend assistance to these program
Using the Donate Now feature, this call to action is immediate and increases the responsiveness of their target audience.
Use Cases
Create an augmented reality experience which includes a video representing the mission of a charity to inspire people to use the interactive AR donation button.
Museum attendees use mobile phone AR engagement by pointing at exhibits to learn more through videos or even a 3D model.
Last changed at 07-Apr-2021 07:51AM by AGORACOM