Imagine AR is an Augmented Reality platform that allows businesses to easily launch AR campaigns
Clients Include: NBA Sacramento Kings, Mall of America, AT&T Shape, Basketball Hall of Fame
Will work with Shoppers Drug Mart and the event production agency HUMANCONTACT Inc., to deliver an Immersive AR Experience to over 2500 Corporate Staff, Pharmacist-Owners, and Front Store Managers across Canada.
Using the ImagineAR Custom White-label mobile app, Shoppers Drug Mart will integrate dynamic AR into the live streamed virtual event sessions.
"To be selected by Shoppers Drug Mart for their company-wide events validates ImagineAR is the leading AR immersive platform available today," said Alen Paul Silverrstieen, CEO and President of Imagine AR.
Announced the signing of a two year partnership agreement with Valencia C.F., one of the biggest soccer clubs in the world and the winner of six La Liga titles, to provide its Augmented Reality Platform for fan activation and engagement
This historic agreement makes Valencia C.F. the first La Liga team to incorporate Augmented Reality for fan activation and engagement
Company believes there is a significant opportunity to expand its offering to further clubs in an effort to reach over 1.3 billion collective followers of La Liga players, 480 million collective followers of La Liga clubs and 82 million followers of La Liga itself across Twitter, Facebook, and Instagram channels.
Announced the signing of a 5 year agreement with the NFL Alumni Association Academy to provide its Augmented Reality Platform for the launch of their new NFLA mobile interactive products
Agreement provides for equal program revenue sharing over the 5-year term
Partnership Kick-off for NFL Alumni Academy Activation in Canton, Ohio
ImagineAR's technology will be featured in a docuseries about the Academy that begins production on September 28th
Why ImagineAR?
(IP:CSE) (IPNFF:OTCQB)
ImagineAR Has Already Started Commercializing Its Augmented Reality Platform
Clients Include:

NBA Sacramento Kings
Mall of America
AT&T Shape
Basketball Hall Of Fame
Milwaukee AutoShow

Microsoft Authorized Co-Sell Partner

Closed Major Financing In Q1 2020

Enables businesses of any size to create and implement their own AR campaigns with no programming or technology experience
ImagineAR is now well positioned to further commercialize and capitalize on massive demand for Augmented Reality
Signed five year $300,000USD licensing agreement with SlapItOn to provide Augmented Reality for athletes and celebrities to engage fans
Announced partnership with Engaged Nation, an award winning leader in digital engagement marketing for Casinos
Announced partnership with North Highland, a top ranked global consulting firm with over 5,000 consultants and 70 offices around the world

North Highland was ranked on the Forbes 2020 America's Best Management Consulting Firms list, placing in seven categories, including one of only 31 firms ranked for Internet, Media and Entertainment.

Broward Education Foundation teamed up with ImagineAR Inc. (CSE: IP) (OTCQB: IPNFF) to create #2020gradsecret

Created an immersive augmented reality (AR) mobile experience for students graduating from Broward County Public Schools.
Using the free ImagineAR app, grads are recording themselves in their homes accepting diplomas from Broward Schools Superintendent Robert Runcie, joining international music superstar Flo Rida for a congratulatory message or dancing with either one of them-and instantly sharing the videos on social media.
The interactive AR videos make it appear that Superintendent Runcie and Flo Rida are inside the graduate's actual home
This AR experience has never been done before and is truly groundbreaking.

Escape Room NJ, with 3 locations in New Jersey, has executed a partnership agreement to become both a client and reseller of ImagineAR

Escape Room NJ will be first-ever Escape Room in North America to integrate immersive Augmented Reality within their

Signed Five Year $250,000 USD Licensing Agreement with WaV Sports & Entertainment
University of Pittsburgh Joseph M. Katz Graduate School of Business Selects ImagineAR as Partner in New MBA Course
WHAT IS AUGMENTED REALITY?
AR is going to dominate our daily lives sooner than you think. Why else do you think Tim Cook is so bullish? But it's still a new concept that most people haven't seen yet, so let's use a basic example.
An ImagineAR client (i.e. Sacramento Kings) tells its fans to simply point their mobile device at something (i.e. Sacramento Kings Logo) and watch their phone come to life (i.e. a player posing for a picture, a mascot dancing, collecting a reward - the possibilities are endless).
The result is that mobile phones can now be used to engage fans way beyond simple social media by bringing their worlds to life. In the Sacramento Kings example above, fans at home can do the exact same thing and have a player appear right in their living rooms!
ImagineAR clients can use logos, signs, buildings, products, landmarks and more to instantly engage with videos, information, advertisements, coupons, 3D holograms and any interactive content.
The best part? Customers don't need a big, expensive tech team to deploy ImagineAR. The Company's "AR-as-a-Service" Platform enables businesses of any size to create and implement their own AR campaigns with no programming or technology experience.
WHAT IS THE DIFFERENCE BETWEEN AUGMENTED REALITY AND VIRTUAL REALITY?
We knew some of you may have been thinking this, so here's a quick and easy answer.
AR uses your existing environment and overlays new information (as in the example above).
VR creates a completely new virtual environment (i.e. a sci-fi fantasy world).
SEEING IS BELIEVING!
Now that you have a baseline understanding of the power ofAR, the next thing to do is see it for yourself. Watch these videos of ImagineAR in action and with some really happy users.

AR Market Forecast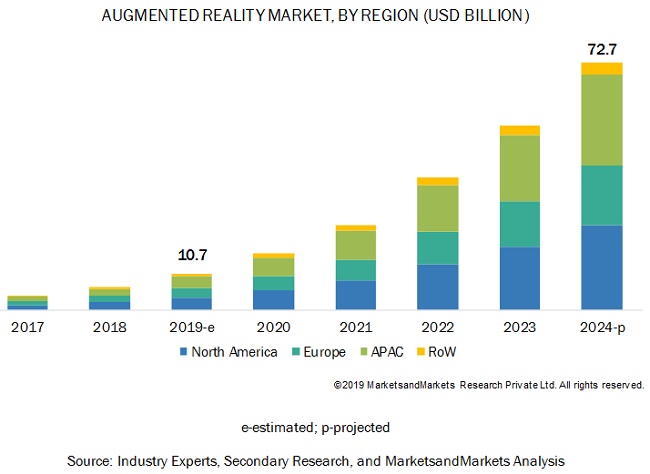 CLIENTS

RECENT MILESTONES
ECHL's Allen Americans Select ImagineAR For Fan Engagement & Sponsorship Programs
Announced The Appointment Of Chris Dill, Industry Leading Sports Technologist, For Augmented Reality Sports Fan Engagement
ImagineAR Signs Five Year $250,000 USD Licensing Agreement with WaV Sports & Entertainment
University of Pittsburgh Joseph M. Katz Graduate School of Business Selects ImagineAR as Partner in New MBA Course
Announced The Appointment of Gus Frerotte, Former NFL Pro Bowler QB, as Advisor For Augmented Reality Fan Engagement For Professional Sports
ImagineAR and The Pittsburgh Gateways Corporation Sign MOU To Integrate Augmented Reality Into the Energy Innovation Center
ImagineAR Receives Additional $1,000,000 From Exercise Of Warrants For A Total Of Approximately $4,500,000 In 2020.
PRODUCTS
ImagineAR™ Augmented Reality Platform
The industry's most versatile AR platform

Allowing the choice of engagement by marker, location, and Web-based activation.

Real-time data reporting


provides valuable marketing intelligence, with information securely stored on the Cloud.

ImagineAR SDK integrates with existing mobile apps

The ImagineAR SDK (Software Development Kit) integrates easily with existing mobile apps.

Competitively priced

AR solution provides unrivaled value to industries, including Retail, Sports/Live Events, Advertising/Promotions, E-Sports and Fundraising.
ImagineAR.com
"AR-as-a-Service" platform for desktops that enables businesses of any size to create and implement their own AR campaigns with no programming or technology experience
Every organization, from professional sports franchises to small retailers, can develop interactive AR campaigns that blend the real and digital worlds using ImagineAR™.
ImagineAR™ Mobile App
Consumers download & use the ImagineAR™ mobile app to experience it
But ImagineAR™ does WAY more than just activate and visualize AR.
ImagineAR™ delivers AR Scavenger Hunts, Sweepstakes, Rewards, Coupons, e-digital cards, and more
ImagineAR™ SDK/API
Companies can integrate the ImagineAR™ platform with their existing mobile app
Larger companies and brands, who have significantly invested in their mobile app, can instantly create AR immersive campaigns to further expand consumer usage, activation, and downloads.
Snapchat, Facebook, and WebAR Augmented Reality Services
New Experience Design & Development studio that will collaborate with brands to create custom "no app download required" experiences for Snapchat, Facebook and Mobile-Browser Augmented Reality (AR) experiences.
Assembled a team of technically savvy imaginative experience designers and developers who specialize in AR experiences.
ImagineAR™ Cloud
A centralized CMS (Content Management System) where all AR is securely stored and managed
When you create AR activations in ImagineAR™ Client Studio, they are stored in ImagineAR™ Cloud
Advanced AR activations are created in ImagineAR™ Cloud where you can assign AR Rewards to deliver when AR is activated.
Industries
Retail
Provides a unique engagement for shoppers to look up product information, scan signage, and enhance their overall shopping experience
And by measuring and analyzing the customer behavior in the real world using AR, retailers can improve the in-store engagement and ultimately drive increased revenue.
Use Cases
Enhance the in-store experience by integrating AR with in-store signage, window displays, and promotional mailings to customers
Shoppers scan product signs and tags to view product details, pricing specials, and even enter to win sweepstakes
Sports/Live Events
Using mobile phone AR activation, digital signage and promotional giveaways provide exciting new interactions which drive opt-in email signup and the opportunity to collect information about the attendees
Can be used to increase ticket sales as well as sponsorship revenue with a new interactive gamification experience
Use Cases
Engage fans with an AR Scavenger Hunt through the Stadium or Arena
Bring promotional giveaways to life with an AR activation.
Bobbleheads, cups, stickers can deliver mobile AR experiences to fans and be changed as desired.
Digital Signs, including the Jumbotron, can provide an interactive AR experience to fans simultaneously.
Advertising/Promotion
Augmented Reality advertising and promotions are immersive and engaging which generates an emotional connection with consumers
By providing a mobile interaction, consumers enjoy the brand messaging similar to a gaming experience
Ultimately, this builds brand awareness which is shared on social media and conveys an overall positive message to your target audience
Use Cases
Bring a catalog, print advertisement, or brand package to life by using AR to offer special content, videos and even coupons.
Use an AR Story (Scavenger hunt) to engage consumers to engage your brand throughout a physical or digital location and enter into a sweepstake to win a prize.
Advertising and Promotional Content can be changed anytime by yourself to promote specific campaigns, seasonal programs, or other special engagement opportunities.
Fundraising
AR provides not-for-profits a new dynamic tool to provide an experiential messaging platform for potential donors to better understand their mission and how their financial support positively impacts people
This emotional connection thru a video or animated hologram inspires people to act by donating or to lend assistance to these program
Using the Donate Now feature, this call to action is immediate and increases the responsiveness of their target audience.
Use Cases
Create an augmented reality experience which includes a video representing the mission of a charity to inspire people to use the interactive AR donation button.
Museum attendees use mobile phone AR engagement by pointing at exhibits to learn more through videos or even a 3D model.
Last changed at 20-Nov-2020 07:47AM by AGORACOM