Developing The Pharmaceutical Guided Missile To Defeat Coronavirus Lung Infections
+ Market Ready CBD Derma Cosmetic Brand And Patent-Pending CBD Pain Relief Brand
Study on mice demonstrated a prolonged release of Cannabidiol into the blood for at least three weeks after one administration
Conducted based on Innocan's licensed CBD loaded liposome platform technology for injectable CBD
Conducted on over 35 mice and found significant amounts of CBD in the mice's blood 21 days after they were injected with a single injection of liposomal CBD using Innocan's CBD loaded LPT
Results are substantial when comparing the oral or smoking administration of CBD, in which CBD was found in the blood of mice only for a period of up to 36 hours after one administration
Results open the door for future experiments to prove the lack of toxicity and beneficial therapeutic efficacy of the formulations.
Study indicates that more than 90 % of participants experienced reduction in pain after using Innocan's Relief & Go OTC Pain Relief Spray
The clinical study was conducted on 18 participants: 10 participants with chronic pain and 8 participants with pain associated with other circumstances
Most participants described their pain before using the spray as throbbing and uncomfortable and a few described their pain as distressing
InnoCan – Developing The Pharmaceutical Guided Missile To Defeat Coronavirus Lung Infections
InnoCan Pharma Is A Pharmaceutical Company That Specializes In The Development Of New Drug Platforms Which Combine Unique Properties of Cannabinoids
WHY INNOCAN?
InnoCan has 3 fully operating divisions to address the market for Cannabis products. As a Cannabis investor, why limit yourself to a Company with just one specialty, when InnoCan offers you exposure to both the exploding world of cannabis pharma, as well as, a portfolio of patent-pending and launch ready consumer health products.
PHARMACEUTICAL - THE GUIDED MISSILE
Revolutionary Technology Targeting Lungs Infected With Coronavirus or other viral infections

Done By Combining CBD with Stem Cell Particles (Exosomes)

Research & Licensing Agreement with Tel Aviv University

Developing CLX, The ICBM Ballistic Missile Of Coronavirus Lung Infections

Separate breakthrough delivery and control release technology that enables the injection of CBD.
CONSUMER RETAIL – DERMA COSMETICS
A Premium Derma Cosmetics Brand

Containing Highly Concentrated Ingredients Formulated with CBD

Manufacturing & Supply Agreements - Europe and United States

Manufacturing Has Commenced

Distribution Agreements in place


Completed Successful Cosmetic Clinical Studies Demonstrating the Efficacy of Its SHIR(TM) CBD Premium Facial Serum on Skin Hydration

Cosmetic clinical study on 20 volunteers presented a 90 – 95% facial skin wrinkle reduction Read More

OVER THE COUNTER (OTC) PRODUCTS FOR PAIN RELIEF
Patent-Pending CBD Pain Relief Brand

Versions Include Spray, Roll-On and Cream

Relief & Go Spray – First Product Being Manufactured

FDA Technical Validation

FDA Approval To Commence Marketing In The United States

Successfully passed the detailed safety assessment requirements under Regulation No 1223/2009 of The European Parliament and of the Council on Cosmetic Products and has received a Cosmetic Product Safety Report ("CPSR") for product marketing in the European Union Read More


Manufacturing Commencement

New Jersey (United States Market)

Portugal (Asia and Europe Markets)

Sales Commenced

Clinical study in the US indicates that more than 90% of participants experienced pain reduction after using Relief &Go OTC pain relief spray Read More.

Entered into a distribution agreement with iAmHealth Distribution UG, a CBD products provider in Germany to sell SHIR Beauty and Relief & Go product lines in Germany.
SUPERIOR MANAGEMENT TEAM
The InnoCan Leadership Group Is Incomparable In The Small Cap World

Comprised Of Leading Israeli Pharmaceutical Executives

Executive Chairman (Ron Mayron) was the CEO Of Teva Israel, one of the largest generic pharmaceutical companies in the world
Co-Founder & VP Business Development (Yoram Drucker) was the Founder of 2 NASDAQ Companies (Pluristem & Brainstorm)
Chief Technology Officer (Nir Avram) is a former member of the pharma innovation team at Perrigo, producer of OTC consumer goods and specialty pharma.
Chief Executive Officer (Iris Bincovich) has a proven track record in opening global markets, having managed hundreds of successful transactions in OTC, cosmetics and dermatology.

Together they have built a formidable team at InnoCan
RECENT HIGHLIGHTS
Announced the Launch of Its Commercial Website

Successfully Completed Its First Full-Scale Manufacturing Run in Europe and the Commencement of Its Full-Scale Manufacturing Run in the USA

Completed Its Trademark Registration in the EU, UK and Switzerland
SEEING IS BELIEVING
INNOCAN PHARMACEUTICAL – DEVELOPING THE CLX GUIDED MISSILE TO DEFEAT CORONAVIRUS LUNG INFECTIONS
WHAT IS CLX? THE COMBINATION OF CBD AND EXOSOMES
ICBMs (Intercontinental Ballistic Missiles) were developed to deliver precision strikes against military targets.
CLX is the ballistic missile of the pharmaceutical world, being developed by InnoCan to deliver precisions strikes against lung cells infected by Coronavirus.
CLX contains two critical components:
1. Exosomes - Particles derived from stem cells which have demonstrated an ability to target damaged cell tissue, as well as, assist in their repair.
2. CBD - A known anti-inflammatory agent
InnoCan technology loads Exosomes with CBD, a known anti-inflammatory agent
Combining the cell healing properties of Exosomes with the anti-inflammatory properties of CBD creates a guided missile to infected lungs.
CLX IS A BREAKTHROUGH INNOVATION USING CBD TO TARGET CORONAVIRUS INFECTED LUNG CELLS
InnoCan is primarily focusing on its breakthrough innovation targeting COVID-19, a global threat, which in many cases affects the lungs. To do so, InnoCan has created a licensing agreement with Tel Aviv University.
Together, InnoCan and Tel Aviv University are developing CLX, a new, revolutionary Cell Therapy technology to target Coronavirus infected lung cells and other Central Nervous System diseases.
CLX has the potential to combine anti-inflammatory properties AND assist in the recovery of infected lung cells. It is expected to be administered by inhalation.
CLX will be tested on patients whose lungs have been infected by Coronavirus.
CLX can potentially be used for the treatment of other types of lung inflammations that have resulted from viral infections such as SARS and MERS.
The market opportunities for Exosome-Based technologies are proven and big.
INJECTABLE CBD DELIVERY SYSTEM
INNOCAN'S COMMERCIAL RETAIL PRODUCT LINES
Shir Beauty & Science

- Premium CBD Derma Cosmetic Brand

Relief & Go -

Breakthrough Patent-Pending CBD Pain Relief Brand.
Shir Beauty & Science
Powered by Science, Inspired by Nature
SHIR Beauty & science skincare brand combines the benefits of CBD with the most effective ingredients in innovative formulas to deliver visible results
Signed two manufacturing & supply agreements with European and USA facilities
Manufacturing underway with nine products available soon
Entered into a manufacturing and distribution agreement with Endless Sky Incorporated, a Canadian large scale Cannabis extractor based in Calgary, Alberta.

ESI will serve as the exclusive distributor of Innocan's CBD products in Canada under a license granted by Innocan.
ESI will manufacture Innocan's CBD products at ESI's Health Canada licensed facility in Redvers, Saskatchewan.
ESI's manufacturing and distribution rights consist of the Relief and Go CBD Spray and Cream and the SHIR Eye Serum, Face Cream and Night Cream.
According to the agreement, ESI shall pay Innocan Israel a cash license fee per Product as well as royalties based on net sales of the Products by ESI.

Signed distribution agreement for UK and Ireland
MEET THE PRODUCT LINE

CBD+
Premium Collection created with a triple dose of pure 300mg CBD and an Anti-aging complex designed to retain the skins elasticity, strength, and firmness for natural radiance.
CBD MUST

Formulated with highly effective pure 100mg CBD and effective ingredients designed to nourish and hydrate the skin for a natural glow.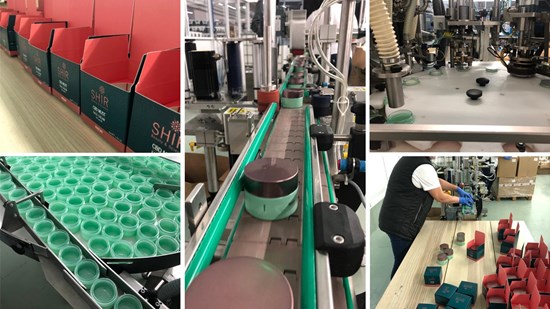 RELIEF & GO
A breakthrough patent-pending CBD pain relief brand.
NOTE: Charlotte's Web recently purchased Abacus Health Products with its products similar to our R&G relief.
The company received notice from the FDA that Relief & Go Pain Relief spray product has successfully received technical validation and approval to commence marketing in the USA.
Innocan's pain relief formulation contains a combination of Magnesium oil, Methyl salicylate, Menthol and CBD. The Relief & GO Pain Relief spray is designed to target pain-related muscle and provide relief for joint pain. The unique formulation is administered with a simple dose of spray, roll-on or lotion.
Products are now being produced by two manufacturers: one in New Jersey for the US market, and one in Portugal for Asia and Europe.
The first product being manufactured is The Patent Pending Relief & Go CBD Spray
Sales will start in the second half of 2020
Last changed at 09-Mar-2021 09:55AM by AGORACOM