A Fintech platform focused on Verifying, Managing & Monetizing Online Identity
Liquid Avatar Turns The Problem Of Data Privacy Into A Profit For Individuals
Liquid Avatar Technologies Inc. Profile
Why Liquid Avatar Technologies
GENERALLY - Liquid Avatar Turns The Problem Of Data Privacy Into A Profit For Individuals, While Providing Big Businesses With New & Compliant Business Models.
SPECIFICALLY – Liquid Avatar Specializes In
Continuous Online Identity Verification

Personal Identity Management

Personal Data Monetization.
NEW DIGITAL PRIVACY LAWS OVER THE LAST 2 YEARS ARE DRIVING CUSTOMERS TO LIQUID AVATAR FOR THE FOLLOWING REASONS:
Your Online Privacy & Data Protection Is More Important Now Than Ever

Facebook Data Privacy Scandal Lead To The Implementation of GDPR (General Data Protection Regulation

GDPR Is Essentially EU Law On Digital Privacy That Strongly Regulates The Transfer Of Personal Data.

The Primary Purpose Of GDPR Is To Give Individuals Control Over Their Personal Data By Regulating All International Businesses That Handle Our Data

GDPR Became Effective May 25, 2018

GDPR Was Followed By The

California

Consumer Privacy Act of 2018 (CCPA)

The CCPA Became Effective January 1, 2020.

Both Will Have A Significant Impact On The Way These Industries Collect and Capitalize On Personal Data

Social Media

(Facebook, Twitter, etc.)
E-commerce

(Amazon, Ali Baba, etc.)
Digital Payments

(PayPal, AliPay, etc.)
Cloud Computing

(AWS, Azure, etc.)
iGaming / Gambling

(Bet365, Tencent, Epic Games, etc.)
Liquid Avatar Congratulates The Ontario Government on the Release of its Digital Strategy: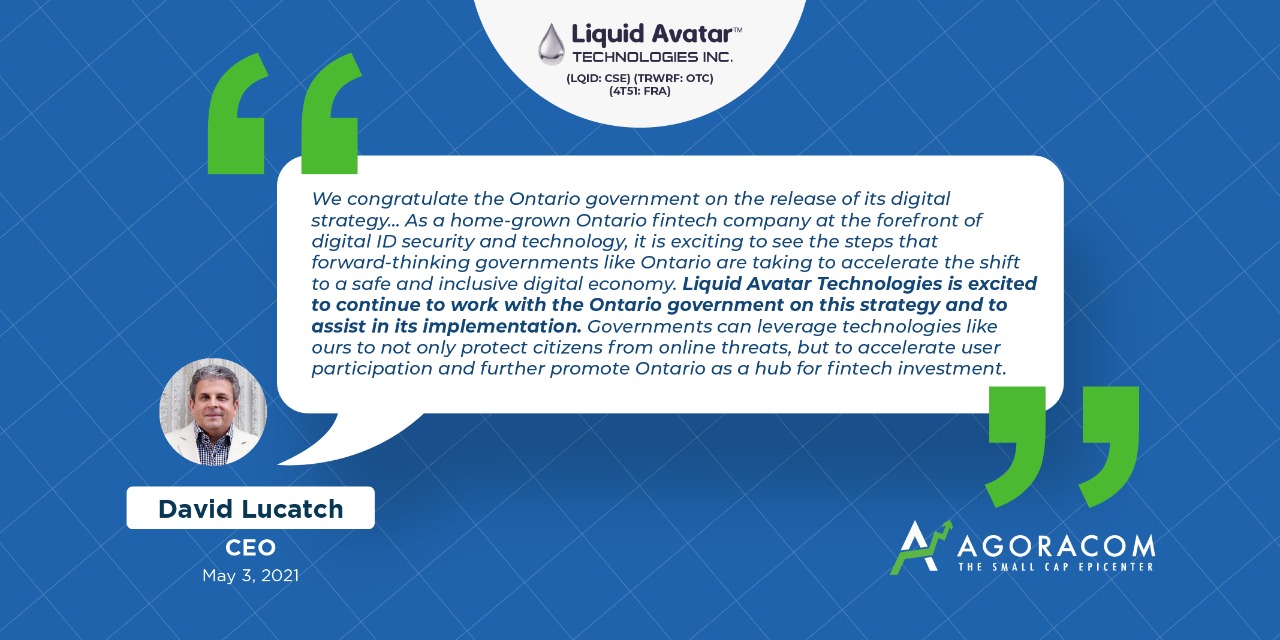 HOW REAL IS THIS DATA PRIVACY SHIFT?
"Between 2019 – 2025 The Global Data Protection market is projected to grow by US$122.1 Billion, driven by a compounded growth of 16.3%." ResearchAndMarkets.com
This New Paradigm Will Put Data Privacy And Opportunities To The Test In Ways Never Thought Possible. Liquid Avatar Stands To Become A Big Potential Beneficiary
LIQUID AVATAR MAKES DIGITAL PRIVACY INTERACTIVE & FUN
Liquid Avatar Technologies Inc. focuses on the verification, management and monetization of Digital Identity, empowering users to control and create benefit from permission-based engagements with their data. The Liquid Avatar App enables users to create unique facets of their online personas allowing them to have better control over the use of their personal data through its biometrically based Self Sovereign Identity solution using blockchain technologies. Liquid Avatar provides its products and services at no cost to consumers and generates revenues through permission-based offers and other services, including its KABN Visa Card, KABN KASH and other services that create value between known and verified users and marketplace programs.

Liquid Avatars Are Easy to Create, Use & Share … And They Are Free!
Liquid Avatars are available at no cost to consumers

Each Liquid Avatar is unique and the information that is shared is controlled by the user

Liquid Avatars have built in "gamification" including unique badges.
DLI's ctalyst® platform currently works with over 130 game producers and has an additional 150 developers awaiting invitation to join the network. ctalyst® is a one-stop, self-contained, and full-service platform similar in concept to Google's AdWords, AdSense, and Analytics, but designed just for video games and e-sports

With the 130 game producers, the peak reach has been 60 to 70 million players and manages over 150 unique data points and analytics on opt-in participants

Anticipated that when the additional 150 game developers are invited into the program, the reach could extend to over 500 million gamers worldwide.
Liquid Avatar to Launch Creator Program with Iconic Comic Book & Manga Artists
Launched its Creator program together with leading pop-culture, comic book, manga, anime and other iconic artists to design and develop a continuous series of digital icons that consumers can acquire to display and share with their Liquid Avatar
Liquid Avatar and Liquid Avatar Launch Cloud-based Biometric Identity Verification for Self Sovereign Identity, Digital Wallets and Verified Credentials
Announced that its cloud-based biometric solutions will now be available on its digital identity management platform, Liquid Avatar (www.liquidavatar.com) enabling a further layer of identity verification that is independent of a user's device.
As a cloud-based service, Liquid Avatar's biometric features are not resident on a device and work with a user's mobile phone, tablet, computer or other camera and Internet enabled devices, to pass verified information securely over the Internet, enabling identity to be transportable and connected to a wide range of applications like Passwords, Digital Wallets and Verified Access and Identity Credentials.
Liquid Avatar Can Integrate With Any Major Platform Including:
Use Cases
Identity Fraud Reduction

– to prove that a user is the intended recipient of any service or offering through multi-factor authentication that includes biometrics.

Purchase Validation for eCommerce

– confirming that the user is authorized to use credit cards and other payment methods.

Esports and Online Gaming

– verifying prizing, players and cross-referencing multiple accounts.

Information / Data Services

– creating aggregated public information to generate offers and solutions exclusively for Liquid Avatar users.

Education

– verifying that registered students are those actually taking classes, completing work and exams, and receiving academic credit.

Government

– supporting local, state and national government initiatives.

Healthcare

– creating privacy, record transfer/sharing and portability.
Oh Yeah – Did We Tell You About The Liquid Avatar Network?
The KABN Network Provides The Viral Power Of Digital With The Fintech Power Of Integrated Financial Services that includes:
1. KABN ID (The network anchor) – A Patent Pending, Always On, Identity Verification and Validation Platform. GDPR Complaint, Blockchain and Biometrically Based.
KABN ID is a free to use service for consumers that provides continuous monitoring and proof of identity both online and in conventional marketplaces.
2. KABN Visa Card - An approved crypto-linked prepaid Visa card and mobile integrated multi-currency banking wallet.
3. Mobile Banking Wallet - Integrated multi-currency and digital currency sub accounts
4. KABN KASH - A robust loyalty and engagement program with major brand partnerships
How Does Liquid Avatar Make Money?
Digital Banking In the News

HOW BIG IS THE LIQUID AVATAR OPPORTUNITY?
"Companies are investing hefty sums to ensure that they are compliant with these new regulations. In total, Fortune Global 500 companies had spent $7.8 billion by 2018 preparing for GDPR, according to an estimate by the International Association of Privacy Professionals. Companies have hired data-protection officers, a newly defined corporate position mandated by the GDPR for all companies handling large amounts of personal data. Despite these measures, few companies feel fully compliant, and many are still working on scalable solutions." McKinsey (Consumer Data & Privacy Opportunity)
Last changed at 09-Jun-2021 08:05AM by AGORACOM