Leveling the playing field between online retail giants and brick & mortar businesses
Signed most significant partnership in its history with NTT DATA, a top-ranked global IoT services company, and subsidiary of Nippon Telegraph and Telephone, the world's 4th largest telecom company, ranked 55th In Fortune Global 500
Loop Insights Inc. Profile
RECENT HIGHLIGHTS

Loop Insights and BDG Sports Achieve 100% Success Delivering Third Venue Bubble At NCAA 2021 Big West Conference Championships At Mandalay Bay Resort and Casino Las Vegas

Signed Letter of Intent for $2,000,000 Licensing Deal with Maitri Health Technologies to Combine PPE, Artificial Intelligence and Proptech In First-Ever Globally Scalable Offering

Provided Wallet Pass Platform To World Boxing Council (WBC) To Engage Fans For Championship Fight Being Broadcast To Over 200 Countries Across The World. Combined Social Media To Exceed 10 Million Followers. Additional Global Fight Events Expected To Follow

Completed Acquisition of Intellectual Property Assets of Locally, A Global Location Data Intelligence Company With Tier-1 Clients

Signed Four-Year Venue Management Agreement Through TELUS IoT Marketplace with Big White Ski Resort, One Of Canada's Top 5 Ski Resorts, with Potential to Generate $7.2 - $9.6 Million in Newline Revenue For Loop and Big White Ski Resort

Entered Into First Pure Ecommerce Pilot With UK's Leading Online Electronics Retailer, Maplin, For Real-Time Artificial Intelligence-Driven Engagement With Customers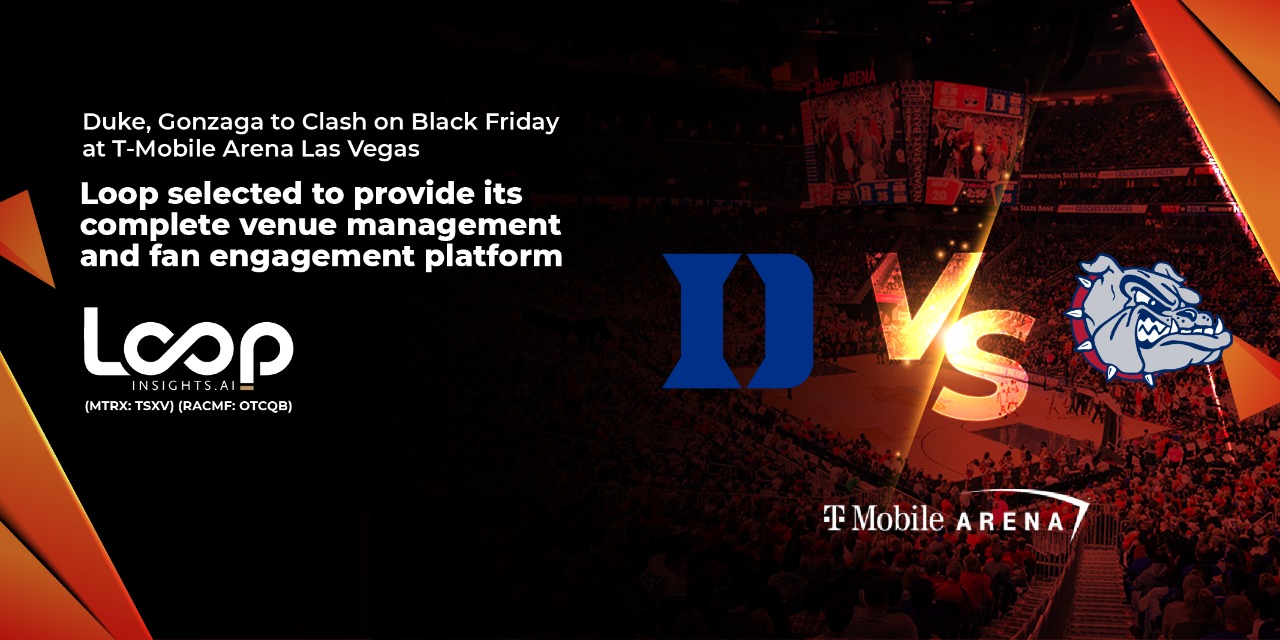 WHY LOOP INSIGHTS?
What if you could receive the same personalization and experience you get from online shopping, but in brick and mortar stores? Loop Insights is doing just that.

Brick and mortar retail isn't going anywhere, but it does need to adapt to offer better in-store customer experiences. Loop Insights solves a significant problem for traditional retailers - big and small - who are losing customers to e-commerce retail.

All e-commerce sites have easy access to company-wide connectivity, real-time insights, and personalized marketing. What Loop is doing is creating those same tools for physical retail, whether it is a restaurant, hotel, casino, store, or stadium.

Loop's proprietary internet of things (IoT) device, Fobi, makes it all happen. It can be installed in minutes using an API or hardware solution, making Loop's services ultimately scalable no matter what infrastructure is currently set up in the store.
HIGHLIGHTS
CONTACT TRACING

AMAZON
Selected to join Amazon Web Services Partner Network,
Loop will seize this networking opportunity to gain access to hundreds of ongoing AWS portfolios, as well as co-development projects.
More than 90% of Fortune 100 companies source their solutions and services from Amazon.
The webinar was a great success and achieved its maximum attendance of 1,000 viewers, with more than 88% of viewers remaining engaged through to the end of the final Q&A segment..
WORLD'S FIRST EVER VENUE BUBBLES IN A LIVE ENVIRONMENT
Signed an agreement with NCAA Division 1 school, the University of Houston, to implement its contactless venue tracing platform across its facilities.
In addition, the school agreed to implement Loop's contactless, artificial intelligence marketing solutions to provide personalized promotions and targeted engagement at University of Houston football games at TDECU Stadium.
Selected as the Premier Venue Tracing and Fan Engagement Solution for NCAA College Basketball #VegasBubble in Las Vegas, where games were played at MGM Grand Garden Arena, Mandalay Bay Events Center, and T-Mobile Arena
Implemented the First-Ever Fully Integrated "Venue Bubble" (End-To-End Testing, Contact Tracing, and Alert Notifications) at the #BeachBubble NCAA College Basketball Tournament in Fort Myers, Florida,
Achieved 100% success in delivering the first-ever fully integrated "Venue Bubble" in live environments at both NCAA College Basketball Tournaments.
Selected by bdG Sports to provide its venue management platform to the Big West Conference Men's and Women's Basketball Championships being held March 9-13, 2021 at the Mandalay Bay Events Center in Las Vegas.
EXTENDING VENUE BUBBLES TO FILM AND TRAVEL
Loop Insights and Empower Clinics announced the combination of their respective Venue Tracing and COVID-19 testing expertise to create the first-ever "Travel Bubble" solution for the global travel industry.
Subsequently,

on December 9th

Loop and Empower partnered with SimpliFlying, the world's leading aviation marketing consulting firm, to support specific near-term opportunities with World Renown Resorts, National Tourism Boards, Major Airlines, Airports, Cruise Ships, and Ports.
Expanded its venue bubble platform to create a "Film bubble", in partnership with Draganfly's "Safe Set" solution,
AI MARKETING SOLUTIONS

TELUS
Significant milestone of having been accepted into the Telus IoT Marketplace.
The Company's first product accepted into the IoT Marketplace was our contact tracing product, which has received significant exposure to many of TELUS's largest customers and ongoing significant discussions with them.
The third-party validation that came with this acceptance has been instrumental in Loop's contact tracing discussions with large corporate customers around the world.
Announced the Launch Of A Second Product Into The TELUS IoT Marketplace For National Sales and Marketing To TELUS Business Customers.
The Company's second product accepted into the IoT Marketplace was our Insights service which consists of our IoT Fobi device, Loop Cloud API, and AI Insights Portal that provide automated marketing capabilities.
NTT DATA
Most significant partnership in its history with NTT DATA, a top-ranked global IoT services company, and subsidiary of Nippon Telegraph and Telephone, the world's 4th largest telecom company, ranked 55th In Fortune Global 500.
As a result of this partnership, Loop will be exposed to global opportunities never thought possible earlier this year.
RETAIL - VEND AND SHOPIFY
Reseller partnership and API integration with Vend, a leading global PoS company that operates over 25,000 stores across 140 countries.
Agreement to deploy its insights platform at 550 "Your CBD" locations across 41 states, the largest CBD retailer in the United States.
The Your CBD Store win includes the implementation of Loop's data insights platform across 170 new stores by the end of 2020 and an additional 380 stores in Q2 of 2021.
Loop announced the completion of its point of sale integration with Shopify, providing Loop with access to the 500,000 merchants currently using the Shopify platform.
Completing our Shopify integration further bolsters Loop's efforts to achieve global scale via e-commerce and bricks and mortar opportunities.
UKLIPZ
Announced the integration of Uklipz into its product stack.
This is a very important milestone for Loop due to the significant strength it adds to our offering and the disruption it creates in the massive but problematic consumer review industry.
Revenues from UKLIPZ will be generated through multiple streams as follows:

Monthly SaaS fees from Brands and Retailers
Transaction fees when a consumer purchases through the platform
Brands purchasing use of consumer video reviews

Sponsored ads
Retail
HEALTHCARE
Loop Insights joined KABN Systems NA Holdings Corp. (CSE:KABN), Liquid Avatar, Lumedic, The Campus Agency, and TripXpertz to form a consortium to manage verifiable identity credentials for COVID-19 vaccinations.
Through this consortium and Loop Insights' previous partnership with iStoc, the Company is now able to provide medical testing beyond the scope of the COVID-19 pandemic.
Announced launch of its Digital Connect Health Platform, a fully-integrated digital healthcare solution designed for both government and private sector
Loop's Smart Health device requires a simple tap of the patient's mobile phone to check in and verify their ID.
Patients have frictionless access to everything they need in one simple wallet pass, including real-time notifications, testing and tracing updates, critical health information, and more.
NORTH AMERICA'S BIGGEST MOBILE COMPANIES BELIEVE
Loop has partnerships with the largest telecom companies to resell the Fobi device as part of their IoT retail solutions, which finally fills the missing piece that so many companies have been looking for.
SEEING IS BELIEVING
Now that you have an understanding of the magnitude of the problem and the disruptive power of LOOP, you need to see it for yourself. Watch these short but powerful videos demonstrating how LOOP is being applied across different verticals to solve brick and mortar retail problems.
LOOP CREATES BIG BENEFITS FOR ESTABLISHMENTS & THEIR CUSTOMERS

Once implemented Loop successfully brings consumers into the e-commerce stores and platforms of the retailer, the engagement possibilities are endless including Marketing and Loyalty programs that are driven by Artificial Intelligence.
REAL-TIME INSIGHTS



Retailers can now take the guesswork out of decision making with Fobi and Loop's cloud platform. They receive real-time updates on company performance online, on-premise, and between properties. Now they can improve their operations, inventory management, and marketing.
Company-wide data all in one place
Real-time access to data
Customer buying trends at a macro and micro level, across geographies or business locations
AI MARKETING AND LOYALTY PLATFORM
By using artificial intelligence to drive marketing and loyalty, consumers get the best possible deals and rewards, while the retailer accelerates revenue.
Highly personalized offers designed to increase basket size and repeat business
Instantly deliver personalized offers based on purchase history
Enable data driven retargeting
Create a fully personalized shopping experience for every customer
AUTOMATED ADVERTISING - LIKE GOOGLE ADS, BUT FOR BRICK AND MORTAR
As if everything you have read above wasn't mind-blowing, then sit down for this. The power of Loop Insights Artificial Intelligence allows it to also deliver real time ads to customers on behalf of major brands.
The power of Google Ads for brick & mortar
Target in-store customers, based on their buying behaviours
Delivers the right promotion to the right customer
AUTOMATED CONTACT TRACING
Loop has developed a safe and secure contact tracing solution, using Fobi paired with wallet pass technology. Guests receive a Covid-19 Contact Card to check-in and securely share their information at venues or events. Instil confidence back into brick and mortar businesses.
Independent secured network – LTE connectivity
Automated guest alerting and notification system
Simple contactless data collection
Detailed data insights and reporting
For Loop Insights, this is just the start. The capabilities and applications of Fobi are endless. Follow Loop to always stay up to date on the latest innovations and partnerships moving brick and mortar into the future.
Last changed at 11-May-2021 01:25PM by AGORACOM