AI-Powered Fintech Firm Helping Canadians Achieve Financial Wellness
Q1 2023 Revenue is $324,910 with Inverite AI Platform Achieving New Monthly Transaction Record in August
Marble Financial Inc. Profile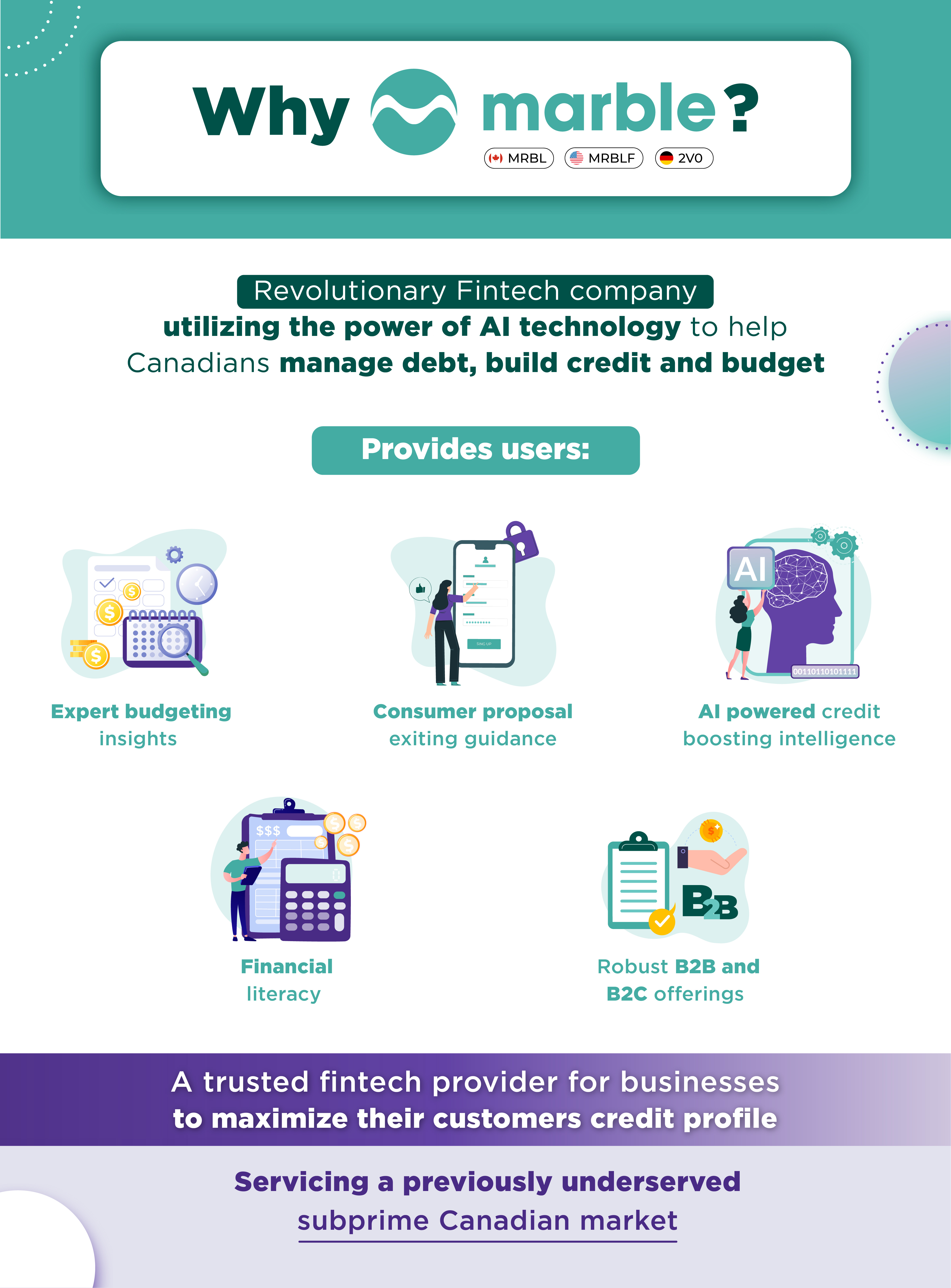 www.mymarble.ca
Why Marble?
Revolutionary Fintech company utilizing the power of AI technology to help Canadians manage debt, build credit and budget

Provides users;

Expert budgeting insights

Consumer proposal exiting guidance

AI powered credit boosting intelligence

Financial literacy

Robust B2B and B2C offerings

A trusted fintech provider for businesses to maximize their customers credit profile

Servicing a previously underserved subprime Canadian market
Recent Highlights:
Q1 2023 financial results: Strong performance, revenue up 7% YoY

Verification fees grew by 53%.

SaaS fees increased by 86%.

Affiliate partner program expanded by 30%.

11 new B2B license agreements were signed in July 2022

10 with open banking proprietary software platform, Inverite Verification Inc. and one with B2B2C credit nurturing Marble Connect

Of these 11 licensees, seven have gone live on the Inverite open banking platform.

Marble's Connect API and Inverite's open Banking Verification software go live with Rateshop.

Marble Connect Goes Live with Nuborrow

Nuborrow has helped more than 15,000 Canadians who seek competitive mortgage solutions and facilitated over $700 million in mortgage loan transactions.

Secures Licensing Agreement with WiiBid for its Proprietary Marble Connect API

Represents the second marketplace website in the alternative lending space to integrate the Marble Connect API.

Inverite Goes Live with Five New Industry Partners and Achieves a New Milestone Record of 4000 Daily Transactions

Secured Licensing Agreement with Lendforall.ca

Expected to gain roughly 5000 new Marble members monthly

Secures Licensing Agreement with Debtsadhu for its Proprietary Marble Connect API

Enabling Marble to gain roughly 500 new users per month as well as access to their customers' financial credit and banking data

Launches Credit Improving Boost Program

Suited for Canadians looking to improve their credit score

12-month interest-free innovative installment loan that finances and grants the

MyMarble

consumer a 12-month subscription to

MyMarble

Premium

Inverite Verification Achieves a Record 80,000 Monthly Transactions and Approaches 1.5 Million Unique Consumers Data Collected (Aug 21)
Did You Know 12 Million Canadians Are Below A Prime Credit Rating?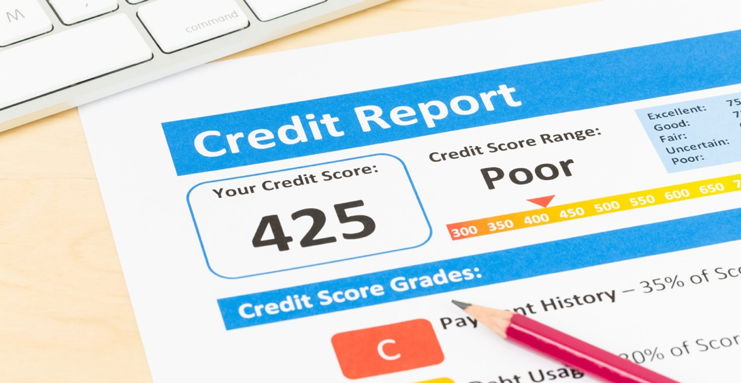 According to MNP (October 2020) , almost 50% of Canadians are living paycheque to paycheque and based on statistics from Statistics Canada's Household Sector Credit Market Summary (June 2020), for every dollar of disposable income, Canadians carry a $1.77 of debt. Additionally, Canada is a credit-based economy and financial literacy and good credit score is a major determinant to Financial Inclusion.
What Problem Does That Pose To Individuals Seeking Credit?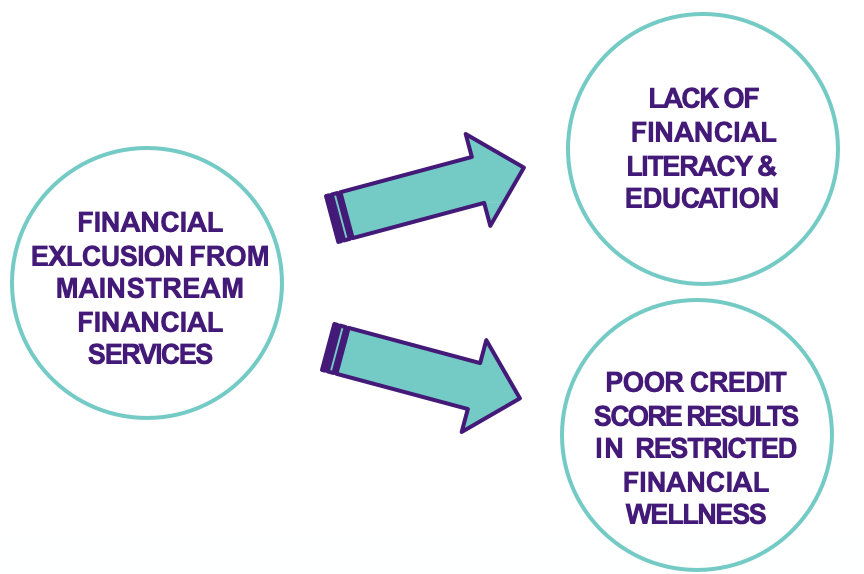 Enter:
A Fintech Company Utilizing The Power of AI Technology, Data Science and Machine Learning to Help Educate Canadians to Build and Manage Credit to Improve their Financial Wellness
'MyMarble' offers very specific, personalized financial recommendations about when to pay bills, how to prioritize debt management decisions and offers, tracks and highlights personalized data insights.
'MyMarble' through its suite of products offers innovative structured credit product solutions.
Key findings from Statistics Canada's 2019 Canadian Financial Capability Survey showed that 51% of 18 to 35 year-old Canadians surveyed seek financial literacy from online sources, displaying a preference for easy-to-use and digestible online content. In addition to this, 44% of Canadians surveyed said they engaged in financial education to strengthen their financial knowledge, proving a high demand and additional user acquisition stream with a product such as Maestro.
The MyMarble Ecosystem obtains leads from a number of tier one Canadian fintech companies which are funneled accordingly due to a detailed needs analysis.
So How Exactly Does The Company Make Money?
How Marble Acquires and Converts Customers
Benefits of This World Class AI Powered Platform
Expert AI Insights and Real-Time Recommendations
Comprehensive monthly reporting provides expert insights to guide the best course of action to manage budgets effectively
Data-Driven Credit Score Improvement Solution
Marble's Score-Up AI insights suggests steps which will make the biggest positive impact on credit scores using industry-leading monitoring and point deduction technology.
In a recent Personal Finance Sentiments Survey conducted by Marble, approximately 70% of the respondents commented that they were embarrassed by their credit score, proving a willingness to improve their credit to an acceptable mainstream banking level. In addition, a similar number of the same respondents identified having over $100 in disposable income each month, confirming Score-Up Lite's affordability to people that could benefit from it.
Specialist Curated Financial Literacy Platform
The company's Maestro Financial Literacy education platform has been designed and developed by personal finance experts with decades of experience within the industry.
Sustainable Consumer Proposal Exit solution
One of the only companies in Canada that specializes in exiting consumer proposals in a safe, fair and ethical way
Awards and Accolades
Selected as 1of 5 finalists for the Consumer Lending Platform of the Year Category at the Canadian Lenders Association 2020 Leaders in Lending Awards presented by BMO.
What Does The Company's Financial Future Look Like?
Market Validation
Recent Acquisitions
Marble Financial Announces Binding Letter of Intent to Aquire Inverite Verification Inc.
A Canadian financial technology provider for real-time access to financial data and insights, boasts connectivity to 286 Financial Institutions access points which is 15X greater than its closest competitor in Canada.
Inverite also has the highest (99% vs 93%) implied consumer coverage and the fastest processing time by a factor of two over its competition.
Its leading AI-based model Risk Score is trained from millions of banking verification requests and loan behaviors.
The Founding team of Inverite has over 50 years of experience in the financial services and technology space.
International presence with coverage of FI's in the South American market and will continue to expand its AI offering, globally
Why This Acquisition Complements Marble's Existing Offering
Integrates Marble's supply chain to further incorporate Inverite's suite of Instant Bank Verification, Risk Score, and ID Verify products
Enhances the growth trajectory of Marble, immediately.
Inverite is a Canadian leader with industry-leading IP technology that the MyMarble platform has been using and experiencing substantial and improved efficiencies.
Combined with other efforts already underway, will position Marble to deliver more value for consumers, existing partners while paving the way for a much larger untouched revenue opportunity.
Last changed at 13-Sep-2023 04:59PM by AGORACOM-BM