Flagship Croinor Gold Mine Has Great Potential To Become A Producer
Company Is Well Financed, Including $9 Million In Credits From Quebec Government
Monarques Gold Corp. Profile

Monarques Gold Enters Into a Definitive Agreement to Acquire All the Mining Assets of Richmont Mines in the Province of Quebec
Highlights of The Main Transaction
Monarques will acquire all of Richmont's mining assets, properties and claims in

Quebec

.
Monarques will become the owner and operator of the Beaufor mine and the Camflo mill.
Monarques to retain Richmont's highly experienced

Quebec

-based site teams.
Richmont will hold a 19.9% interest in the Corporation, inclusive of a

$2.0 million

investment by Richmont.
Why Monarques Gold?
Flagship Croinor Gold Mine Has Great Potential To Become A Producer
Company Is Well Financed, Including $9 Million In Credits From Quebec Government
23.20 G/T AU Over 0.4 M and 15.85 G/T AU Over 1 M
Hole CR-17-532 intersected 6.96 g/t Au over 15 metres (Read Release)
Including 17.1 g/t Au over 5.9 metres
Recently acquired 750 ton-per-day Beacon mill
Major Shareholders include: Rob McEwen and Nemaska Lithium
Croinor Gold Property
Flagship project at the prefeasibility stage
100% interest in the Croinor Gold property, a gold mine project that is currently at the prefeasibility stage
Property consists of one mining lease and two non-contiguous blocks of claims for a total of 335 claims over a 151 km² area. A 1.5% NSR is applicable on the mining lease and only 44 claims.
Drilling program will test a diorite-hosted gold-bearing zone that returned grades of up to 38.7 g/t Au over 3.8 metres in historical drilling (see release)
Four drill holes of the program (Figure 1) confirmed the presence of multiple gold zones in the western extension of "Diorite A", with results including: 11.30 g/t Au over 0.7 metres in Hole CR-17-03; 15.85 g/t Au over 1.0 metres in Hole CR-17-04; 14.85 g/t Au over 0.7 metres in Hole CR-17-05; and 23.20 g/t Au over 0.4 metres in Hole CR-07-06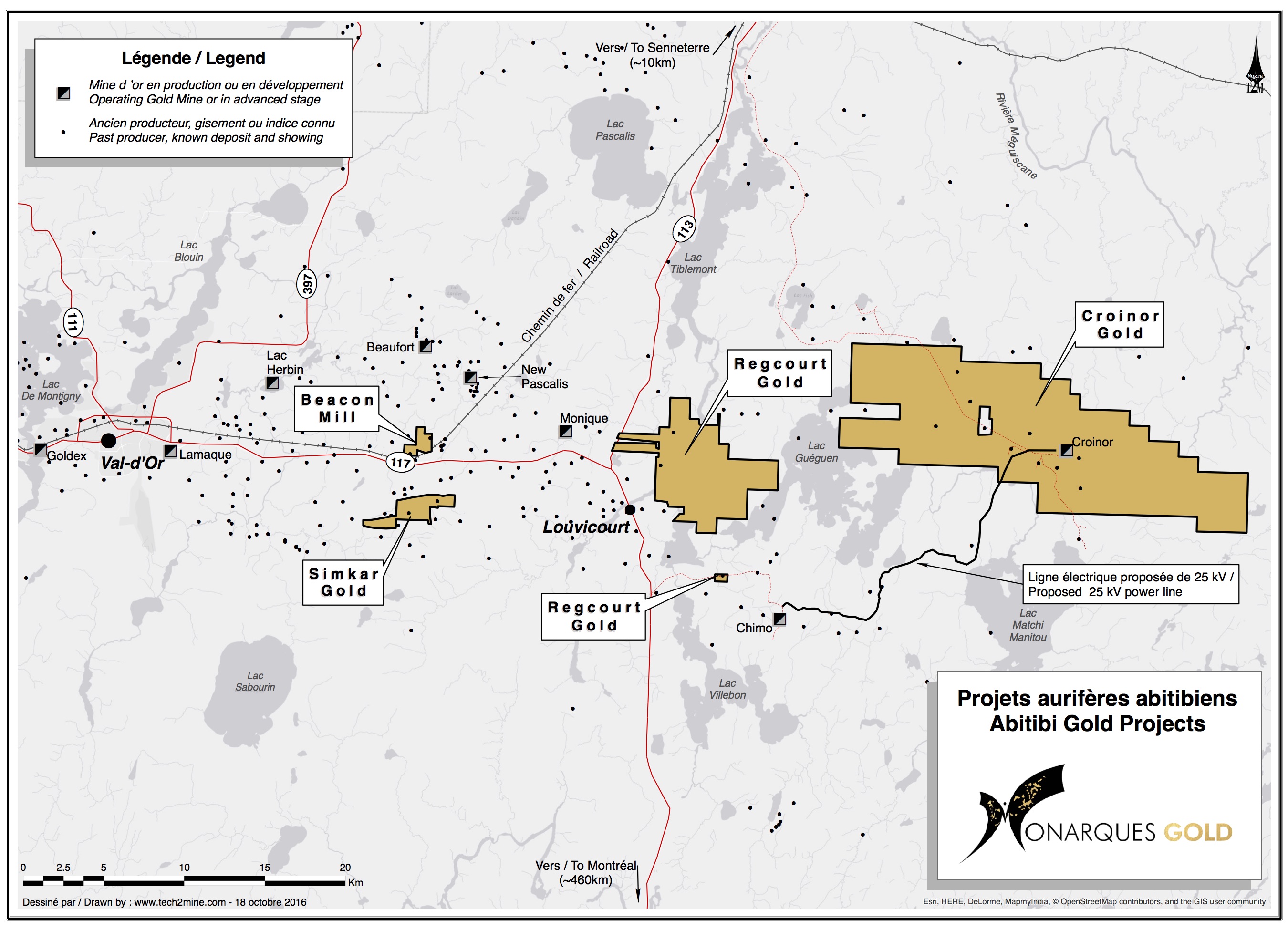 Check Out Croinor Gold
Prefeasability Study
Simkar Gold Property
NI 43-101 Gold Resource 20 km from Val-d'Or
100% interest in the Simkar Gold property
located 20 kilometres east of Val-d'Or, in the heart of the Abitibi Greenstone Belt.
Comprised of two mining concessions and 15 claims covering an area of 5 km², and is subject to a 1.5% NSR.
NI 43-101 (click here)


The Simkar Gold property is the result of a merger of the Simkar and Texsol properties. The transaction was announced by way of press release on June 26, 2014.
Regcourt Gold Property - Val d'Or
100% interest in the Regcourt Gold property
Property is located at the eastern end of the Val-d'Or gold mining camp, some 30 km east of Val-d'Or, and is easily accessible via Route 117.
Consists of 94 claims covering an area of 38 km2 near the centre of the western border of Vauquelin Township
Property is subject to a 1.5% and 2.5 % NSR.
12 Month Stock Chart
Last changed at 20-Sep-2017 03:52PM by AGORACOM