Gold Producer With Recent Quarter Revenue of $9.8M
Located in one of the best mining jurisdictions in Canada
Monarques Gold Corp. Profile

Why Monarques Gold?
A gold producer with the Beaufor Mine (gold production of 19,562 ounces in 2016; source Richmont 2016 annual report) located in one of the best mining jurisdictions in

Canada

.
A large portfolio of mining assets, including the Beaufor Mine, two mills (Camflo and Beacon), two advanced projects (Wasamac and Croinor Gold) and eight exploration projects covering more than 240 km2 in the Abitibi region.
Upside potential and leverage to the gold price with the Wasamac project.
NI 43-101 proven and probable reserves of 162,790 ounces of gold, measured and indicated resources of 1.76 million ounces and inferred resources of 1.67 million ounces
Over 150 highly experienced, qualified employees will join the Monarques team.
Strong financial position, with cash of $18.2 million
Q3 Highlights (March 31st)
Produced 4,932 ounces of gold in its third quarter, a decrease of 9% from the 5,444 ounces produced the previous quarter, mainly due to the breakdown of ore haulage equipment at the Beaufor Mine and a planned shutdown for maintenance at the Camflo mill. As soon as the equipment was repaired, production resumed at the same pace as in the previous quarter.
Revenues of $9.8 million in the third quarter, from the sale of 4,823 ounces of gold at an average price of $1,624 per ounce (US $1,284), combined with revenue from custom milling, which was up 17% for the quarter.
Final results of its 2017 drilling program at the Beaufor Mine. The results were from 52 holes totalling 7,157 metres of drilling, including 5 exploration holes (2,651 metres) and 47 definition holes (4,506 metres). The holes were drilled on several areas of the mine, including Zone Q, Zone QH2, Zone 32, and projects 350H, 1700 and Granodiorite East (see press release dated March 27, 2018).
Croinor Gold Property
At prefeasibility stage
100% interest in the Croinor Gold property, a gold mine project that is currently at the prefeasibility stage
Property consists of one mining lease and two non-contiguous blocks of claims for a total of 335 claims over a 151 km² area. A 1.5% NSR is applicable on the mining lease and only 44 claims.
Drilling program will test a diorite-hosted gold-bearing zone that returned grades of up to 38.7 g/t Au over 3.8 metres in historical drilling (see release)
Four drill holes of the program (Figure 1) confirmed the presence of multiple gold zones in the western extension of "Diorite A", with results including: 11.30 g/t Au over 0.7 metres in Hole CR-17-03; 15.85 g/t Au over 1.0 metres in Hole CR-17-04; 14.85 g/t Au over 0.7 metres in Hole CR-17-05; and 23.20 g/t Au over 0.4 metres in Hole CR-07-06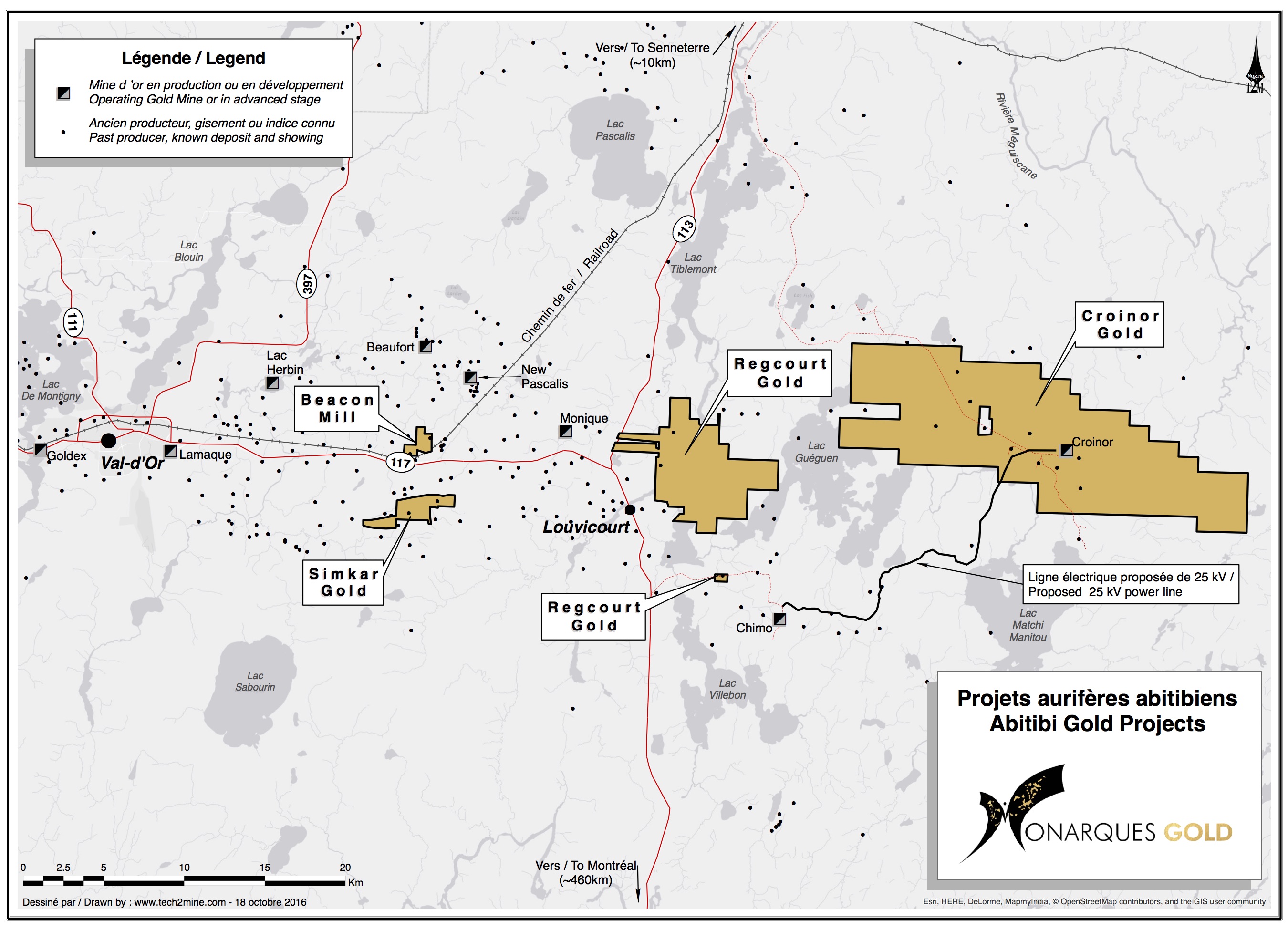 Check Out Croinor Gold
Prefeasability Study
Simkar Gold Property
NI 43-101 Gold Resource 20 km from Val-d'Or
100% interest in the Simkar Gold property
located 20 kilometres east of Val-d'Or, in the heart of the Abitibi Greenstone Belt.
Comprised of two mining concessions and 15 claims covering an area of 5 km², and is subject to a 1.5% NSR.
NI 43-101 (click here)


The Simkar Gold property is the result of a merger of the Simkar and Texsol properties. The transaction was announced by way of press release on June 26, 2014.
Regcourt Gold Property - Val d'Or
100% interest in the Regcourt Gold property
Property is located at the eastern end of the Val-d'Or gold mining camp, some 30 km east of Val-d'Or, and is easily accessible via Route 117.
Consists of 94 claims covering an area of 38 km2 near the centre of the western border of Vauquelin Township
Property is subject to a 1.5% and 2.5 % NSR.
12 Month Stock Chart
Last changed at 05-Jun-2018 02:21PM by AGORACOM