Among North America's Leaders in PGM & Lithium Exploration
Canada's Largest Undeveloped Primary PGM Resource, with M&I 4,626,250 Palladium Equivalent Ounces
New Age Metals Inc. Profile
(NAM:TSXV)
Two Divisions: PGM and Lithium

PGM Division: focus on Development of the 100% owned River Valley PGM Project. Canada's Largest Undeveloped Primary PGM Resource, with M&I 4,626,250 Palladium Equivalent Ounces

Lithium Canada: with a focus on Exploration of Hard Rock Lithium, in Manitoba, Canada and Lithium Brine in Nevada. The company uses the Prospector Generator Model.
WHAT YOU NEED TO KNOW

100% owned River Valley Extension Project (RVE), is undergoing its first NI 43-101 resource calculation.
To date, River Valley has M&I 4,626,250 Palladium Equivalent Ounces
Excellent infrastructure and are within 100 kilometers of the Sudbury Metallurgical Complex.
Advanced stage mineralogical testing is ongoing in Sudbury at Expert Process Solutions (XPS).
The price of Palladium, the prominent metal at River Valley is trading at $971.15USD (June 2018 from Kitco.com) near its all-time high based on limited supply and increasing demand.
Engaged DRA Americas Inc to Collaborate with P&E Mining Consultants Inc to Complete Preliminary Economic Assessment on the River Valley PGM Project
River Valley PGM Project is located 100 km east of Sudbury, Ontario
Sudbury hosts 1 of the Top 4 Nickel, Copper & PGM Mining & Processing Facilities in the World
Skilled Workforce, Established Mining Culture; Safe, Stable Pro-Mining Jurisdiction
Excellent Road Access to River Valley Property; Rail and Power Nearby
$30M Invested in Exploration, Large High-Confidence Resource, Favourable Metallurgy
NAM Announces Acquisition of the River Valley PGM Extension Project from Mustang MineralsCorp.
Strike Length of NAM's River Valley Deposit Increased from 12 km to 16 km
Mustang's surface grab samples returned Assays of up to 10 g/t PGM
Drilling Highlights Include:
1.4 g/t PGM/9.0m in MR02-59 from 35m downhole
4.0 g/t PGM/2.1m in MR02-62 from 153.7m downhole
2.2 g/t PGM/4.5m in MR02-64 from 60.5m downhole
PGM mineralization is Open at Depth and footwall potential remains untested
T2-like Targets identified from Favourable Geological and Geophysical Surveys
Targets under evaluation for drill testing
The Tanco Mine was one of North America's only
producers of Tantalum, Cesium and Lithium minerals (Spodumene), with the mine opening in 1969. Owned by the Cabot Corporation as of 1993
Presently the Tanco Mine produces Cesium Formate, a completion fluid for the petroleum industry.
At the end of 1992 (last published historic mineral inventory) was 1.075 Mt of 0.12% Ta2O5, 3.5 Mt of 2.7% LiO2 and 315,000 t of 23.3% Cs2O
Clayton Valley Forks Lithium Brine Project, Clayton Valley, Nevada
Silver Peak
Signed Agreement to Acquire 100% of the Genesis PGM Project in Alaska
Signed an agreement with Anglo Alaska Gold Corp. to acquire 100% interest of the 10,240 acre road accessible and drill ready Genesis PGM Project, located in the Valdez and Chitina Recording District, of Alaska.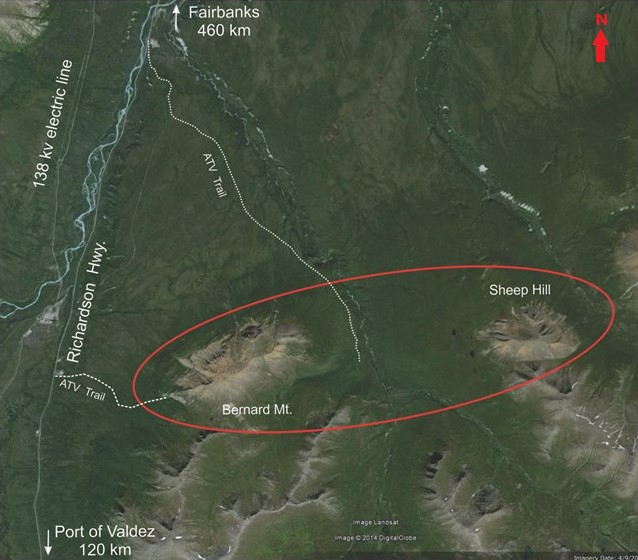 Click Image To View Full Size
Figure 1: Projects Location Map: The road accessible Genesis PGM Project adjacent to Richardson Highway and 138 kv electric lines. The project is 460 road kilometers to Fairbanks, Alaska and 120 road kilometers to the all-weather port city of Valdez
Merits of the Genesis PGM Project
The Genesis PGM Project is an under explored, highly prospective multi-prospect drill ready Pd-Pt-Ni-Cu property that warrants follow-up drilling, additional surface mapping, sampling to expand the known footprint of mineralization and to determine the ultimate size and grade of the layered mineralization outlined to date. The stable land status, ease of access and superb infrastructure make this project prospective for year-around exploration, development and production.
Significant aspects of the Genesis PGM Project include:
- Drill ready PGM-Ni-Cu reef style target with 2.4 grams/ton Palladium (Pd), 2.4 grams/ton Platinum (Pt), 0.96% Nickle (Ni), and 0.58% Copper (Cu).

- Reef mineralization is open to the west, east, north, and at depth

- Mineralized reef identified in outcrop for 850 m along strike and a 40 m true thickness

- Separate style of chromite mineralization contains Platinum Group Metals (PGM) up to 2.5 g/t Pd and 2.8 g/t Pt.

- Known PGM mineralization covers a distance of 9 km across the prospect.

- No historic drilling has been done on the project.

- Project is within 3 km of a paved highway and electric transmission line.

- Project is on stable State of Alaska claims.

- Fraser Institute's 2017 survey of mining companies has Alaska ranked as the 10th best jurisdiction in the world for mining.
Last changed at 05-Oct-2018 05:50PM by AGORACOM