The First Ever Touch-Based, Alcohol Detection System For Fleets & Industry
Creating Alcohol Free Workplaces To Increase Productivity, Save Lives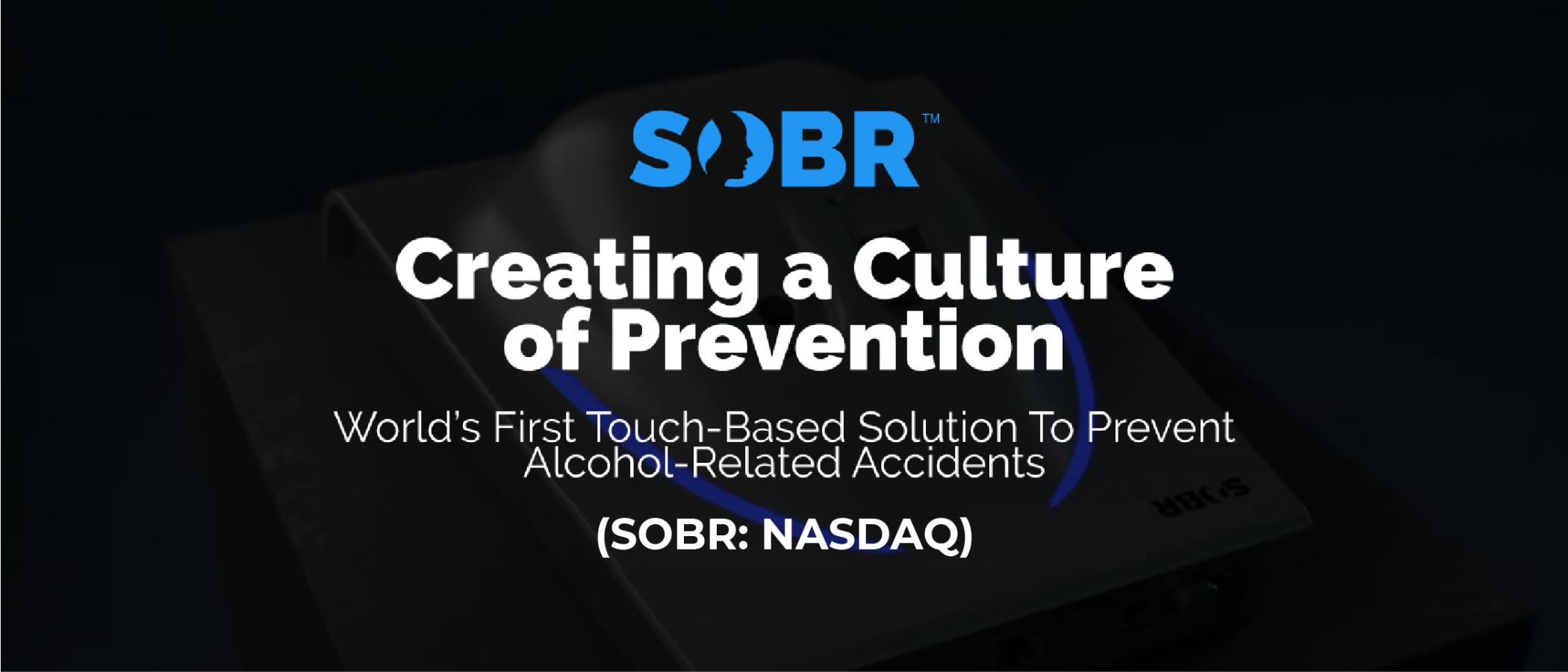 Every driver on the road, every operator on the job, and every pilot in the sky should be sober.
Yet alcohol-related accident rates continue to climb, and technology has not kept pace with this epidemic…until now.

Workplace Drinking Epidemic... "Commercial Fleets suffer from over 11,000 alcohol related accidents every year. That rate is climbing and technology has failed to keep pace with this epidemic"
The annual cost of alcohol abuse in the U.S. is $249 billion. Nearly half of all industrial accidents with injuries are alcohol-related, and 1-in-10 U.S. commercial drivers test positive for alcohol (the highest rate worldwide). In response, SOBRsafe™ has developed a proprietary, touch-based identity verification, alcohol detection and cloud-based reporting system.
The technology is transferable across innumerable form factors, including stationary access control, personal wearables and for telematics integration. A preventative solution in a historically reactive industry, it is being deployed for commercial fleets and workplaces; other intended applications include managed care and young drivers.
This patent-pending alcohol detection solution helps prevent an intoxicated worker from taking the factory floor, or a driver the vehicle keys. An offender is immediately flagged, and the employer (or parent, rehab sponsor, etc.) is empowered to take the appropriate corrective actions. At SOBRsafe, we are creating a culture of prevention.
47% Of workplace injuries linked to alcohol

$41K Cost to employers of an alcohol-related injury

11% Of workplace fatality victims test alcohol-positive

13% Of US commercial drivers test positive for alcohol, highest rate worldwide
Why is it Important to Create Alcohol-Free Workplaces and Increase Productivity, Why SOBRSafe (SOBR: NASDAQ)?
"Nearly 50% of industrial injuries and fatalities are alcohol related. Commercial Fleets suffer from over 11,000 alcohol related accidents every year. That rate is climbing and technology has failed to keep pace with this epidemic"
SOBRsafe has developed a patented, touch-based alcohol detection system for truck fleets, school bus fleets and industrial workplaces named SOBR Check™
SOBRSafe mission is to prevent alcohol-related injuries and deaths on our roadways and workplaces through the simple touch of a finger. This results in increased productivity and profitability.
Save lives

Increases productivity

Creates significant economic benefits

Protects the health of employees
SOBR Solution: Touch-Based, IoT-enabled alcohol detection, with instantaneous data reporting via a SaaS platform … World's First Touch-Based Solution To Prevent Alcohol-Related Accidents.
SOBRcheck™ Stationary

Warehouse, manufacturing, construction

SOBRcheck™ Mobile

Last Mile Delivery / Alcohol Rehab / Teen Drivers
SEEING IS BELIEVING
Now that you have an understanding of the magnitude of the problem and the disruptive power of SOBRSafe, you need to see it for yourself. Watch these short but powerful videos demonstrating how SOBR Check™ will be applied across different verticals.
APPLICATIONS - FLEET MANAGEMENT
School Buses: Drunk Driving Preventative Technology
Safety of the school children #1 priority

Identifying Bus Driver Intoxication

Realtime sobriety detection


Wirelessly communicates offenders to dispatch

Realtime sobriety detection technology

Beta Stage technology to be made available to schools nationwide
Delivery Vehicles: Ensuring Every Vehicle is Alcohol Free
Removing the risk of inebriated driving from vehicle routes

9 million delivery and service trucks on road


With touch of a finger in real time

Preventative:

·

Verifies employee ID

Verifies sobriety

Employers take action at dispatch

Discreetly verifies in real time and flags offenders
APPLICATIONS - WORKPLACE ACCESS CONTROL
Manufacturing: Efficiently taking corrective measures without impeding workflow and production.
Screening at entry point protects workers from harm

Industrial alcohol injuries cost $2.5b per year, public safety concern


Preventative measures successful

Data relayed Customized dashboard

Discreet device verifies real time:

Employee identification and

Sobriety

Employee Flagged

Preventative measures successful

Warehouses: Requiring Zero Tolerance Policies
Multi–ton machinery and million-dollar inventory

Industrial accidents cost employers 2.5B per year


SOBRSafe discreetly verifies in real time:

Employee identification

Sobriety

Data Info relayed to customized dashboard

Management takes corrective action

Workplace safer and more productive.