The World's First Touch-Based Solution To Prevent Alcohol-Related Accidents
Creating Alcohol Free Workplaces To Increase Productivity and Potentially Save Lives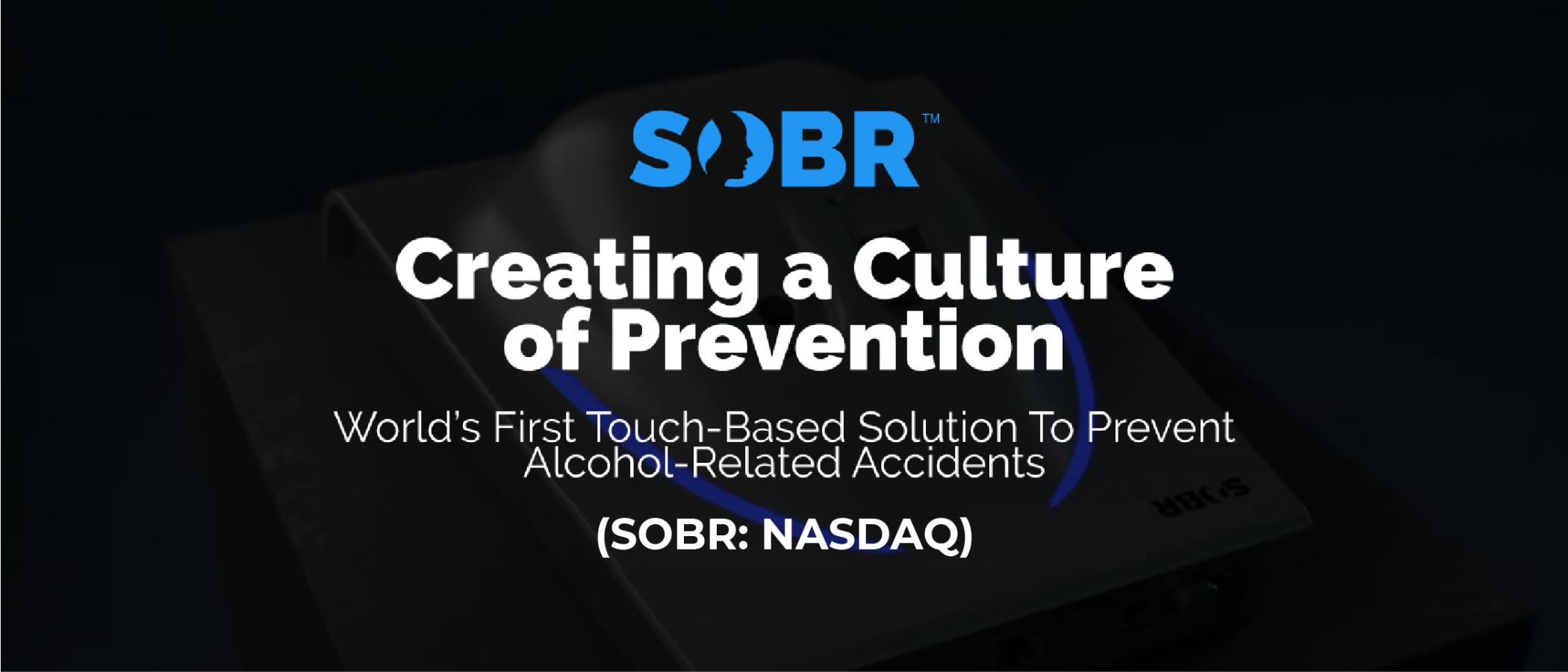 SOBR Safe Is "Appleizing" Breathalyzer Industry As Apple Revolutionized Mobile Phones 16 Years Ago
"Nearly 50% of industrial injuries and fatalities are alcohol related. Commercial Fleets suffer from over 11,000 alcohol related accidents every year. That rate is climbing and technology has failed to keep pace with this epidemic"
SOBRsafe has developed a patented, touch-based alcohol detection system for truck fleets, school bus fleets and industrial workplaces named SOBR Check™
SOBRSafe mission is to prevent alcohol-related injuries and deaths on our roadways and workplaces through the simple touch of a finger. This results in increased productivity and profitability.
Save lives

Increases productivity

Creates significant economic benefits

Protects the health of employees
SOBR Solution: Touch-Based, IoT-enabled alcohol detection, with instantaneous data reporting via a SaaS platform … World's First Touch-Based Solution To Prevent Alcohol-Related Accidents.
SOBRcheck™ Stationary

Warehouse, manufacturing, construction

SOBRcheck™ Mobile

Last Mile Delivery / Alcohol Rehab / Teen Drivers
APPLICATIONS - FLEET MANAGEMENT
School Buses: Drunk Driving Preventative Technology
Safety of the school children #1 priority

Identifying Bus Driver Intoxication

Realtime sobriety detection

Wirelessly communicates offenders to dispatch

Realtime sobriety detection technology

Beta Stage technology to be made available to schools nationwide
Delivery Vehicles: Ensuring Every Vehicle is Alcohol Free
Removing the risk of inebriated driving from vehicle routes

9 million delivery and service trucks on road




With touch of a finger in real time

Preventative:

·

Verifies employee ID

Verifies sobriety

Employers take action at dispatch

Discreetly verifies in real time and flags offenders
APPLICATIONS - WORKPLACE ACCESS CONTROL
Manufacturing: Efficiently taking corrective measures without impeding workflow and production.
Screening at entry point protects workers from harm

Industrial alcohol injuries cost $2.5b per year, public safety concern

Preventative measures successful

Data relayed Customized dashboard

Discreet device verifies real time:

Employee identification and

Sobriety

Employee Flagged

Preventative measures successful
Warehouses: Requiring Zero Tolerance Policies
Multi–ton machinery and million-dollar inventory

Industrial accidents cost employers 2.5B per year

SOBRSafe discreetly verifies in real time:

Employee identification

Sobriety

Data Info relayed to customized dashboard

Management takes corrective action

Workplace safer and more productive.
THE VALUE PROPOSITION
Now that you have seen SOBRSafe in action, you can begin to understand the multi-faceted value proposition that SOBRSafe provides to both industry and society. We've outlined many of them below as follows:
First-To-Market With A Touch Based (Transdermal) Alcohol Detection Device

"Go / No Go" Detection Means Employers Receive Immediate Notification Of Alcohol Presence = Immediate Action

Deny Access To A Facility

Deny Access To A Vehicle

Alcohol Related Death And Injuries Create Two Costs For Society:

Invaluable Loss Of Life Or Serious Injury

$63 Billion In Financial Losses / Year

SOBRSafe Saves Both Of These Costs

These Losses Equate To A $16 Billion Market Opportunity

Provides Employers With Unprecedented Real-Time Control Over Access To Their Workplace

Provides Employers With Significant Savings On Bottom Line Costs Related To:

Insurance Premiums

Settlements

Productivity Loss

Employee Morale

Damages To Brand, Reputation & Goodwill

Most Importantly - Prevents The Incalculable Loss To Families Of Loved Ones Who Have Been Lost Or Injured By Preventable Alcohol Related Incidents.
DELIVERY SERVICE PARTNER - Now On Amazon's Radar 2,500 Amazon contractor (DSP) fleets
FEATURES
User data is recorded in seconds, measuring humidity, barometric sensors, and temperature
to provide accuracy and consistency across multiple applications and environments.
The user data is sent to SOBRSafe's Global Cloud Platform allowing managers to receive immediate notification of test results and immediate action; providing safety to employees and employer through the touch of a finger.
Transdermal Sensor
Alcohol detection with efficient workflow, non-invasive "go/no go" functionality, results in seconds
Biometric Identification
Alcohol scan results tied to a unique fingerprint ID, preventing circumvention, enhancing security
Real-Time Management
Wireless delivery of enterprise-wide data to central dashboard for immediate corrective action
Predictive Analytics
Actionable data collection empowers reduced-risk modeling, potentially lowering insurance costs
Preventative Solution
SOBRSafe® gets ahead of the risk, helping eliminate alcohol on the shop floor, behind the wheel
IMPORTANT NEWS
Last changed at 12-Oct-2023 01:24PM by AGORACOM-Multimedia