A revenue-generating, small-cap Canadian pharmaceutical company
Revenue Projected at $150,000,000 by 2025
Valeo Pharma Inc. Profile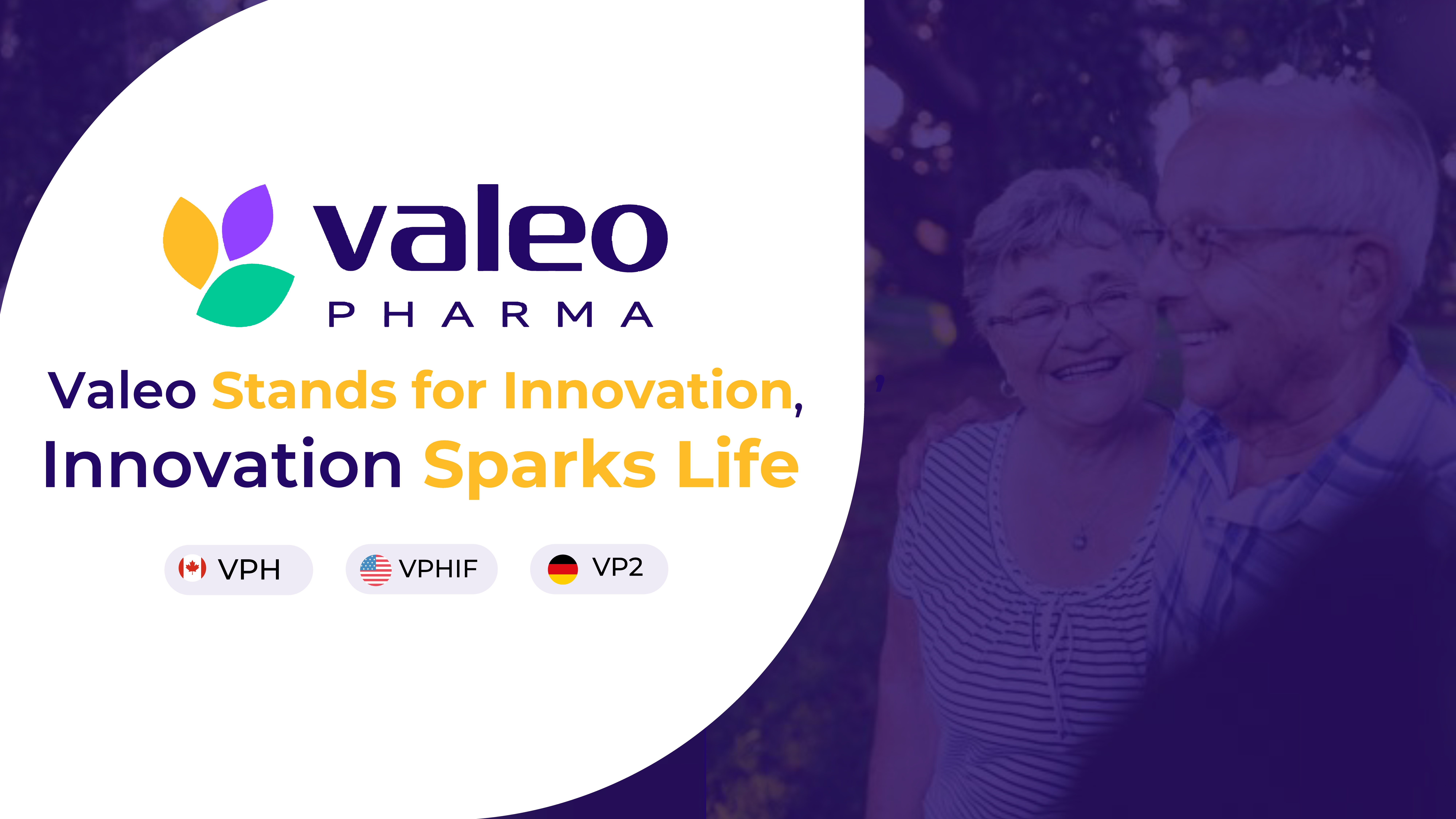 Valeo Pharma: A Successful, Revenue-Generating, Small-Cap Canadian Pharmaceutical Company
What Makes Valeo Pharma Such An Interesting Pharmaceutical Company?
Redesca®, Enerzair® Breezhaler® and Atectura® Breezhaler®, three transformational products launched during 2021, will help accelerate revenues and margins in 2022

Public reimbursement secured in most provinces in Canada for Redesca, Enerzair Breezhaler and Atectura Breezhaler and all major private insurers

9 products currently marketed ($40M. estimated peak sales / year)

7 additional products in pipeline ($45M. estimated peak sales / year)

In-license business model, no development or clinical risk

Hesperco™ Capsules at the Core of Montreal Heart Institute's Hesperidin Coronavirus Clinical Trial

Completion of new corporate structure to allow for significant growth over the coming years and enable accelerated growth of commercial activities

$43 million raised in financings throughout 2021 and subsequent to year-end
Commercial Products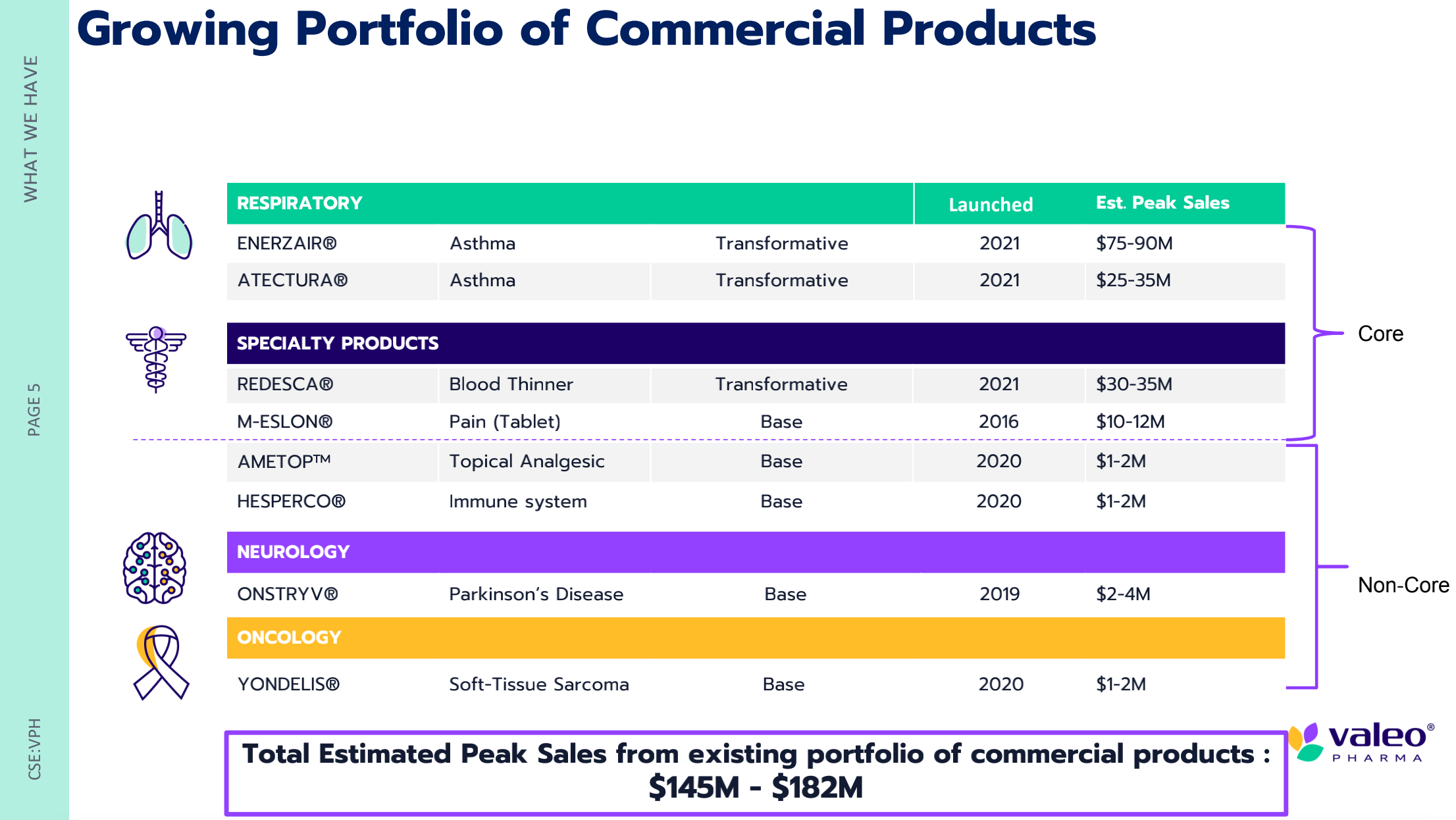 What Exactly Does Valeo Pharma Do?
Acquires Canadian rights to commercial stage, innovative and proprietary drugs
Commercializes innovative prescription products in Canada
Focused on Neurodegenerative Diseases,

Oncology and Hospital Specialty Products
Internally manages portfolio through all stages of commercialization
Here's just a few products already approved:
BRAND: REDESCA® (BIOSIMILAR)
Launch: Q1-2021
Status: Approved by Health Canada December 2020
Indication: Injectable blood thinner
Market size: $200M
Received positive recommendation for public reimbursement in Quebec
To be covered under Ontario Public Drug Benefit program
Peak sales estimate $30 - $40M, sales margin 55 - 60%
BRAND: HESPERCOTM
Launch: Launched in Q4 -2020
Status: Approved by Health Canada
What is it: Anti-Oxidant - Immune system support
How's it sold: Retail, Online (www.hesperco.com, www.amazon.ca)
Market Size: $500M
Available in approximately 300 stores under the Loblaws banners
Clinical study yields encouraging results that hesperidin may help reduce COVID-19 associated symptoms
BRAND: ONSTRYV®
Launch: Q3 2019
Status: Received positive recommendation for public reimbursement in Quebec
Use: Parkinson's disease, 1st treatment launched in Canada since 2006
Patient base: 100,000 in Canada 2nd chronic neurodegenerative disorder after Alzheimer
Market Size: $20M
%Peak sales estimate $8M, sales margin 65-70 %
Pipeline
The Valeo Model
Company Forecast
All portfolio & pipeline products to be on the market by end of 2022

Solid pipeline composed of "licensed" products

Peak Sales reached 2-4 years after the market launch

From 1 product on the market to 12 in 4 years and more to come

The forecast excludes any new product licensing.
Recent Releases
Last changed at 27-Mar-2023 10:33AM by AGORACOM