Full Text Posts Of Front Page Stories and Blog Posts On AGORACOM
Message: AGORACOM Small Cap TV - January 16th - Highlights
Did you know? You can earn activity points by filling your profile with information about yourself (what city you live in, your favorite team, blogs etc.)
Good morning to you all. Please find enclosed a summary of the breaking small-cap and micro-cap financial news we highlighted on AGORACOM Small Cap TV this morning. It's January 16th, 2012, and we've found 5 great press release to report on at the open. Another great day for small-cap and micro-cap financial news. To watch the show live every morning at 9:30 AM, visit our front page.
Bracemac-McLeod Mine Development Continues To Track On Budget
Donner Metals Ltd. (TSX VENTURE:DON)(FRANKFURT:D4M),
provides an update on the continued development of the Bracemac-McLeod Mine as reported to the Company by partner and project operator Xstrata Canada Corporation-Xstrata Zinc Canada Division ("Xstrata Zinc"). The main access ramp reached 2,300 metres at Bracemac in early December, in advance of the scheduled year-end target, allowing full multi-face development to begin later in January. Total development now stands at 2,500 metres, including the main ramp to McLeod, three ramps turned off to the Bracemac Zones, and a turn-off to the backfill raise. The backfill raise, when completed, will be used as temporary ventilation until the ventilation raise is completed in the fall of 2012. Multi-faced development will now continue to the Bracemac Zones and the in the main ramps accessing the McLeod Zone. Mr. Keats states that, "We are proud of the development team for keeping this project on budget and on schedule in an environment where such a good news story is rare." David Patterson, Chairman and Chief Financial Officer, goes on to say, "Having Xstrata as a partner in this project has ensured cost control and has reduced the risk for Donner."
The Bracemac-McLeod Mine is scheduled to be ready for production in early 2013.
About the company
Donner Metals Ltd. is a Canadian development and exploration company focused on base and precious metal projects in Québec. Donner's flagship project is a partnership with Xstrata Canada Corporation in the Matagami Mining Camp covering both the current development of a new mine and on-going exploration activities. The project is located in the Abitibi region of central Québec and it is supported by Xstrata's existing mine infrastructure, a highly experienced workforce and an operating 2,950 tonne per day mill. As well, the area is serviced by highway, power, airport, railway and town site infrastructure.
Last: 0.21Range: 0.37-0.165Market Cap: 33.8 million
Temex Announces Substantial Increase in the Gold Resource Estimate for Juby Main Zone
Temex Resources Corp. (TSX-V: TME, FWB: TQ1)
announces the updated National Instrument 43-101 ("NI 43-101") resource estimate on the Juby Main Zone located in the Shining Tree area of Eastern Ontario.
The updated mineral estimate, which now includes diamond drill results from the Company's 2010 and 2011 exploration campaigns, is 50% larger than the Company's previous resource estimate published in June 2010.
Highlights:
Indicated resource is 934,645 ounces gold grading 1.30 g/t at 0.40 g/t cut-off
Inferred resource is 905,621 ounces gold grading 1.00 g/t at 0.40 g/t cut-off
Known strike length of 2.8 kilometres; deposit remains open for expansion at depth and along strike
"This important increase in resources demonstrates the significant potential to increase the size of the deposit," said Ian Campbell, President and CEO. "Significant upside exists to add to our resource base on the gold zones identified to date plus several nearby high priority gold exploration targets. It is our intention to continue expanding the deposit by diamond drilling and immediately embark on preliminary metallurgical work and environmental baseline studies, the results of which will be incorporated into a preliminary economic assessment. The Juby Project is one of our core assets - it is easily accessible by road and is situated in the center of a world class mining area."
About Temex Resources Corp.
Temex is a Canadian based exploration company focusing on its portfolio of precious metals properties in northeastern Ontario, a world class mining district. Temex is exploring its Timmins Whitney Property, in partnership with Goldcorp, and its Juby Gold Project. The Juby Main Zone has a resource of 22.3 million tonnes at a grade of 1.30 g/t gold for 934,645 ounces of gold in the Indicated category and 28.2 million tonnes at a grade of 1.00 g/t gold for 905,621 ounces of gold in the Inferred category, both at a cut-off grade of 0.40 g/t gold (Note 1). Temex also has a NI 43-101 compliant resource for tailings material on its Gowganda Silver Project (Note 2). The tailings piles contain a resource of 1.94 million tonnes grading 47.5 g/t silver for a contained resource of 2.96 million ounces of silver in the Indicated category.
Last: 0.22Range: 0.44-0.16Market Cap: 28 million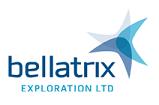 Bellatrix exceeds exit guidance, averaging 16,000 boepd during December 2011, layers in additional commodity fixed price contracts for 2012, announces plans to drill a 100% Duvernay test in Q1 2012 and provides a further operational update
TSX: BXE
Bellatrix Exploration Ltd.
is pleased to announce that average production in the month of December 2011 (based on field estimates) averaged 16,000 barrels of oil equivalent per day (boe/d) and that it has recently layered in additional commodity fixed price contracts for 2012. Bellatrix also announces plans to drill a 100% Duvernay test in Q1, 2012 and provides a further operation update.
Highlights
During the month of December, field production averaged 16,000 boe/d which exceeded Bellatrix's 2011 exit rate guidance of 15,000 boe/d. This represents an increase of 52% over the Company's month of December 2010 average production rate of 10,500 boe/d. Bellatrix exited 2011 with production volumes weighted 40% to crude oil, condensate and liquids and 60% to natural gas.
Q4 2011 production is estimated to have averaged approximately 14,000 boe/d and 2011 annual production is expected to average approximately 11,900 boe/d. This reflects a 40% increase over Q4 2010 average sales volumes of 10,002 boe/d and over 2010 average annual sales volumes of 8,519 boe/d respectively.
About the company
Bellatrix Exploration Ltd. is a growth oriented exploration and production company based in Calgary, Alberta, Canada.
Last: 4.84Range: 6.19-3.15Market Cap: 519 million
Oremex Silver Reports 5.5 Meters of 212.26 g/t Silver from Underground Drilling at Chalchihuites
Oremex Silver Inc.(TSX VENTURE:OAG)(OTCQX:ORAGF)(FRANKFURT:OSI)
is pleased to report the results from the first three holes of the underground drill program at the Chalchihuites silver project held by its wholly-owned Mexican subsidiary Minera Mantos S. de R.L. de C.V.
- Multiple Mineralized Structures Were Found in All Holes - Hole 2 Assayed 5.5 M of 212.26 g/t Ag Including 1.7 M of 563 g/t Ag - Hole 3 Assayed 5.4 M of 28.56 g/t Ag and 0.82 g/t Au Including 1.4 M of 56.60 g/t Ag and 2.54 g/t Au - Additional Drilling Being Planned to Follow the Strike and Dip Extent of the La Purisima Structure as Well as Other Structures and Skarn/ Replacement Mineralization
The first three underground drill holes fan out from the face of the Tepozan adit to test the northwest striking and steeply southwesterly dipping La Purisima structure. Multiple mineralized structures were found in every hole.
About Oremex Silver Inc.
Oremex Silver Inc. is a Canadian company focusing on the exploration and development of silver projects along the highly productive mineralized belt in Mexico. The Company has a portfolio of silver Projects including a mineral resource of 50.8 million ounces of silver at its Tejamen deposit. The Company's projects are located in mining-friendly jurisdictions and the management team has successful track record of mine building in Mexico.
Last: 0.16Range: 0.445-0.12Market Cap: 19.6
El Nino Ventures Continues to Intersect High Grade Zinc, Lead and Silver Over Broad Intercepts at the Murray Brook Deposit, in the Bathurst Mining Camp
El Niño Ventures Inc. ("ELN" and the "Company") (TSX.V: ELN; OTCX:ELNOF Frankfurt: E7Q)
is pleased to announce significant diamond drill results of the 2011 drill program on the Murray Brook massive-sulfide deposit located in the Bathurst Mining Camp in New Brunswick, Canada. Votorantim Metals Canada Inc (VM Canada) is the operator of the program.
·Significant drill results; including:
§5.45% zinc, 1.81% lead, 0.51 gpt gold and 65.7 gpt silver over 103.1 metres in MB-2011-39
§4.65% zinc, 1.71% lead, 0.36 gpt gold and 56.5 gpt silver over 100.5 metres in MB-2011-48
§3.85% zinc, 1.40% lead, 0.63 gpt gold and 56.1 gpt silver over 146.0 metres in MB-2011-49

·NI43-101 resource calculation slated for first quarter of 2012
·The deposit remains open and there is good potential to increase grade with additional denser drilling
·$2.5 million budgeted in 2012 for drilling measured resources at the Murray Brook deposit
·$500,000 for exploration of the Murray Brook Property
·Preliminary metallurgical studies slated for 2012
About El Niño Ventures Inc.

El Niño Ventures Inc. is an international exploration company, focused on exploring for lead, zinc, copper, gold and silver in New Brunswick, Canada and copper in the Democratic Republic of Congo ("DRC").
Last: 0.12Range: 0.46-0.088Market Cap: 5.7 million
Please login to post a reply