Full Text Posts Of Front Page Stories and Blog Posts On AGORACOM
A drill hole collared in main mineralized zone (Dana North) encountered 2.45 g/t Pd+Pt+Au over 28m, including 7.12 g/t over 3m and 4.06 g/t over 6m with a second zone of 3.30 g/t Pd+Pt+Au over 4m
Drilling continues to encounter PGM mineralization in the footwall of the River Valley PGM Deposit with assays of 1.56 g/t Pd+Pt+Au over 9m, 1.41 g/t over 8m, 1.12 g/t over 17 m and 1.64 m of 7m were obtained from drilling in the footwall
River Valley is the Largest Undeveloped Primary PGM resource in Canada, with 3.9Moz PdEq in Measured Plus Indicated including an additional 1.2Moz PdEq in Inferred.
Message: AGORACOM Small Cap TV - January 25th - Highlights
Did you know? You can earn activity points by filling your profile with information about yourself (what city you live in, your favorite team, blogs etc.)
Good morning to you all. Please find enclosed a summary of the breaking small-cap and micro-cap financial news we highlighted on AGORACOM Small Cap TV this morning. It's January 25th, 2012, and we've found 7 great press releases to report on at the open. Another great day for small-cap and micro-cap financial news. To watch the show live every morning at 9:30 AM, visit our front page.
Aquila Drills 10.37 Grams Per Tonne Gold Over 4.48 Meters at Peninsula Gold Project
Aquila Resources Inc. (TSX:AQA)(OTCQX:AQARF)(FRANKFURT:JM4A)
is pleased to release results from the second round of drilling at its 100% controlled Peninsula gold project. Peninsula is part of a package of gold prospects acquired by the Company in 2010 that occur within the Marquette Greenstone Belt in the Upper Peninsula of Michigan (see press release dated November 1, 2010).
Highlighted intercepts from the second round of drilling at Peninsula include:
--8.84 g/t gold over 3.5 meters in PEN-11-23
--7.48 g/t gold over 3.0 meters in PEN-11-26
--5.31 g/t gold over 4.59 meters in PEN-11-30
--10.37 g/t gold over 4.48 meters in PEN-11-36
--Including 23.4 g/t gold over 1.97 meters
About Aquila Resources Inc.
Aquila Resources Inc. (TSX:AQA)(OTCQX:AQARF)(FRANKFURT:JM4A) is a mineral exploration company focused on the discovery and development of high-grade base and precious metal projects in highly prospective regions of North America. The Company is rapidly expanding its presence and moving towards an interest in production on its flagship Back Forty Project through a joint venture with HudBay Minerals Inc. (TSX:HBM)(NYSE:HBM). The Company has also positioned itself for future growth by acquiring new base metal deposits under an Exploration Alliance with HudBay as well as through the acquisition of 100% owned precious metal exploration properties. Leading the way is an experienced management and technical team that have identified significant high-grade base and precious metal properties. For more information, please visit www.AquilaResources.com.
Last: 0.495Range: 1.09-0.47Market Cap: 43.8 million
Calvista Intersects Near the Surface 7.62 Metres of 9.86 g/t Gold and 13.73 Metres of 5.93 g/t Gold in Its Newly Acquired License
Calvista Gold Corporation (TSX:CVZ)
is pleased to announce additional assay results in its newly acquired property El Carmen (License 90-68) from Drill Holes Cal-31 to 37 (See Figure 1). The Phase 1 drilling program, has been completed with a total of 9,836 metres drilled on 24 holes, which compliments the 13 holes drilled in 2010, for a total of 14,692.4 metres in 37 drill holes. Calvista is also pleased to announce that it is currently working towards a NI 43-101 resource estimate and expects to have it ready in the first quarter of 2012.
Included as part of the drill hole assay results reported below, Cal-35 targeted near the surface high-grade shoots within the main broad north-east trending mineralized zone, which hosts the neighbors' deposits as mentioned in the previous paragraph, and returned an intersection of 7.62 metres of 9.86 grams per tonne ("g/t") gold, and Cal-36, which intercepted from 35.05 to 48.76 metres an interval of 13.73 metres at 5.93 g/t gold.
About Calvista
Calvista is a mineral exploration company focused on the acquisition, exploration and development of properties for the mining of gold and other minerals. Calvista's California Project is comprised of eleven mining titles grouped into six non- contiguous blocks located in the California mining district, Department of Santander, in Colombia. Calvista is well funded and led by a management team with over 45 years of exploration and mining experience, principally in South and Central America. Calvista's head office is located in Toronto with its Colombian headquarters located in Bucaramanga. For further details on Calvista, its management team and its project, please refer to Calvista's web site (www.calvistagold.com). Calvista's Canadian regulatory filings can be found on SEDAR at www.sedar.com.
Last: 0.48Range: 1.00-0.32Market Cap: 23.7 million
Seafield Intersects 167.75 Metres of 1.05 g/t Gold, Including 44.10 Metres of 2.94 g/t Gold at its Miraflores Deposit in the Quinchia District of Risaralda, Colombia
Seafield Resources Ltd.(TSX VENTURE:SFF)
is pleased to report additional drill results from the Company's current diamond drilling program at its Miraflores Deposit located in the Quinchia district of the department of Risaralda, Colombia.
Highlights:
--QM-DH-24 intersected 167.75 metres of 1.05 g/t Au, including 44.10
metres of 2.94 g/t Au
--QM-DH-25 intersected 161.00 metres at 0.78 g/t Au, including 36.30
metres at 0.95 g/t Au and 6.45 metres at 3.02 g/t Au
--Drill holes QM-DH-24 confirms the continuity of mineralization at depth
and QM-DH-25 extends the mineralization of the Miraflores breccia pipe
to the southwest, outside of the current resource model.
About Seafield Resources Ltd.
Seafield Resources Ltd. is a mineral exploration company focused on acquiring and advancing precious metals projects in Colombia. Seafield's 100%-owned 6,575-hectare Quinchia Gold Project is located in department of Risaralda, Colombia. Seafield's Miraflores Deposit currently has a NI 43-101 compliant measured and indicated resource of 1,227,593 ounces gold at 0.9 g/t and an inferred resource of 354,512 ounces gold at 0.9 g/t. Additionally, the Company recently initiated an NI 43-101 compliant resource estimate for its Dosquebradas Deposit, with inferred resources totalling 920,772 ounces gold at 0.5 g/t.
Last: 0.17Range: 0.52-0.14Market Cap: 28.7 million
Lithium One Announces Upgrade in Resource Category, Total Tonnage and Grade at Sal de Vida Lithium-Potash Brine Project, Argentina
Lithium One Inc. (TSX VENTURE:LI),
is pleased to report an upgraded lithium ("Li") and potassium ("K") resource statement for its Sal de Vida brine project at Salar del Hombre Muerto, in Salta and Catamarca provinces of Argentina. The NI 43-101 resource statement, detailed in Table 1 below, includes 4,053,000 tonnes of lithium carbonate ("Li2CO3") equivalent and 16,071,000 tonnes of potash ("KCl") equivalent in the measured and indicated categories, with an additional 3,180,000 tonnes of Li2CO3 and 12,762,000 tonnes KCl in the inferred category. The expanded Sal de Vida resource is one of the largest and highest grade undeveloped lithium and potash brine deposits in the worldi.
Paul Matysek, the CEO of Lithium One, commented on the updated resource for the Sal de Vida Project, "We have achieved our goal of upgrading the Sal de Vida brine resource in grade and tonnage. This resource represents more than a 30% increase in the estimated total contained lithium and potash, along with an increase in grade of approximately 10%. Using very similar methodologies as in the inferred resource calculation last year, the team incorporated much more data, including more than twice as many holes and effective porosity measurements, to upgrade the status of most of our resource to measured and indicated. These improvements in grade and tonnage should contribute to further improvements in the projected economics as we work toward our feasibility study in the third quarter of this year."
About Lithium One:
Lithium One Inc. is well positioned to be a next-generation low cost producer of lithium and potash. The Company has two major projects advancing to feasibility in 2012: the Sal de Vida lithium and potash brine project in Argentina and the James Bay bulk tonnage spodumene project in Quebec. The October 2011 preliminary economic assessment by ARA Worley Parsons for the Sal de Vida project outlined an operation producing 25,000 tonnes pa lithium carbonate and 107,000 tonnes pa potash, with a 28% internal rate of return ("IRR") and a US$1.066 billion net present value ("NPV") at an 8% discount rate. End-user partners are earning a maximum 30% project equity in Sal de Vida by funding $15M towards feasibility, providing an off-take agreement for up to 50% of the lithium production, and providing a completion guarantee for the debt component of the capital development costs.
Last: 1.02Range: 1.85-0.73Market Cap: 62 million
Abitex and Continental Nickel Report 2.35% Nickel and 1.06% Copper over 5.45 Metres at the St. Stephen Project
Abitex Resources Inc. (TSXV: ABE)
is pleased to announce assay results from the 2011 drilling program on the St. Stephen Nickel-Copper project in New Brunswick which have confirmed the discovery of new nickel-copper sulphide mineralization.Highlights include: 2.35% nickel and 1.06% copper over 5.45 metres from drill hole SSD11-013 at the new Hanson Brook target, and 0.68% nickel and 0.41% copper over 58.2 metres, including 0.85% nickel and 0.48% copper over 20.8 metres from drill hole SSD11-011 at the "G" zone. Continental Nickel Limited ("Continental" or "CNI") (TSXV: CNI) can acquire an initial 50% and up to a 75% interest in the St. Stephen project under the terms of an option agreement with Abitex. CNI is the operator during the option period.
About Abitex
Abitex Resources is an exploration and development company based in Val d'Or, Quebec, which is focused on advancing two uranium properties in the Otish Mountains region of north-central Quebec. The Company announced the results of a positive Preliminary Economic Evaluation ("PEA") for the Lavoie uranium-gold project on January 20, 2012, projecting Gross Income of $636M over a 6-year mine-life, Net Cash Flow of $166M, an NPV of $88M and IRR of 42% based on conservative parameters. The PEA report will be filed on SEDAR within 45 days of the release.
Last: 0.045Range: 0.21-0.03Market Cap: 4.2 million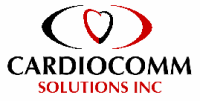 CardioComm Solutions, Inc. Passes Canadian Medical Devices Conformity Assessment System ISO 13485:2003 Audit
Release yesterday afternoon
CardioComm Solutions, Inc. (CardioComm Solutions) (TSX-V: EKG),
received confirmation from the Canadian Medical Devices Conformity Assessment System (CMDCAS) that it had cleared an ISO audit performed by DQS Medizinprodukte GmbH. CardioComm Solutions is registered under Health Canada's Therapeutic Products Programme (TPP) according to ISO 13485:2003 and CMDCAS as well as MDD regulations, for the 'Manufacturing and Distribution of Health Management Software Systems and Distribution of Health Monitoring Devices.' The mission of the TPP, and the purpose of the audit, is to ensure that drugs, medical devices, and other therapeutic products available in Canada are safe, effective and of high quality.
The audit reported that management review, resource planning processes and corrective action loops "are very well implemented" and that the design and development process is "fully implemented and very well documented." In addition, the following responsibilities were audited: Production and Process Controls; Customer Related Processes; Implementation of Applicable Canadian Medical Devices Regulations, Part 1 Requirements; Implementation of Regulatory Requirements of the Directive 93/42/EEC; and Document Control Processes.
About CardioComm Solutions, Inc.
CardioComm's patented and proprietary technology is used in products for recording, viewing, analyzing and storing electrocardiograms (ECGs) for diagnosis and management of cardiac patients. Products are sold worldwide through a combination of an external distribution network and a North American-based sales team. The company has earned the ISO 13485 certification, is HPB approved, HIPAA compliant, and has received FDA market clearance for its software devices. CardioComm Solutions, Inc. is headquartered in Toronto, Canada, with offices in Victoria, B.C.
Last: 0.435Range: 0.45-0.03Market Cap: 33.6 million
EMRISE Corporation Sees Further Growth in European Utility Market With Additional Sales of $1 Million of Communications Equipment
EMRISE CORPORATION (OTCBB: EMRI), a multi-national manufacturer of defense and aerospace electronic devices and communications equipment, announced today that it has sold $1 million (euro 800,000) of communications equipment to an existing, key European utility customer. Approximately one half of the communications equipment sold was shipped late in 2011 with the balance of the equipment to be shipped in the first quarter of 2012.
The communications equipment was sold by the Company's CXR Anderson Jacobson (CXR-AJ) subsidiary located in France. CXR-AJ provides a wide range of communications equipment including products sourced from EMRISE's CXR-Larus subsidiary located in San Jose, CA.
About EMRISE Corporation
EMRISE designs, manufactures and markets electronic devices, sub-systems and equipment for aerospace, defense, industrial and communications markets. EMRISE products perform key functions such as power supply and power conversion; radio frequency (RF) and microwave signal processing; and network access and timing and synchronization of communications networks.
Last Trade: 0.67 52 Week: 1.01 - 0.20 Market Cap: 7.15 Million
Please login to post a reply