Full Text Posts Of Front Page Stories and Blog Posts On AGORACOM
Message: AGORACOM Small Cap TV - February 6th - Highlights
Did you know? You can earn activity points by filling your profile with information about yourself (what city you live in, your favorite team, blogs etc.)
Good morning to you all. Please find enclosed a summary of the breaking small-cap and micro-cap financial news we highlighted on AGORACOM Small Cap TV this morning. It's February 6th , 2012, and we've found 5 great press releases to report on at the open. Another great day for small-cap and micro-cap financial news. To watch the show live every morning at 9:30 AM, visit our front page.
Midlands Minerals Drills 27 Metres Grading 2.97 gpt Gold at Kaniago West
Midlands Minerals Corp.(TSX VENTURE:MEX)(OTCQX:MDLXF)
announces new drill results from its Kaniago West target on its Kaniago gold project in Ghana. The Kaniago project straddles the "Esaase-Kaniago West Shear Zone" which also hosts Keegan Resources' Esaase gold deposit (4.9M oz) and PMI Gold Corporation's Abore gold deposit (560,000 oz). Significant new intercepts drilled at Kaniago West include:
KNRC-11-04127 metres grading 2.97 gpt gold (from 123 metres)
KNRC-11-04416 metres grading 1.21 gpt gold (from 10 metres)
KNRC-11-04833 metres grading 0.87 gpt gold (from 117 metres)
and17 metres grading 1.83 gpt gold (from 171 metres)
KNRC-11-0523 metres grading 6.80 gpt gold (from 57 metres
About Midlands Minerals:
Midlands Minerals is focused on developing a portfolio of high quality gold exploration projects in Ghana and Tanzania, countries with exceptional histories of gold production and home to some of the most profitable gold mines in Africa. Midland's flagship gold property is the Sian project, site of a past producing open pit gold mine located in the Ashanti gold belt. Sian has NI 43-101 compliant Indicated gold resources of 2.6 million tonnes grading 2.33 gpt gold (192,400 ounces) and Inferred gold resources of 2.7 million tonnes grading 2.35 gpt gold (203,350 ounces). Extensions to these resources are open along strike and at depth, highlighting the potential to grow the gold resource at Sian. Midlands' Kaniago gold project is located in Ghana's Asankrangwa gold belt and is contiguous to two past open pit gold producers: Abore to the north and Obotan to the south. Recent drilling and exploration has produced encouraging results, demonstrating the gold resource potential of the project.
Last: 0.05Range: 0.28-0.04Market Cap: 9.7 million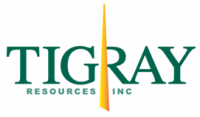 Tigray Drills 40.5 Metres of 3.24% Copper, 1.2 g/t Gold, 25 g/t Silver and 1.19% Zinc at the Harvest Project in Ethiopia
Tigray Resources Inc. (TSX VENTURE:TIG) ("Tigray" or the "Company") is pleased to report diamond drill results for four holes at the Terakimti copper-gold prospect on the Company's 70%-owned Harvest project in northern Ethiopia.
Highlights
--Continuity of near-surface mineralization in the southern gossan area
--Confirmation of distinctive gold-rich and supergene copper
mineralization
Highlight Drill Results
-- Hole TD014 - 40.5 metres of 3.24% copper, 1.19 g/t gold, 25 g/t silver
and 1.19% zinc from 53.95 metres down hole, including 23.05 metres of
5.17% copper, 1.59 g/t gold, 39 g/t silver and 2.01% zinc from 57.45
metres
--Hole TD016 - 17.75 metres of 1.61 g/t gold, 2.98% copper and 20 g/t
silver from 80.40 metres
About Tigray
Tigray is a Canadian mineral exploration company focused on advancing early-stage mineral projects in Ethiopia. Tigray's key property is the 70%-owned Harvest polymetallic VMS exploration project, which covers 362 square kilometres in the Tigray region of Ethiopia, 600 kilometres north-northwest of the capital city of Addis Ababa. The Company recently entered into an agreement to acquire the Harvest North properties, which cover 795 square kilometres immediately adjacent north and west of the Harvest project. Tigray is well financed, with $5 million in cash and no debt. The Company's shares trade on the TSX Venture Exchange under the symbol TIG.
Last: 0.96Range: 1.95-0.61Market Cap: 43 million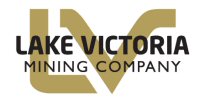 Lake Victoria Reports Additional Encouraging Gold Assays from Kiabakari East Prospect, Including 33.69 Meters of 1.87 Grams Per Ton, Tanzania
Lake Victoria Mining Company, Inc. (LVCA:OTCBB) ("Lake Victoria" or the "Company") is pleased to report encouraging trench results from Kiabakari East prospect, including, but not limited to, 1.87 grams/ton of gold over 33.69 meters. Our Kiabakari East Gold License lies about 4 kilometers southeast of the past producing Kiabakari Gold Mine in northeastern Tanzania. Between 1959 and 1966, the Kiabakari Mine is reported to have produced 284,335 ounces of gold at an average grade of 6.1 grams/ton. Kiabakari East license is nearby three of Lake Victoria's other licenses which include Kinyambwiga, Suguti and Murangi.
Table 1. Summary of Trench Assays
| | | | | | |
| --- | --- | --- | --- | --- | --- |
| Trench ID | | Interval (m) | | Au g/t | |
| KT003 | | 11.90 | | 1.31 | |
| KT004 | | 33.69 | | 1.87 | |
| Including | | 4.03 | | 6.96 | |
| KT005 | | 2.10 | | 1.31 | |
| KT008 | | 28.35 | | 1.22 | |
| KT009 | | 22.70 | | 1.54 | |
| KT010a | | 6.00 | | 1.09 | |
Lake Victoria Mining Company, Inc. is working to create another gold mine in the world famous Lake Victoria Greenstone Belt, Tanzania, East Africa. Tanzania is Africa's third largest gold producer, behind South Africa and Ghana, but also has reserves of uranium, nickel and coal. Gold exports alone earned it $1.076 billion in 2009, up from $932.4 million the previous year. Lake Victoria holds nine prospective gold projects and five uranium projects within its Tanzania property portfolio.
Last Trade: 0.08552 Week: 0.37 – 0.012Market Cap: 8.28 Million
Command Center Announces Revenue of $5.22 Million for the Month of January
Command Center, Inc. (OTCQB:CCNI), a national provider of on-demand and temporary staffing solutions, today announced revenue of $5.22 million for the four-week reporting period of January 2012, an increase of 20% on revenue of $4.35 million recorded in the comparable year-ago period.
There were 52 company-owned stores at the beginning of 2012, compared with 51 stores at the beginning of 2011. DR Services, which was acquired by Command Center and became a wholly-owned subsidiary on January 4, 2012, contributed over $213,000 in revenue during the month.
The company provides flexible on-demand employment solutions to businesses in the United States, primarily in the areas of light industrial, hospitality and event services, as well as other assignments such as emergency and disaster relief projects.
Last Trade: 0.2952 Week: 0.56 – 0.17Market Cap: 16.7 Million
Atna Announces Significant Increase in Gold Resource at Pinson
Atna Resources Ltd. ("Atna" or the "Company") (TSX: ATN / OTCBB: ATNAF) is pleased to report the newly updated resource estimate at the Pinson Mine near Winnemucca, Nevada. This estimate incorporates all available data relating to Atna's property position at Pinson, including:
lAll Pinson Mining Company's drill results generated between 2006 and 2008.
lOpen pit drill information not previously incorporated in NI 43-101 Technical Studies.
lAll prior data relating to the high grade underground mineralization at Pinson.
This study adds a significant open pit mineral resource to the already extensive high-grade underground mineral resource previously reported for Pinson. Total resource by underground and open pit scenarios are as follows:
Resource Summary (imperial)

Resource Summary (metric)

Resource Summary (imperial)

Resource Summary (metric)
About
Atna Resources Ltd. is building a successful gold mining company dedicated to responsible gold production and the creation of sustainable value for shareholders, employees and communities.
Last Trade: 1.1452 Week: 1.16 – 0.53Market Cap: 133.69 Million
Please login to post a reply