Full Text Posts Of Front Page Stories and Blog Posts On AGORACOM
A drill hole collared in main mineralized zone (Dana North) encountered 2.45 g/t Pd+Pt+Au over 28m, including 7.12 g/t over 3m and 4.06 g/t over 6m with a second zone of 3.30 g/t Pd+Pt+Au over 4m
Drilling continues to encounter PGM mineralization in the footwall of the River Valley PGM Deposit with assays of 1.56 g/t Pd+Pt+Au over 9m, 1.41 g/t over 8m, 1.12 g/t over 17 m and 1.64 m of 7m were obtained from drilling in the footwall
River Valley is the Largest Undeveloped Primary PGM resource in Canada, with 3.9Moz PdEq in Measured Plus Indicated including an additional 1.2Moz PdEq in Inferred.
Message: AGORACOM Small Cap TV - February 13th - Highlights
Did you know? You can earn activity points by filling your profile with information about yourself (what city you live in, your favorite team, blogs etc.)
Good morning to you all. Please find enclosed a summary of the breaking small-cap and micro-cap financial news we highlighted on AGORACOM Small Cap TV this morning. It's February 13th , 2012, and we've found 6 great press releases to report on at the open. Another great day for small-cap and micro-cap financial news. To watch the show live every morning at 9:30 AM, visit our front page.
McLaren Drills 7.0 Grams Gold Over 7.4 Metres at the TimGinn Property Located Adjacent to the Hollinger Mine
McLaren Resources Inc. ("McLaren") (CNSX:MCL)(FRANKFURT:3ML)
is pleased to announce the results of the recently completed seven hole 1,388 metre drill program which includes 7.0 grams gold per tonne (gpt) over 7.4 meters (m) from drill hole MCL-11-04 on the TimGinn Property. The property is located adjacent to the Goldcorp's Hollinger and McIntyre Mines (see Figure 1) which together have produced over 30 million ounces of gold to date in the Timmins Gold Camp.
The Results from the initial drill program confirm gold mineralization trends onto the McLaren TimGinn property situated adjacent to the Hollinger Mine (See Figure 2). The exploration drill holes intercepted mineralization at down hole depths ranging from 50 to 200 metres. Follow up exploration drilling is planned to expand the mineralization along strike and to depth. The neighboring Hollinger and McIntyre Mines have produced gold from depths exceeding 5,000 feet (1,500 metres).
About the company
McLaren Resources Inc. is based in Toronto and is engaged in the gold exploration business. McLaren's experienced management team is exploring gold deposits from its operating base located in the Timmins Gold camp.
Last: 0.14Range: 0.42-0.075Market Cap: 3.5 million
Canaco Reports Additional Drill Results from Magambazi-43.4 Metres at 5.37 Grams Per Tonne Gold, Including 19.6 Metres at 9.37 Grams Per Tonne Gold
Canaco Resources Inc. (TSX VENTURE:CAN) ("Canaco" or the "Company") is pleased to announce results from 16 new drill holes at the Magambazi gold project in Tanzania. Priority infill and extension drilling has been completed at Magambazi and the initial mineral resource estimate is on track for completion by the end of Q1. Additional drilling at Magambazi is contingent on results from ongoing geological model review and continued favourable assay results. Drill testing of deep targets is continuing.
Highlights include:
Hole
(1)(2)

From
(m)

To
(m)

Interval
(m)

Au
(g/t)

Lode(s)

MGZD336

271.0

277.0

6.0

3.36

Western Lodes

MGZD341

112.0

131.0

19.0

1.56

Magambazi North

including

118.0

123.5

5.5

2.92

Magambazi North

146.0

158.5

12.5

2.90

Magambazi North

including

148.7

151.8

2.8

9.77

Magambazi North

MGZD346

254.0

261.0

7.0

1.05

Western Lodes

292.0

309.6

17.6

1.85

Western Lodes

Including

305.4

308.2

2.8

6.24

Western Lodes

MGZD393

183.5

189.1

5.6

3.18

Magambazi Main

196.0

239.4

43.4

5.37

Magambazi Main

including

219.8

239.4

19.6

9.37

Magambazi Main
About Canaco
Canaco is a Vancouver-based mineral exploration company focused on advanced exploration projects in Africa. Built on a foundation of experienced management, the Company is rapidly advancing the Handeni project in Tanzania and is well positioned to build shareholder value through discovery and resource development.
Last: 1.58Range: 6.45-1.07Market Cap; 315 million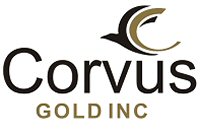 Corvus Gold Hits 15.2 Metres of 2.36 g/t Gold in First 400m Step Out and Doubles Size of Property at North Bullfrog Project, Nevada
Corvus Gold Inc. (TSX:KOR)(OTCQX:CORVF)
announces the first results from its 2012 exploration drilling program on the North Bullfrog Project near Beatty, Nevada. Hole NB-12-117 encountered 52 metres of 0.8 g/t gold including a higher grade intercept of 15.3 metres of 2.36 g/t gold starting at 11 metres below the surface. Hole 117 was drilled at the Air Track West target, 400 metres west of the current boundary of the Sierra Blanca resource. The hole encountered gold mineralization within the favourable Crater Flat Tuff unit which is highly brecciated and maybe related to the deposit at Sierra Blanca. This hole confirms historical drilling in this exciting resource expansion target area.
About Corvus Gold Inc.
Corvus Gold Inc. is a resource exploration company, focused in Nevada, Alaska and Quebec, which controls a number of exploration projects representing a spectrum of early-stage to advanced gold projects. Corvus is focused on advancing its advanced North Bullfrog project towards a potential development decision and continuing to explore for new major gold discoveries. Corvus is committed to building shareholder value through new discoveries and leveraging its noncore assets via partner funded exploration work into carried and or royalty interests that provide shareholders with exposure to gold production.
Last: 0.76Range: 0.89-0.47Market Cap: 31.6 million
Lions Gate Metals Continues to Expand Poplar Deposit Main and East Zone Mineralization at Depth and Laterally With 0.46% CuEq Over 147 Metres
Lions Gate Metals Inc. (TSX VENTURE:LGM)
is very pleased to confirm continued copper and silver mineralization at depth and laterally to the Main and East Zones of the Poplar Copper-Gold-Silver Porphyry Property (the "Property"), based on results from an additional (4) four of the twenty-nine (29) hole, 10,913.93 metre, phase-two diamond drill program (the "Program"). Significant CuEq and Ag values returned from drilling along and outside of the south-central margin of the NI 43-101 compliant inferred resource area (1.4 billion lbs copper; 245,000,000 tonnes averaging 0.27% Cu - 0.15% cut-off), indicate that the system remains open at depth and to the south. See Poplar Deposit map for resource area and drilling locations.
Significant Results: Poplar Copper-Gold-Silver Deposit - South-Central Main and East Zones
Hole
No.

From
(m)

To
(m)

Length
(m)

Cu
(%)

Au
(g/t)

Mo
(%)

Ag
(g/t)

CuEq
(%)

Comments

11-PC-120

27.21

252.00

224.79

0.25

0.07

0.016

1.83

0.40

Mineralization continues at depth.

inc.

52.19

199.25

147.06

0.28

0.08

0.019

2.30

0.46

Significant value
About Lions Gate Metals
Lions Gate Metals is a Canadian based, junior resource company focused on the exploration, development, and acquisition of copper and copper-focused multi-mineral projects. The Company boasts one of the largest consolidated property portfolios of any Canadian junior resource company, including the 77,705 hectare Poplar copper-gold-silver porphyry property located 35km northeast of the Imperial Metals Huckleberry mine (proven/probable 39.7 million tonnes grading 0.343% copper: aggregate production to Dec 31, 2010 approximately 870.0 million pounds copper, 8.0 million pounds molybdenum, 105,000 ounces gold and 3.4 million ounces silver) in west-central British Columbia, and the 6,900 hectare ROK-Coyote copper-gold porphyry property contiguous with Imperial Metal's Red Chris copper-gold project in northwestern British Columbia. Poplar and ROK-Coyote are the primary focus of the 2012 Exploration Program.
Last: 0.50Range: 0.98-0.33Market Cap: 11.7 million
Claude Intercepts 35.00 g/t over 9.78 metres at Santoy GAP, Seabee Project
'Announces Aggressive 2012 Seabee Exploration Program'
Trading Symbols
TSX: CRJ
NYSE Amex: CGR
Claude Resources Inc. (TSX: CRJ) (NYSE Amex: CGR)
today provided a summary of results from its 2011 drill program at Santoy Gap within the Company's 100 percent-owned, 14,400 hectare Seabee Gold Project. Newly released drill results have confirmed grade continuity and intercepted economic mineralization at depths in excess of 500 metres as well as in step-out holes along strike to the north and south. The system remains open in all directions and is located just 300 metres from the existing Santoy 8 resource. SRK Consulting Inc. will integrate current and historic drilling to prepare a National Instrument 43-101 compliant gold resource for the Santoy Gap deposit during the first quarter of 2012.
Highlights of 2011 drill results are summarized in Table 1 below:
Table 1: Highlights from 2011 Santoy Gap drilling.

Hole ID

Easting

Northing

From (m)

To (m)

Au Grade
(g/t)

Width
(m)

Newly
Released

JOY-11-565*

599043

6170888

396.22

397.68

27.65

1.46

Y

JOY-11-588

599021

6170706

222.16

231.94

35.00

9.78

Y
About the company
Claude Resources Inc. is a fully integrated Canadian gold exploration and mining Company that has the proven ability to "Discover, Develop & Deliver". The Company has a strong operating base and significant upside. Having been in operation during times of low gold prices, Claude has proven that it has the ability to survive challenging business environments.
Last: 1.36Range: 2.84-1.35Market Cap: 235 million
Varca Ventures Inc.
Varca Ventures Proceeds with Reclamation of Historic Gold Mine Following Unanimous Approval of Colorado Mined Land Board
Varca Ventures, Inc. [VRCV.OB] (www.varcaventures.com) has commenced with the reclamation of its Idaho and May Day mines located near Hesperus, Colorado, in the California Mining District, following the previously announced approval from the Colorado Mined Land Reclamation Board. This permit, the first of its kind issued by the Colorado Board in nearly 28 years, is to resume activities in an area that throughout the early 1900s had historically produced gold and silver ore.
Varca Ventures has begun to implement the first phase of action covered by the permit, which includes:
lInitial geotechnical drilling activities to support future road, portal, pond and drainage design and construction work plans
lInstallation of groundwater monitoring wells used to define the environmental baseline characteristics
lPursuing removal of stockpiled rock and unmilled ore that will impede the installation of an augmentation pond required by the Division of Water Resources
Varca Ventures, Inc. is an exploration stage company that seeks to engage in the acquisition, exploration and development of natural resource properties primarily in North America and is headquartered at 1630 Ringling Blvd., Sarasota, FL, 34236.
Last Trade: 0.5352 Week: 1.55 – 0.31Market Cap: 36.81 Million
Contact: Randy Oser, President: (941) 951-0787.
Please login to post a reply