DELIVERING PWWR TO THE PEOPLE
Generating Revenue Today While Driving the Energy Transition of Tomorrow
Alkaline Fuel Cell Power Profile
$PWWR is a clean tech energy company that provides renewable energy-focused investors with a powerful 3-step business plan to capitalize on the paradigm shift towards a zero carbon economy.
1. CURRENT - Traditional Heat & Power Business Delivers Stability Of A Revenue Generating Division From Commercial Clients With A Sales Pipeline Exceeding $50,000,000
2. NEAR TERM - Fuel Cell Generators For Backup And Off Grid Applications (B2B)
3. LONG TERM - Hydrogen Powered Fuel Cell For The Consumer Market (B2C)
2023 PRIORITIES
Here Is A Powerful Summary Of Each Element:
For Customers In Multi-Residential Or Commercial Buildings

Delivers Improved Energy Efficiency Of More Than 20%

33 Active Accounts

23 Proposals

$50,000,000 + Pipeline Of Potential Contracts

Next 24 - 36 Months

$16,600,000 Potential Gross Revenue

$7,700,000 Potential EBITDA

$1,600,000 Potential Net Income has the potential to generate gross revenue up to $16.6 million, potential EBITDA up to ~$7.7 million and potential net income up to ~$1.6 million, should all potential CHP systems be brought into commercial operations;

Provides $PWWR And Shareholders With A Strong & Stable Operating Business While Developing Near & Long Term Fuel Cell Solutions

Located and Operating In Canada

Significant Near Term Revenue Opportunities For Off-Grid & Back Up Generator Market

Ideal For Diesel Generator Customers Needing To Eliminate Emissions

Clean Alternative Utilizing Zero Emission Fuel Cells

Ready For High Volume Production

Ideal Route Is B2B Partnership With Current Generator Companies

10kW Fuel Stacks To Be Integrated Into Large Configurations Up To 100kW

Provides $PWWR And Shareholders With Near Term Opportunity To Capitalize On Increasing B2B Demand For Clean Energy Generator Solutions
Targeting Customers In Residential and Small/Medium Size Power Markets

Targets Unstoppable Trend Towards Residential Energy Creation & Storage

Hydrogen Powered Fuel Cells

Zero C02 Emissions

Hydrogen Delivery Through Existing Natural Gas Infrastructure

Significant Competitive Advantages VS Tesla Powerwall

Hydrogen Constant Power VS Solar Intermittent Power

Significant Cost Advantages VS PEM Fuel Cells Requiring Platinum & Palladium

Fewer Components Utilizing Nickel & Graphite Fuel Cells

In Development Right Now

First Certified Prototypes Expected In 2023
JUPITER 1.0: A Powerfull Fuel Cell System for Small Homes and Small Buildings
Fuel Cell converts hydrogen to heat and electricity at 90% efficiency.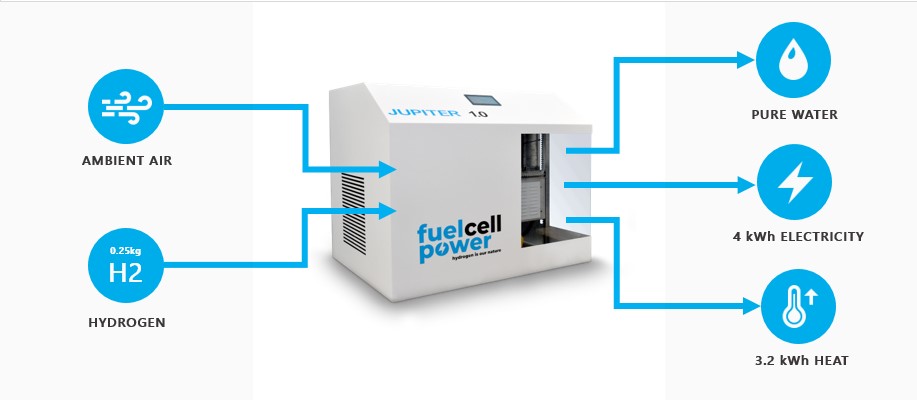 On June 16, 2022 $PWWR Appointed Carmine Marcello as Advisor. As the former President and CEO of Hydro One, one of Canada's largest electric transmission and distribution utilities, with a market cap of over $20 billion and over $23 billion in assets, Mr. Marcello's experience and credibility of $PWWR business plan will prove to be invaluable.
On May 5, 2022 $PWWR Appointed Frank Carnevale as CEO. As a former Executive Board Member of the Energy Council of Canada, several industry organizations and Chief Growth Officer of a public company delivering thermal energy systems, Carnevale has a proven track record of delivering real business and growth in parallel.

$PWWR BRINGS INNOVATIVE SOLUTIONS THAT GENERATE REVENUE TODAY WHILE HELPING DRIVE THE ENERGY TRANSITION OF TOMORROW
WHAT IS YOUR HYDROGEN INVESTMENT STRATEGY?
Last changed at 10-Mar-2023 08:30AM by AGORACOM-AM