Comp de Minas Buenaventura
7 precious metal mines in Peru - Mining, processing, development and exploration.
Message: Seeking Alpha - report
Did you know? You can earn activity points by filling your profile with information about yourself (what city you live in, your favorite team, blogs etc.)
After a Downward Revision, Buenaventura Back to a Buy
Research by IIR Group, sets a new price target for Buenaventura (NYSE: BVN) at US$17.39 per ADR, maintaining a BUY after a downward revision from the September target of US$35.48. The analysis estimates Net Earnings for 2008 through 2010 at US$667, US$299 and US$409 million, and uses target ratios EV/EBITDA and Price/Sales at 12.0x and 6.0x respectively, when arriving at the US$17.39 price target. EV/EBITDA and Price/Sales target ratios were 20.0x and 12.0x in the September analysis, but were adjusted down to reflect the 'downturn in the commodity cycle and global economic growth.'
The current price per ADR at US$16.03 reflects an upside potential of 8.48% over the coming 6-12 months.
Inca Invest Commentary
Equity production for the nine-month period ending September 30, 2008, was 308.683 ounces of gold, up from 295.034 in 2007. Silver production reached 11.557.431 ounces, up from 10.541.795. In addition, the reported equity production from Yanacocha, where the company owns 43.65%, was reported at 915.859 ounces. Equity production of copper at Cerro Verde (18.68% share) was reported at 235.120 metric tonnes.
Average realized prices for gold, silver and copper were US$906/oz, US$16.49/oz and US$7.990/MT respectively.
Net Income attributed to Buenaventura for 3Q'08 was US$100.6 million, representing 48.45% of revenues.
Project Development
Accumulated investments related to the Uchucchacua project's deepening and integration of Carmen and Socorro mines was reported at US$10.3 million at the end of 3Q'08, and will be completed in 1Q'09.
In addition, expansion of the plant, from 2.500 to 3.000 STPD, has been completed, and operations began in September.
At Orcopampa, the construction of ramps 15 and 16, which includes 720 meters of drifting, was reported as 91% complete, with US$3.5 million in investment.
The construction of facilities to permit recovery of approximately 53.000 ounces of gold in 2008 and 2009 was completed in August. Accumulated investment was US$10.9 million.
Outlook
The company's financial position on September 30 showed the following key ratios:
| | | | |
| --- | --- | --- | --- |
| Share Price | 16.03 | YTD performance | -45.82 % |
| Market Cap (mln USD) | 5681.03 | Debt Ratio | 0.26 |
| Book-to-Market ratio | 0.31 | Debt-to-Equity Ratio | 0.36 |
| EV/EBITDA | 16.80 | ROA | 20.20% |
| Current Ratio | 3.20 | ROE | 26.88% |
| Quick Ratio (Acid Test) | 3.01 | | |
BVN reported US$392.6 million in cash and cash equivalents at the end of 3Q, up from US$112 million in 2007.
The ADR has found technical support at 15.0, and is testing resistance at the long-term trend channel. Money Flow indicators are inconclusive (RSI ~50). If the recent Dollar strength is to continue, expect this to reflect negatively on the gold price, and in turn BVN.
A bullish break-out above 16.5 would signal a test of resistance at the November 28 close at 18.0.
click to enlarge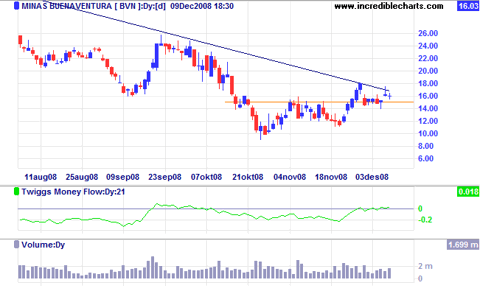 Please login to post a reply