Silver Projects with an inferred mineral resource of 50.8 million ounces
Message: Oremex Silver Initiates Underground Drilling Program at Chalchihuites
Oremex Silver Inc.

TSX VENTURE : OAG
OTCQX : ORAGF
FRANKFURT : OSI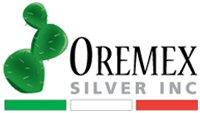 November 10, 2011 10:17 ET
Oremex Silver Initiates Underground Drilling Program at Chalchihuites
- The Company commenced four-hole, 524 meter underground drill program at the Chalchihuites Silver Project

- The underground drilling is the initial follow-up on the surface and underground mapping and sampling that yielded values up to 3,540 g/t silver

- Hole 1 and Hole 2 completed with assay results pending

- Numerous drill targets have been identified, with drilling being done from historic underground workings
TORONTO, ONTARIO--(Marketwire - Nov. 10, 2011) - Oremex Silver Inc. ("Oremex Silver" or the "Company") (TSX VENTURE:OAG)(OTCQX:ORAGF)(FRANKFURT:OSI) is pleased to report the commencement of a four-hole, 524 meter underground drilling program at the Chalchihuites Silver Project held by its wholly owned Mexican subsidiary Minera Mantos S. de R.L. de C.V. Hole 1 and Hole 2, totaling 182.9 meters, have been completed with assay results pending.
Michael R. Smith, President & CEO, commented: "This drill program is designed to delineate the extent of the high grade mineralization sampled. Upon completion of the underground drilling, we plan a follow up surface drilling program to advance and further define the resource potential at Chalchihuites."
Mineralization on the Chalchihuites property is hosted by two parallel, silver, gold, and base metal mineralized shear zones, separated by approximately 100 meters, and hosted by a granodiorite stock in rhyolite dikes and in limestone adjacent to the stocks. The shear zones have been traced for 300 meters and 75 meters along strike length. Results from surface and underground sampling program include:
SAMPLES FROM TARGET METAL MAXIMUM MINIMUM Santa Teresa Mine - 76 Underground Samples Shears and Mantos Silver 611 g/t 2 g/t Gold 1.209 g/t 0.010 g/t Lead 11.4% 0.0049% Zinc 6.95% 0.0042% Purisima, Tepozan, La Palma Mines - 101 Surface and Underground Samples Sheared and Mineralized Dikes Silver 3,540 g/t 3 g/t Gold 3.405 g/t 0.010 g/t Lead 13.20% 0.0159% Zinc 0.364% 0.0012% Outcrops and Santa Maria Pit - 49 Surface Samples Skarn and Shears Silver 350 g/t 2 g/t Gold 2.484 g/t 0.010 g/t Lead 7.04% 0.0069% Zinc 5.41% 0.0091% Chalchihuites - 351 Samples All Samples Silver 3,540 g/t 0.5 g/t Gold 3.405 g/t 0.010 g/t Lead 13.20% 0.00% Zinc 6.95% 0.01%
Subject to regulatory approval, the Company has granted three million stock options to Officers, Directors, employees and consultants of the Company. Each option granted has a strike price of $0.19, vests immediately and will expire five years from the date of grant.
About Oremex Silver Inc.
Oremex Silver Inc. is a Canadian company focusing on the exploration and development of silver projects along the highly productive mineralized belt in Mexico. The Company has a portfolio of silver Projects including a mineral resource of 50.8 million ounces of silver at its Tejamen deposit. The company's projects are located in mining-friendly jurisdictions and the Management Team has successful track record of mine building in Mexico.
Cautionary Note Regarding Forward-Looking Statements
Certain statements contained in this news release may constitute forward-looking information, (collectively "forward-looking information") within the meaning of Canadian securities laws. Forward-looking information may relate to this news release and other matters identified in Oremex' public filings, anticipated events or results and can be identified by terminology such as "may", "will", "could", "should", "expect", "plan", "anticipate", "believe", "intend", "estimate", "projects", "predict", "potential", "continue" or other similar expressions concerning matters that are not historical facts and include, but are not limited in any manner to, those with respect to capital and operating expenditures, economic conditions, availability of sufficient financing, receipt of approvals, satisfaction of closing conditions and any and all other timing, development, operational, financial, economic, legal, regulatory and/or political factors that may influence future events or conditions. Such forward-looking statements are based on a number of material factors and assumptions, including, but not limited in any manner, those disclosed in any other public filings of Oremex, and include the ultimate availability and final receipt of required approvals, sufficient working capital for development and operations, access to adequate services and supplies, availability of markets for products, commodity prices, foreign currency exchange rates, interest rates, access to capital markets and other sources of financing and associated cost of funds, availability of a qualified work force, availability of manufacturing equipment, no material changes to the tax and regulatory regime and the ultimate ability execute its business plan on economically favourable terms. While we consider these assumptions to be reasonable based on information currently available to us, they may prove to be incorrect. Actual results may vary from such forward-looking information for a variety of reasons, including but not limited to risks and uncertainties disclosed in other Oremex filings at www.sedar.com and other unforeseen events or circumstances. Other than as required by law, Oremex does not intend, and undertakes no obligation, to update any forward looking information to reflect, among other things, new information or future events.
Neither the TSX Venture nor its Regulation Service Provider (as that term is defined in the policies of the TSX Venture) accepts responsibility for the adequacy or accuracy of this release.
Please login to post a reply