Full Text Posts Of Front Page Stories and Blog Posts On AGORACOM
Message: AGORACOM Small Cap TV - January 30th - Highlights
Did you know? You can earn activity points by filling your profile with information about yourself (what city you live in, your favorite team, blogs etc.)
Good morning to you all. Please find enclosed a summary of the breaking small-cap and micro-cap financial news we highlighted on AGORACOM Small Cap TV this morning. It's January 30th, 2012, and we've found 7 great press releases to report on at the open. Another great day for small-cap and micro-cap financial news. To watch the show live every morning at 9:30 AM, visit our front page.
Copper Mountain announces fourth quarter 2011 production results and gives guidance for 2012 production
Copper Mountain Mining Corporation (TSX: CUM)
announces production results for the fourth quarter of 2011 from the newly opened Copper Mountain mine located in southern British Columbia.
The mine produced 22.2 million pounds of copper, 7,800 ounces of gold, and 161,800 ounces of silver during the four months of operations in 2011.Since start up of production in September 2011 the mine has continued to make one shipment of concentrate per month to the smelters in Japan.As of December 31, 2011 the mine completed a total of four shipments containing approximately 17.4 million pounds of copper and precious metals generating an estimated $80 million in gross revenue.
On the last day of the year of 2011, the mill treated 35,500 tonnes of ore and achieved in excess of design capacity of 35,000 TPD. However, this rate has not yet been achieved on a consistent basis as mill throughput continues to be limited due to start-up electrical and mechanical interruptions that have affected the operating time. Mill throughput was initially limited to approximately 20,000 to 25,000 tonnes per day because of grate openings in the SAG mill that were too small. New modified thicker grates with increased strength and larger openings were ordered and installed by mid December. These new grates provided an increase in throughput to the designed level and the Company believes this limiting factor appears to be resolved.Operational challenges have continued in the mill, but the Company is optimistic that a 35,000 tonnes per day capacity is achievable on a consistent basis.
About Copper Mountain Mining Corporation:
Copper Mountain is a Canadian resource company managed by an experienced team of professionals with a solid track record of exploration and development success. The Company's shares trade on the Toronto Stock Exchange under the symbol "CUM". Copper Mountain owns 75% and Mitsubishi Materials Corporation owns 25% of the Copper Mountain Mine. The 18,000 acre mine site is located 20 km south of the town of Princeton in southern British Columbia. The Copper Mountain Mine has a current resource of approximately 5 billion pounds of copper and recently commenced production.
Last: 5.30Range: 8.15-3.28MarketCap: 521 million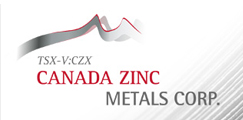 Drilling Intersects 14.54% Zinc + Lead over 8.5 metres in A-11-98 on the Cardiac Creek Deposit
Canada Zinc Metals Corp. (CZX - TSX Venture),
is pleased to announce further drill results from the 2011 exploration drill program on the 100% owned Akie Project.
The Akie property, host to the Cardiac Creek SEDEX Zn-Pb-Ag deposit, is located approximately 260 kilometers north-northwest of the town of Mackenzie, in northeastern British Columbia, Canada. The Company also owns the Kechika group of regional properties that extend northwest from the Akie property for 140 kilometers, centered along the prospective stratigraphy of the Gunsteel Formation of Northeastern BC. The 2011 exploration program included a regional program focused principally on 2 southern claim groupings, the Pie and the Mt. Alcock properties.
The pierce point for hole A-11-98 represents an approximate 100 metre step-out along strike from A-08-58 and up-dip from A-06-40 and A-08-66. Highlights include 11.27% Zn+Pb and 14.08 g/t Ag over 12.67 metres, including 14.54% Zn+Pb and 17.01 g/t Ag over 8.5 metres. The results from this hole continue to demonstrate the high-grade continuity of the mineralization along the southeastern margins of the deposit, which remains open for further drilling to the southeast.
About the company
The Akie zinc-lead property is situated within the southernmost area (Kechika Trough) of the regionally extensive Paleozoic Selwyn Basin, one of the most prolific sedimentary basins in the world for the occurrence of SEDEX zinc-lead-silver and stratiform barite deposits.
Last: 0.52Range: 0.76-0.335Market Cap: 70.8 million
Sandspring Announces Significant Increases in Life of Mine Grade and Cash Flow; Reduces Initial Capex for Toroparu Project
Sandspring Resources Ltd. (TSX VENTURE:SSP)
is pleased to announce it has completed an updated NI 43-101 mineral resource estimate (the "Updated Resource Estimate") and an updated NI 43-101 Preliminary Economic Assessment (the "Updated PEA") for its 100% owned Toroparu Gold Property ("Toroparu") in Guyana. The Updated PEA is preliminary in nature and includes Inferred mineral resources that are considered too speculative geologically to have the economic considerations applied to them that would enable them to be categorized as mineral reserves.
Highlights include:

--Mining of 1.0 million ounces gold at an average grade of 1.2 g/t and 101
million pounds copper at an average grade of 0.18% from the fresh rock
mining operation over the first five years of operation.
--$750 million cumulative cash flow during first five years of production
at December 31, 2011 three-year trailing average gold price of
$1,255/oz.
--Pre-production capital costs of $482 million through development of more
capital efficient operation for the first five years of mine life.
--Average cash costs including royalties of $450/oz. gold (net of copper
credits) in first five years of operation and $600/oz. gold (net of
copper credits) over the 14-year mine life.
--Mining of 4.0 million ounces gold from fresh and saprolite
mineralization at an average grade of 1.0 g/t Au over a 14-year mine
life at 4.1: 1 strip ratio, and 5.0 million ounces gold over 22-year
life of project.
--Definitive Mineral Agreement signed with government of Guyana on
November 9, 2011, the terms of which have been incorporated into the
Updated PEA.
--Environmental authorization reviewed by Guyana Environmental Protection
Agency with no fatal flaws found; and final approval is pending.
--Open pit operations anticipated to commence in 2015.
About the company
Sandspring is a well-funded junior mining company currently exploring and developing the NI 43-101 Toroparu gold project in the Republic of Guyana, South America. Additional information on Sandspring can be viewed on SEDAR under the Corporation's profile at www.sedar.com or on Sandspring's website at www.sandspringresources.com.
Last: 1.37Range: 3.60-1.20Market Cap: 149 million
Tournigan's Prefeasibility Study Indicates Kuriskova Could Be Among World's Lowest Cost Uranium Producers
Tournigan Energy Ltd. (TVC - TSX Venture, TGP - Frankfurt),
has received a Preliminary Feasibility Study ("PFS") on its flagshipKuriskova high-grade uranium deposit located in Slovakia from its independent consultant, Tetra Tech, Inc. (Tt), in Golden, Colorado.
Highlights of the PFS for Kuriskova:
* Internal Rate of Return 30.8%; 1.9 year payback; $277 million Net Present Value (NPV) at an 8% discount rate (Pre-Tax, base case US$68/lb U3O8, US$15/lb Mo);
* 94% increase of Indicated Resource to 28.5 million pounds of U3O8 since Tournigan's June 2009 Preliminary Economic Assessment ("PEA");
* 92% uranium recovery in PFS, increased from 90% in the PEA;
* 62% increase in the uranium grade to the process plant to 0.408% U3O8 in the PFS from 0.252% U3O8 in PEA;
* 26% lower life of mine operating costs in the PFS compared to the PEA.The PFS estimates US$22.98/lb U3O8 life of mine operating costs and US$16.68/lb U3O8 during the first 4 years of production.These are net of a molybdenum credit of about US$1.27 per pound ofU3O8;
* 1.5 year decrease of preproduction construction period in PFS to 3 years compared to 4.5 years in the PEA;
* The project can be developed as an underground mine/processing facility with a very small surface footprint;
* Kuriskova would utilize Best Available Technologies in the mining and processing operations.The uranium can be extracted using conventional alkaline (non-acid) processing; and
* There are multiple exploration targets within the Kuriskova License area, with the potential to expand the resource base and extend project life.
About Tournigan
Tournigan is a uranium exploration and development company. The company's flagship asset is the Kuriskova uranium deposit in Slovakia, among the highest grade uranium deposits in the world. Slovakia currently has four nuclear reactors generating half of its electricity, with two more reactors planned or under construction.
Last: 0.09Range: 0.415-0.065Market Cap: 18.7 million
Apogee Reports Assays from Oxide Drilling Program at Pulacayo Including 30 Meters Grading 129.0 g/t Silver, and 26 Meters Grading 68.7 g/t Silver
Apogee Silver Ltd. (TSX VENTURE:APE)
is pleased to report assay results from 21 diamond drill holes of the silver oxide program at Pulacayo. (See Table 1 and Figures 1-4 below). The drilling program was undertaken to delineate near surface silver oxide resources above the sulphide resources at Pulacayo. All of the holes were drilled from surface.
A few highlights from the first set of drilling results from the program include:
--11PUD220 intersected 20.8 meters grading 79.3 g/t silver, from 35.2 to
56 meters and 9.0 meters grading 119.7 g/t Ag, from 80 to 89.0 meters.
--11PUD221 intersected 30.0 meters grading 129.0 g/t silver from 37.0 to
67.0 meters.
--11PUD233 intersected 9.0 meters grading 130 g/t silver from 20.0 to 29.0
meters, and 6.0 meters grading 186.7 g/t silver from 104.0 to 110.0
meters.
--11PUD239 intersected 19.0 meters grading 67.2 g/t silver from 71.0 to
90.0 meters.
--11PUD240 intersected 23.0 meters grading 50.20 g/t silver from 31.0 to
54.0 meters, including 6.0 meters grading 109.3 g/t silver from 48.0 to
54.0 meters.
About Apogee Silver Ltd.
Apogee Silver Ltd. is a mineral exploration and development stage company listed on the TSX Venture Exchange under the symbol APE. Apogee targets advanced silver-zinc-lead projects in South America that demonstrate potential to be developed to production. Currently its projects are located in the historic silver producing regions of southwest Bolivia and northern Chile.
Last: 0.17Range: 0.43-0.125Market Cap: 50.1 million
Yingli Green Energy Enters Into a Supply Agreement with IBC for Supply of Up to 200 MW of PV Modules in 2012
Yingli Green Energy Holding Company Limited (NYSE: YGE - News) ("Yingli Green Energy" or the "Company"), a leading solar energy company and one of the world's largest vertically integrated photovoltaic ("PV") manufacturers, which markets its products under the brand "Yingli Solar," today announced that it has entered into a supply agreement (the "Agreement") with IBC SOLAR AG ("IBC"), one of the leading specialists in PV systems worldwide. Under the terms of the agreement, the Company has agreed to supply 180 MW of multi-crystalline and mono-crystalline (Panda) PV modules to IBC during the year of 2012. IBC has an option to purchase another 20 MW in 2012 under the Agreement. The modules are expected to be installed in Germany, other European countries, as well as globally.
About Yingli Green Energy
Yingli Green Energy Holding Company Limited (NYSE: YGE - News), which markets its products under the brand "Yingli Solar," is a leading solar energy company and one of the world's largest vertically integrated photovoltaic manufacturers. Yingli Green Energy's manufacturing covers the entire photovoltaic value chain, from the production of polysilicon through ingot casting and wafering, to solar cell production and module assembly. Currently, Yingli Green Energy maintains a balanced vertically integrated production capacity of 1.7 GW per year.
Last Trade: 4.5452 Week: 13.59 – 2.75Market Cap: 709.17 Million
Loncor Resources Reports on Initial Bottle Roll Metallurgical Testwork Results from Makapela
Loncor Resources Inc. (the "Company" or "Loncor") (TSX VENTURE:LN)(NYSE Amex:LON) is pleased to announce initial bottle roll metallurgical testwork results at the Company's Makapela prospect, Ngayu Gold Project, northeastern Democratic Republic of the Congo (the "DRC"). Bottle roll is a preliminary metallurgical test to determine how much and how easily gold may be liberated from an ore using cyanide.
For this preliminary metallurgical testwork, a number of core samples were used from the previously reported Vein1, Vein 2 and Sele Sele vein intersections. For Reef 1, ten core samples from two boreholes with grades from 2.50 g/t to 59.03 g/t Au (average grade 19.6 g/t Au) were used for the testwork and for Vein 2, 15 core samples from two boreholes with grades from 1.29g/t to 76.33 g/t Au (average grade 15.24 g/t) were utilised. From the Sele Sele area, 14 core samples from one borehole grading 2.54 g/t to 18.17 g/t Au (average grade 7.30 g/t Au) were used.
About:
Loncor Resources Inc. is a Canadian gold exploration company focused on two key projects in the Democratic Republic of the Congo ("DRC") - the Ngayu and North Kivu projects. The Company has exclusive gold rights to an area covering 4,550 km2 that covers most of the Ngayu Archaean greenstone belt in Orientale province in the northeast portion of the DRC. Loncor also owns or controls 54 exploration permits in North Kivu province, covering 17,760 square kilometres, located west of the city of Butembo. Both areas have historic gold production.
Last Trade: 1.5352 Week: 3.8172 – 1.20Market Cap: 89 Million
Please login to post a reply