Finding Canada's Next Mine
Regal Project Discovery of 11.10m of 143.29 g/t Silver including 0.55m of 2612.0 g/t
Affinity Metals Corp. Profile
AFF - TSX:V
ARIZF - OTC

Affinity is combining the advancement of strategic assets and following a Project Generator model to develop shareholder value

High Grade Silver Zone with Drill Intersection of 0.90 m of 1,468 g/t Silver ( Silver Slam Zone )


11.10m of 143.29 g/t Silver

at Allco showing on f

lagship Regal project in B.C.

Windfall North property that straddles the structural trend along strike to the northeast from Osisko's rapidly growing Windfall Lake deposit.

Ronni

Stoeferle

, Founding Affinity Advisory Board Member - Creator of "In Gold We Trust" Report



The Regal Property Highlights: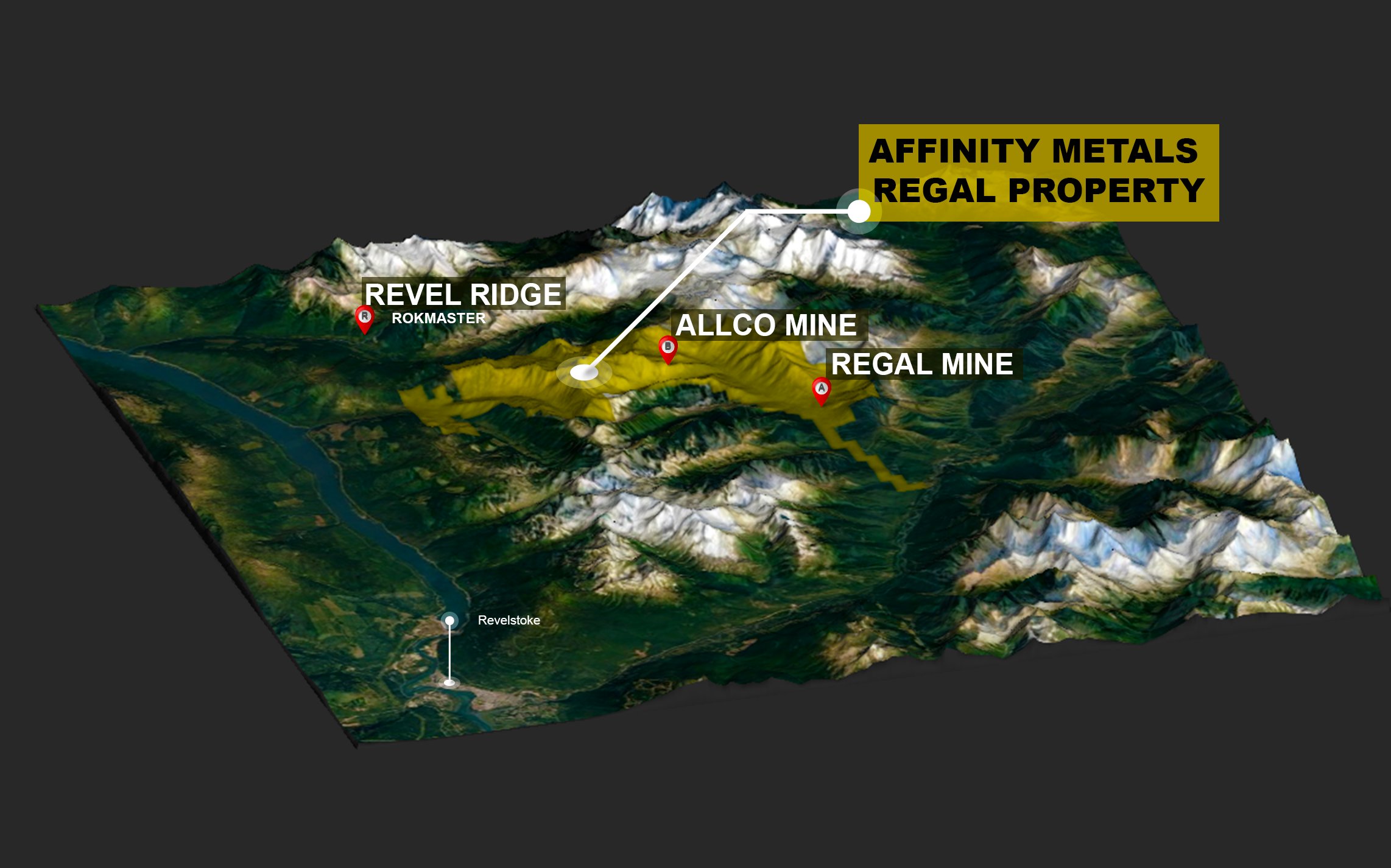 Silver Stoke:
Continued successful drilling of the 2019 high grade silver vein discovery in the Allco region of the property, with RP-20-06 Intersecting 0.75 m at 651.0 g/t Ag, 7.52 % Pb, and 3.59 % Zn (1005.82 g/t AgEq)
Silver Slam:
New discovery of high-grade silver vein with up to 1.2 g/t Au. Hole RP-20-17 intersected 304.12 g/t Ag (499.91 g/t AgEq) over 4.54 m.
Multiple drill intersections of a strata-bound massive sulphide replacement horizon, with an average intersection thickness of 1.0 m and average grades of 383.91 g/t AgEq, was intersected in holes RP-20-14 through RP-20-19.
Surface Sampling:
Grab samples indicating that polymetallic mineralization extends over 600 meters from historical Allco Adit #2, with sample B828989 returning values of 3,340 g/t Ag, >20% Pb, and 3.59 % Zn from the historical vein within the adit itself, while two samples collected 600m to the west-northwest (B828969, and B828967) returned values of 3,380 g/t Ag, >20 % Pb, and 2.12 % Zn, and 6.28 g/t Au, 1,040 g/t Ag, 10.2 % Pb, and 2.62 % Zn indicating that gold is present within the system.
The discovery of a new gold and silver showing in the northwest portion of the property which returned 5.16 g/t Au and 17.25 g/t Ag in a surface grab sample of quartz-arsenopyrite veining on trend with the Revel Ridge deposit.
Portfolio:
Windfall North Property - Quebec

Regal Project - Revelstoke BC
1. Windfall North Property - Quebec
acquired through staking, Windfall North that adjoins Osisko's world class Windfall Lake project claim holdings.

located approximately 9 km NNE from Osisko's Windfall Lake project.

The Windfall fault is interpreted to continue northeast into Affinity's Windfall North claim holdings along strike

Affinity plans to drill Windfall North
The Company holds a strategically located project in one of the world's top mining jurisdictions. The property consists of 96 mineral tenures spanning 5143.15 hectares and straddles the very prospective main lithological contact and structural trend along strike to the northeast from Osisko's rapidly growing Windfall Lake deposit within the prolific Abitibi Greenstone Belt in Quebec, Canada. The known geological considerations for the property's potential are the Windfall and Romeo faults.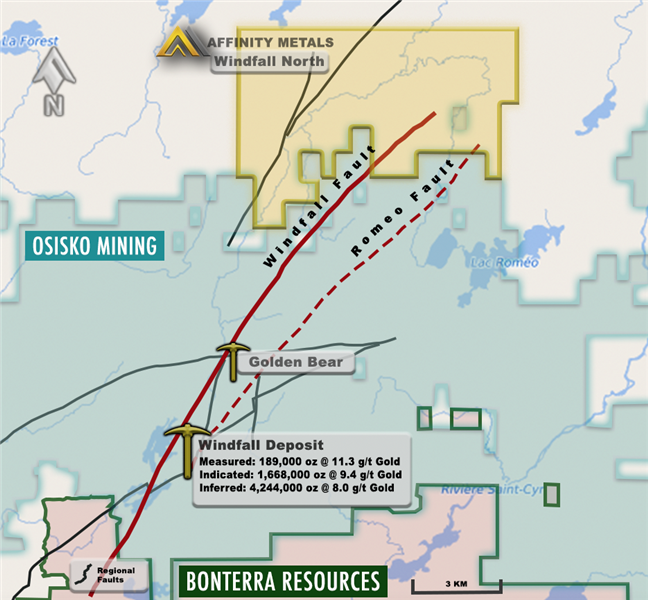 The Windfall fault, which is interpreted to represent the ductile level root feeder system that plumbs and controls the location of Osisko's Windfall deposit model, is interpreted to continue northeast into Affinity's Windfall North claim holdings along strike where it diverges into two separate structural traces and subducts beneath the granitic pluton.
Location of Windfall North Property
2. Affinity Metals Regal Property - Revelstoke BC
New Discovery Silver Slam zone with drill intersections of:
0.90 m of 1,468 g/t silver (2,354 g/t AgEq)
4.54 m of 304.12 silver (499.91 g/t AgEq)
With additional samples that indicate a silver-gold strike length well over a kilometre:
5.68 g/t gold with 4410 g/t silver
6.28 g/t gold, 1040 g/t silver (1873.90 AgEq)
3,380 g/t silver, 2.12% zinc and >20% lead
Regal Property includes

The Regal Silver mine

The Allco Silver mine

The Snowflake mine

Silver Slam

11.10m of 143.29 g/t Silver

at Allco showing

drilled in 2019


followed up in 2020 with 3000 metres drilled and awaiting assays




2 major anomalies on property have yet to be drilled that have

similar characteristics to Sullivan Mine
The Regal Project, BC:
Affinity Metals holds the 8800-hectare Regal Property just outside Revelstoke BC. The Property includes:
Substantial known reserves associated with the historic mines exist on the property, with considerable expansion potential and high potential for discovery of additional high grade gold/silver/lead/zinc deposits.
Extensive airborne geophysics survey at no cost to company of $400k outline potential major mineralized potential. Executed by Northaven Resources Corp. in 2011, Northaven was unable to conduct follow up exploration work on the property and forfeited the claims.
VTEM survey clearly defines trend and correlation between neighbouring deposits as well as 4 very clearly defined target anomalies spanning considerable distance through Affinity ground.

Two very large anomalies identified by the geophysics may be the core deposits associated with the surrounding mineralization existent on the Regal Property
The Regal mine is the most developed with

6,700 meters of horizontal

adits

, cross-cuts and raises over ten levels in place which cover a vertical distance of approximately

305 meters from levels 1 to 10

The company obtained a 5 Year Multi-Year-Area-Based (MYAB) exploration permit which includes approval for 51 drill sites.



A complete feasibility review of the Regal Silver Mine, includes;
reserve report

mine plan

processing recommendations

mill plan
Developed in the 70's to put Regal into production at $1.75 OZ Silver on a reserve of 590,000 tonnes grading 71.6 grams per tonne silver, 2.66 per cent lead, 1.26 per cent zinc, 1.1 per cent copper (non 43-101 compliant)

Authors of study found the project to be 

economically viable and recommended production

 at that time

Located within Kootenay Arc and on trend with

Huakan

International Mining Inc's J&L project located to the north, as well as

past producing Goldstream and Mastodon mines

Access from Hwy 1 near Revelstoke

Main power line located in very close proximity

Past producing mines on property may be potential indicators of a major mineralized system underneath the property

80-85% of shares outstanding held by management and close business associates
Similar characteristics to Sullivan Mine that produced:
160 million tons of ore

8 million tons of lead, 7 million tons of zinc, and 285 million

troy ounces

of

silver

worth more than $20 billion

92 years of active production

$20 Billion in metal; the Sullivan Mine closed in 2001
New Silver Discovery of 11.10m of 143.29 g/t Silver has been followed up in 2020 with 3000 metres drilled and awaiting assays
The Allco Silver Mine is situated 6.35 Kilometers north-westerly from the Snowflake/Regal Mine(s) but still part of the Affinity claim group.
A significant new silver discovery was made in the ALLCO area with drill hole #2019-10 intersecting

11.10 meters of 143.29 g/t silver

including 0.55 meters of 2612.0 g/t silver.

This intersection also carried high grade zinc and lead with some copper.

The Allco Silver Mine operated from 1936-1937 and produced 213 tonnes of concentrates containing 11 troy ounces of gold (1.55 g/t), 11,211 troy ounces of silver (1,637 g/t) and 173,159 lbs of lead (36.9%).

2020 exploration program will target not only this new silver discovery but even more importantly, the two very large anomalies identified by the geophysics that may be the core deposits associated with all this surrounding mineralization
Snowflake and Regal Silver (Stannex/Woolsey) Mines
The Snowflake and Regal Silver mines were two former producing mines that operated intermittently during the period 1936-1953. The last significant work on the property took place from 1967-1970, when Stannex Minerals completed 2,450 meters of underground development work and a feasibility study, but did not restart mining operations.
The geological area north of Revelstoke B.C is highly ranked for its discovery potential by the British Columbia Geological Society
There has been significant exploration activity in the area due the past producing Goldstream and Mastodon mines and the success of the Ruddock Creek deposit by Imperial Metals
The LJ property North West of the Regal property group has also had successful exploration

Ronni Stoeferle, Founding Affinity Advisory Board Member - Creator of "In Gold We Trust" Report
The "In Gold We Trust" report is the preeminent research report for the gold industry.
The Wall Street Journal has referred to the report as the "Gold Standard of Gold Research".
Last changed at 01-May-2023 02:27PM by AGORACOM-EB