CHANGING THE WAY INDUSTRY HANDLES WASTEWATER
Water that would otherwise be forever lost to be re-introduced into manufacturing operations, creating a strong ROI's and dramatically reducing their environmental impact
Forward Water Technologies Corp. Profile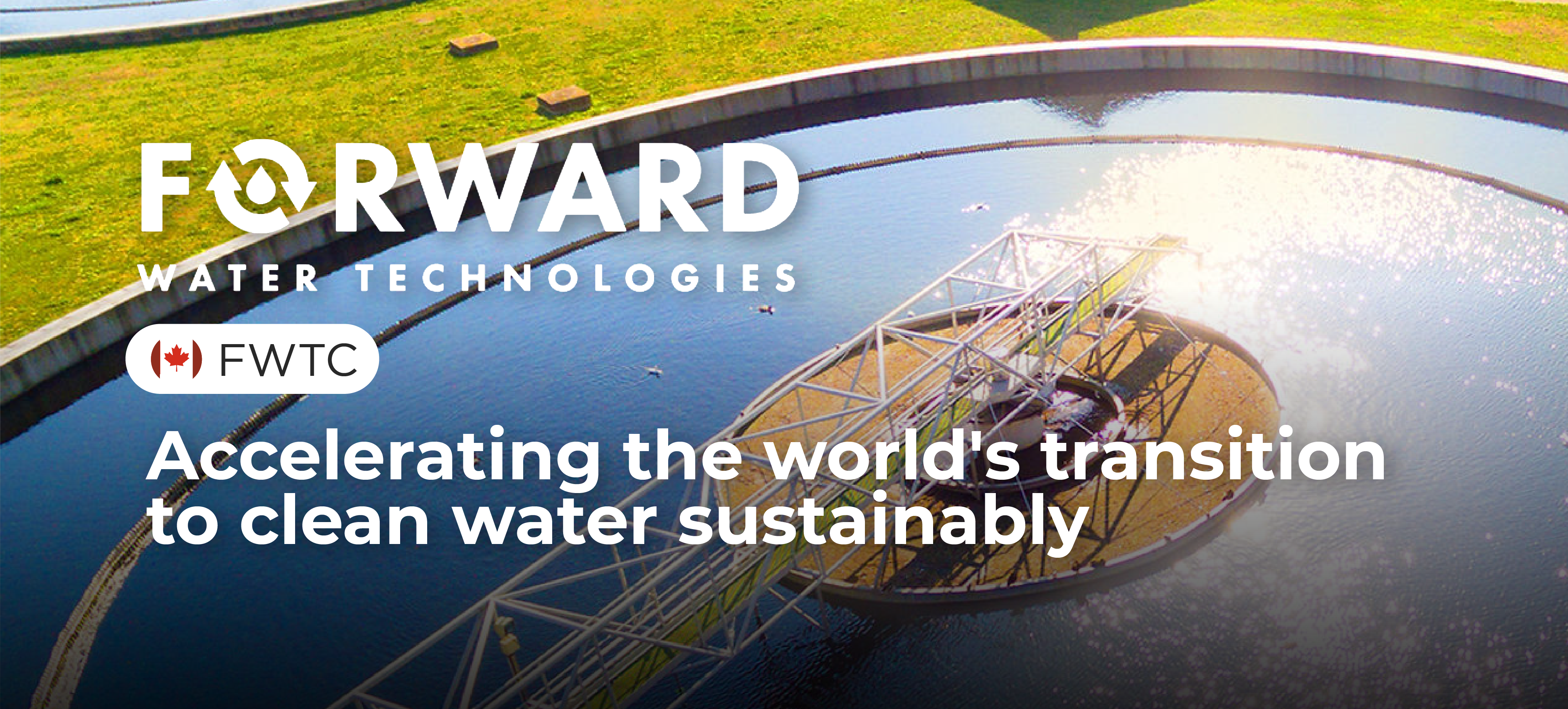 Traditional Water waste Disposal:
High unrecoverable volumes of water

Costly $$$

Bad for the environment

Large transportation needs
Solving the Problem:
FWTC allows water that would otherwise be forever lost to be re-introduced into manufacturing operations, creating a strong return on investment for clients while dramatically reducing their environmental impact.
The Results
Recent Releases : Forward Water Technologies Announces Third Quarter 2021 Financial Results
Highlights:
Low-cost wastewater treatment process

The clean water that has been extracted from the waste stream has the chemical package readily removed by conversion into gases which are easily removed for re-use.

The technology has been proven at a commercial scale

The solution can be deployed in several industries for water reuse/recycling

Proven management team

Operation in India underway

Ability to resell the water for consumption

Not possible in North America

This will allow companies with bottlenecked water usage to expand production as they can reuse the water using FWTC systems.

Save Money

Reduce Carbon Footprint

Recycled and Reusable

Valuable Resource

Article of Trail Success: https://portxl.org/alumni-feature/major-wastewater-treatment-breakthrough/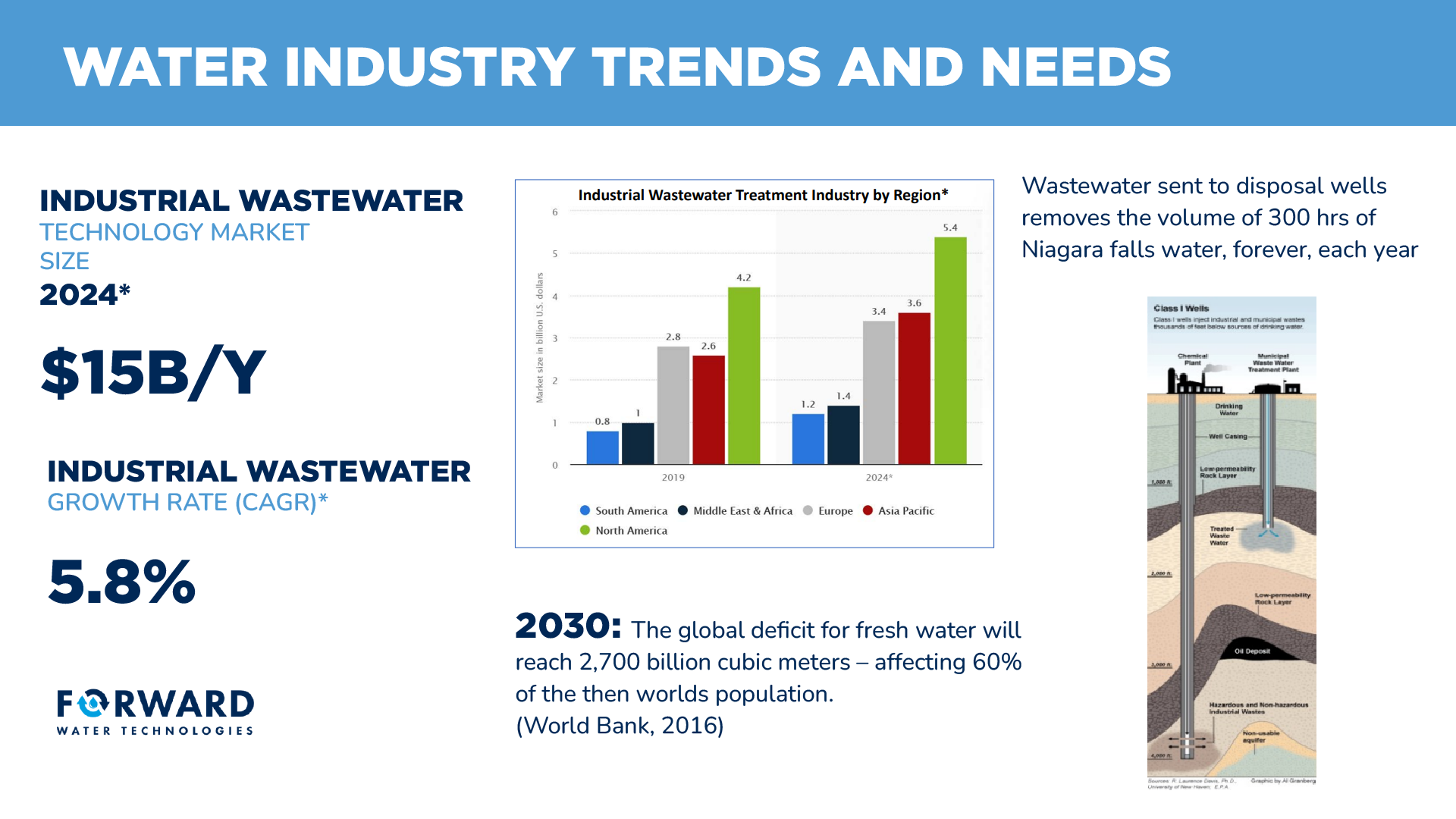 Lithium In Water!
The global lithium market size was valued at USD 6.83 billion in 2021 and is expected to expand at a compound annual growth rate of 12.0% from 2022 to 2030.
Electrification of vehicles is projected to attract a significant volume of lithium-ion batteries, thus anticipated to drive the market over the forecast period. The automotive application segment is expected to witness substantial growth over the forecast period, driven by stringent regulations for ICE automakers imposed by government bodies to reduce carbon dioxide emissions from vehicles.
This has shifted the interest of automakers toward producing EVs, which is anticipated to benefit the demand for lithium and related products. Government subsidies for EVs, along with investments in this space, are likely to act as an additional booster to the growth of the market.
Brine mining is the isolation of valuable materials from naturally occurring mineral solutions in aquifers or similar underground deposits. These materials include in-demand rare earth elements and other metals such as lithium. However, these brines often have very low levels of these valuable materials and require significant concentration to enable them to be economically retrieved. Today, this is usually done using solar or forced thermal evaporation, both of which have high energy costs and long processing times. In addition, traditional methods have proven to have detrimental effects on the environment.
$FWTC low energy forward osmosis process can concentrate the valuable materials from these brines with much greater efficiency and at a lower cost.
The clean water extracted in the process can be also re-used, sent to replenish the aquifer source, or discharged to surface for agricultural purposes.

This is a significant advantage compared to incumbent approaches.

Recent studies in FWT's labs using real world brines have shown that highly effective concentration using the Company's forward osmosis process can be readily achieved in the lithium sector.

In many of the test cases conducted by $FWTC, over 90% of the water has been removed from the brines.

The reduction of water led to more than a 10 times increase in lithium concentration.
Forward Water recently announced a partnership with Aquaporin.
Why is this significant?

Aquaporin has invested $70,000,000 in R&D before going public on the Denmark NASDAQ … and has Nobel Peace Prize winning pedigree.

Forward Water will sell Aquaporin's unique biomimetic forward osmosis membranes for applications associated with lithium mining and extraction and water management within the Oil & Gas industry.
Lithium Updates:
- Forward Water Technologies Announces Engagement Contract with Cornish Lithium
Last changed at 21-Feb-2023 12:49PM by AGORACOM-AC