Developing Processes For The Low-Cost Manufacturing Of High Purity Silicon Metals For Next-Generation Lithium-ion Batteries
Delivered First Batch of Silicon Material Samples to World-Leading High-Performance Material Company

HPQ Silicon Resources Inc. (TSX-V: HPQ) is a Canadian producer of Innovative Silicon Solutions, based in Montreal, building a portfolio of unique high value specialty silicon products needed for the coming RER along with 2 world renowned technology partners.
high purity silicon metal

spherical silicon nanopowders and nanowires

porous silicon (Si) wafers and porous silicon (Si) powders

HPQ NANO Receives First Order for Spherical Nano Silicon Material from Major Automobile Manufacturer

NDA with at least 2 battery players

Pyrogenesis Canada (a global leader in plasma torch technologies) =

2 reactors

PUREVAP Quartz Reduction Reactors (QRR) to be Commissioned in Q4 2021

An innovative process (patent pending), which will permit the one-step transformation of quartz (SiO 2 ) into high purity silicon (Si) at reduced costs, energy input, and carbon footprint.
HIGHLIGHTS:
GEN3 PUREVAP™ QRR Pilot Plant: Process Testing Moving Forward on Schedule
TEST SERIES #1: BATCH TESTING THE REACTOR
In Q4 2022, a dynamic blank test, part of the startup of the Pilot Plant and two process improvement tests part of test series #1, were completed. These tests where very successful, producing silicon materials and yielding important data on the operation of the system

TEST SERIES #2: REACTOR UNDER SEMI-CONTINUOUS BATCH PRODUCTION
Following a first successful silicon pour, Series #2 will commence with the objective of improving silicon material production yield. The GEN3 QRR system will be operated in a semi-continuous batch process.
TEST SERIES #3: SEMI-CONTINOUS PRODUCTION AND PURITY UPGRADE
Series #3 will focus on operating the system on a non-stop production basis. While this is ongoing, improvement tests will be performed aimed at ensuring the recovered material attains battery grade silicon purity.
CEO On Project for the Development of Silicon-based Anode Materials for Lithium-ion Batteries:

CEO On Evaluating a Low-cost and Environmentally Friendly Plasma Based Process to Manufacture Fumed Silica: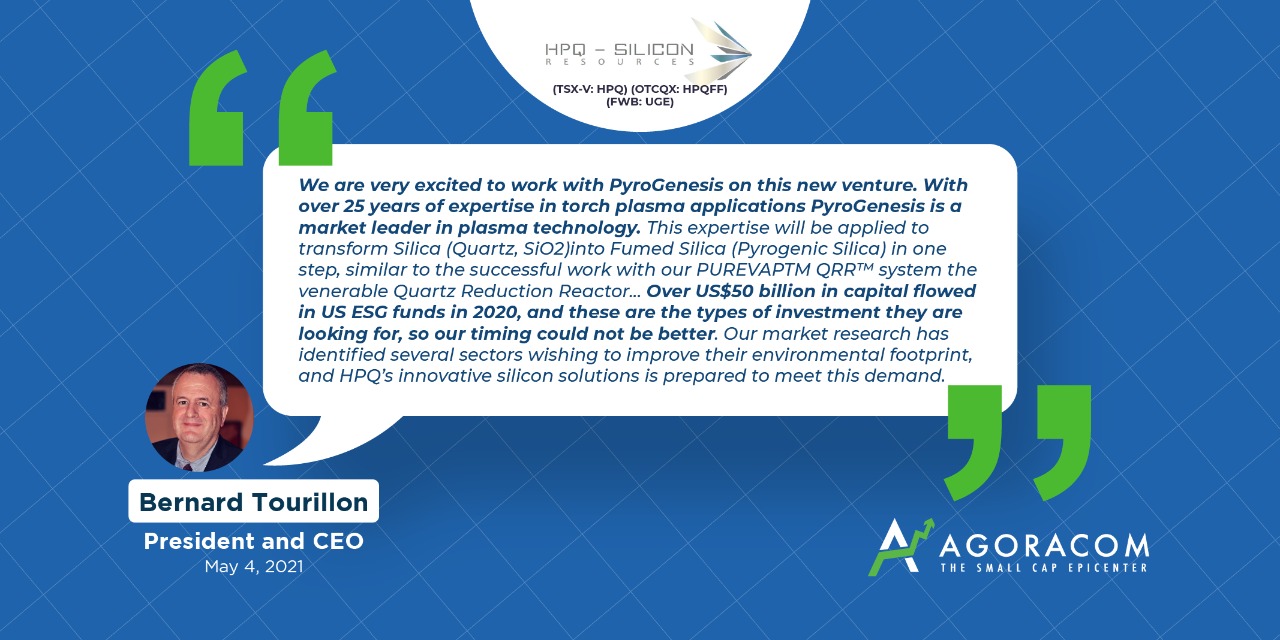 Gen1 PUREVAP TM NSiR test bed , is a batch process system with an originally targeted design output production rate of 30 kg/month of nano silicon powders.
The Gen1 NSiR recently achieved a production rate equivalent to 50 kg/month of nano powders, a result that exceeded the design output by 67%. The significance of this is twofold:
Expectation of greater throughput than originally planned for the commercial tests,
Expectation of reduced unit costs and production costs as a result of increased throughput.
Phase 1 of the PUREVAP TM Nano Silicon Reactor ("NSiR") development program has reached the commissioning stage, with the Gen1 PUREVAP TM NSiR now ready to start producing Silicon nano materials.
"The announcement today is indeed a major milestone and we are proud at having played a key role in this accomplishment. We are all extremely excited to have the Nano Reactor up and running, on schedule and on budget, particularly during these trying times." said P. Peter Pascali CEO and Chairman of PyroGenesis Canada Inc.
Despite strong research and massive investment in Silicon material for batteries , current manufacturing processes are simply not scalable or commercially viable.
With a capability of producing tailor made silicon materials within a wide range (from < 0.20 µm up to 5 µm), the PUREVAP TM NSiR represents a game changing leap forward in resolving the issues of commercial viability and scalability.
EBH

2

SYSTEMS SA HAS DEVELOP AN EXTREMELY EFFICIENT PROCESS TO PRODUCE GREEN HYDROGEN


EBH 2 is a Swiss company that possesses a proprietary low-cost electrolysis technology that can, extremely efficiently, extract from virtually any water source including salt water, Green Hydrogen. EBH 2 Green Hydrogen Reactors ("EBH 2 GHR") are scalable, adaptable and can produce, on demand, the quantities of Green Hydrogen fuel necessary to power numerous applications from various modes of land and sea transport to single home dwellings, district wide power generation and large-scale industrial applications.

GREEN HYDROGEN A TRILLION $ ADDRESSABLE MARKET IN SEARCH OF A TECHNOLOGY LIKE EBH

2

GHR


While deploying at scale Green Hydrogen could provide up to 24% of the world energy needs by 2050, cutting Greenhouse Gas ("GHG") emissions by around a third and generating direct annual revenues of US$ 2,5 trillion 1 , currently available processes of producing Green Hydrogen from renewable energies cost about US$5 per kilogram, giving Green Hydrogen a cost disadvantage compared to hydrogen produced using fossil fuels (Grey and Blue Hydrogen) which have a US$1 per kilogram cost 2

WORKING TOGETHER TO COMMERCIALISE EBH

2

GREEN HYDROGEN REACTORS TECHNOLOGIES


After many years of development, EBH 2 now has a EBH 2 GHR model ready for commercial deployment, a system that can produce continually the Green Hydrogen fuel necessary to power a 1 Megawatt per week generator, an electricity production capacity sufficient to power a typical three (3) bedroom suburban house. The potential cost and GHG reduction benefits could readily replace solar panels or standby generators for homeowners.
COMMISSIONING OF SYSTEM ADVANCING, START OF REACTOR OPERATIONS SCHEDULE FOR Q1 2022
ONE STEP CLOSER TO VALIDATING

PUREVAP TM QRR

GAME CHANGING ADVANTAGES


The PUREVAP TM QRR is an innovative process, which permits the one-step transformation of quartz (SiO 2 ) into high purity silicon metal (from 99.5% to 99.99% Si) at reduced costs, energy input, and carbon footprint. This game changing advantage means that the PUREVAP TM QRR process not only produces a higher purity silicon material than traditional processes, but it does not require the extremely pure feedstock needed by conventional processes. In fact, the process only requires 4.5 MT of raw material to make 1 MT of Silicon, versus the 6 MT required by conventional processes, a 25% reduction which potentially allows a 20% cash cost advantage versus the lowest cost traditional Silicon producer 1 .

Si MARKET IN DEFICIT, PRICES SOARING, NEW GREENFIELD DEVELOPMENTS NEEDED

2
WHY HPQ SILICON?
In collaboration with world class technology partners:
HPQ building a portfolio of unique high value specialty silicon products.
HPQ GEN3 PUREVAP TM QRR PILOT PLANT R&D TESTING PROGRAM ADVANCING ON SCHEDULE

The GEN3 PUREVAP TM QRR Pilot plant is a first-of-its-kind, state of the art prototype comprised of multiple systems that must operate under harsh conditions, extremely high temperatures and under vacuum. With the systems integration now completed, the next milestones in PyroGenesis' meticulous approach are:
a) Reactor start-up, a duration of about one (1) month will be allocated to this phase,
b) Four (4) process improvement tests, a duration of about two (2) months will be allocated to this phase, and
c) Operating the GEN3 QRR continuously, with non-stop production, during the remaining time.
As with all R&D projects, particularly with new process technology, the timeline is subject to change. PyroGenesis is confident that the program will allow HPQ to validate and quantify the previously completed GEN1 and GEN2 PUREVAP TM QRR testing phase results:
Produce Silicon (Si) material of higher purity than any traditional processes, in a single step 1 ,
That it can do so from raw material sources without the need for extremely pure feedstock as required by conventional processes 2 ,
That it only requires 4.5 MT of raw material to make 1 MT of Silicon versus the 6 MT required by conventional processes 2 , a 25% reduction,
That it can do so at a lower cost advantage versus all traditional Silicon producers 2 .
Furthermore, once process improvement tests start (see point b above), HPQ will commence:
Using the Si produced for downstream testing and production of HPQ high-value-add products,
Providing samples to potential off-takers to allow for product customization,
Planning the deployment of commercial – scale production systems ( PUREVAP™ QRR 4.0 ) capable of producing 2,500 tonnes per year of high purity silicon material.
PUREVAPTM Nano Silicon Reactor (NSiR) with PyroGenesis Canada Inc. (TSX-V: PYR)
New proprietary process that can use different purities of silicon (Si) as feedstock, to make spherical silicon nanopowders and nanowires;
HPQ believes it can also become the lowest cost manufacturer of spherical Si nanopowders and silicon-based composites needed by manufacturers of next-generation lithium-ion batteries;
During the coming months, spherical Si nanopowders and nanowires silicon-based composite samples requested by industry participants and research institutions' will be produced using PUREVAPTM SiNR.
Commercially porous silicon (Si) wafers and porous silicon (Si) powders with Apollon Solar of France
Use their patented process and develop a capability to produce commercially porous silicon (Si) wafers and porous silicon (Si) powders;
Collaboration will allow HPQ to become the lowest cost producer of porous silicon wafers for all-solid -state batteries and porous silicon powders for Li-ion batteries;
Develop the hydrogen generation potential of Silicon nanopowders for usage with the GennaoTM system;
Commercialize, exclusively in Canada, and non-exclusive in the U.S.A., the GennaoTM H2 system and the chemical powders required for the hydrolysis production of Hydrogen.
HPQ Receives its First Mini-Generator Set Based on Clean Hydrogen Produced by Simply Combining Water and a Powder Bag
Tesla To Revolutionize Use Of Silicon In Batteries: Slash Costs, Increases Range
RECENT HIGHLIGHTS
HPQ – Fast Tracking Silicon Metal Innovation!
Lab scale and proof of concept tests already completed
Fully funded pilot plant and testing program
WHY SILICON METAL (SI)
One of today's key strategic minerals (EU Commission - US DOJ)
Needed for Renewable Energy Transition
Does not exist naturally in its pure state

Expensive Carbothermic process needed to extract it from Quartz (SiO2)
Quartz is one of the most abundant minerals in the earth's crust

Silicon Demand ~ 3.8 Million MT worth ~ US$ 10 Billion by 2025 (CRU)
Silicon Demand growth to be driven by the chemical sector (2N) & EV
Demand Outlook
Standard Silicon Metal Demand (98.5 to 99.5% SI purity) going from:
2.8 Million MT Demand worth US$ 7.5 Billion in 2018
To ~ 3.8 Million MT Demand worth US$ 12 Billion in 2023
Projected Increase Driven by Chemical Sector (2N+ Si) and EV Growth
SILICON METAL PART OF EV SUPPLY CHAIN
MASSIVE ENERGY STORAGE DEMAND COMING
SILICON METAL: "THE GRAPHITE KILLER FOR LITHIUM-ION BATTERIES"
Billions pouring into R&D and Gigafactories
Impact on raw Battery Materials demand massive
Presently Graphite, a low energy density material is the principal ingredient in Lithium-ion Batteries
CEO RECENT INTERVIEW
For further information contact
Bernard J. Tourillon, Chairman and CEO Tel (514) 907-1011
Patrick Levasseur, President and COO Tel: (514) 262-9239
www.HPQSilicon.com
12 Month Stock Chart
Last changed at 09-Aug-2023 01:29PM by AGORACOM