Kontrol BioCloud - a Safe Space Technology™
COVID-19 Detection Technology Receives Positive Lab Results for Live COVID-19 Testing
Kontrol Technologies Corp. Profile
KNR:NEO / KNRLF:OTCQB / 1k8:Frankfurt
Kontrol BioCloud a Safe Space Technology™
Financial Highlights
Revenues for the second quarter of 2021 were

$4.2 million

, an increase of 83% from the same quarter in the prior year
Revenues for the six months ended

June 30, 2021

, were

$7.5 million

, up 49% over the same period in the prior year
Kontrol BioCloud completes successful pilots, adds new distribution partner
Successful pilot with Rowing Canada Aviron
Completed a successful pilot using multiple BioCloud units in various training locations.
Data from the BioCloud operation mirrored the independent PCR testing completed over the duration of the pilot.
Middle East Pilot
Following initial delays due to previously announced supply chain issues, Kontrol BioCloud commenced its operational pilot in the Middle East.
To date BioCloud has sampled ambient air exposed to by more than 300 individuals in a medical screening facility. Current progress of the pilot has demonstrated successful collection of human RNA through real-time air sampling and monitoring applications.
Independent PCR testing provided through the pilot partner has validated the samples collected.
Kontrol is working with its pilot partner in the region to gain access to a Covid hospice or hospital for the next phase of the pilot.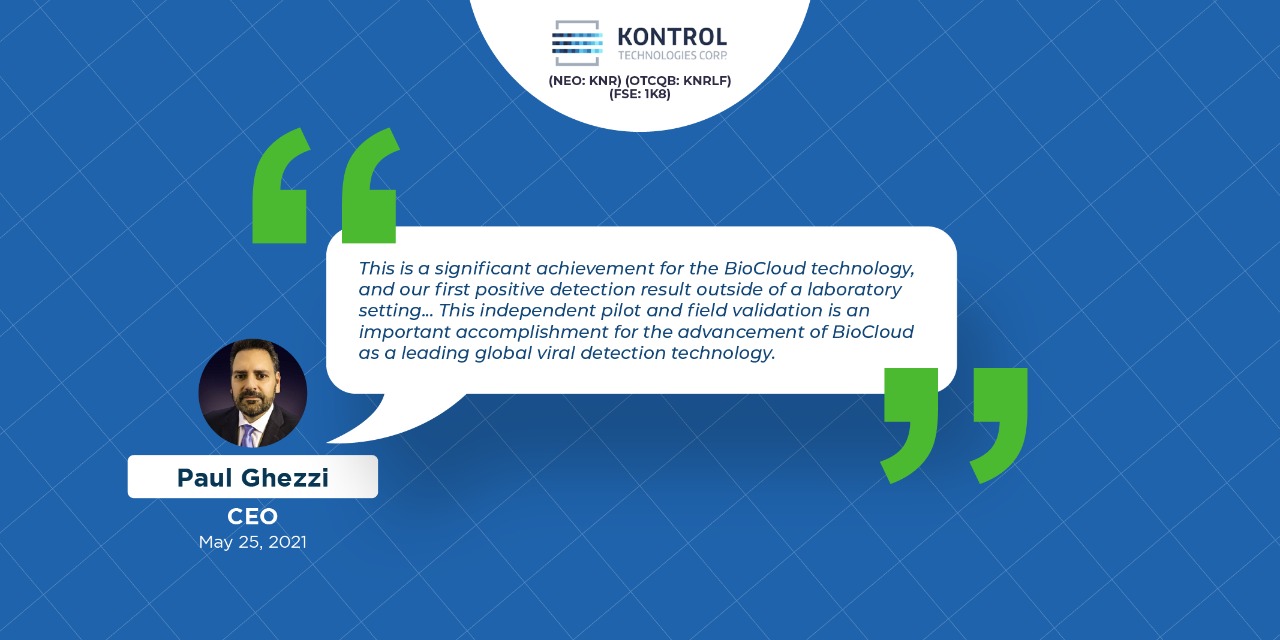 Canadian Hospital Pilot
Kontrol BioCloud will launch its first large Canadian hospital pilot in Q2, 2021 and provide an update following the completion of the pilot.
New Distribution
Recently added a new distribution partner in India on a non-exclusive basis.
The Company continues to focus on adding quality distribution partners to grow its global distribution platform.
U.S. Lease Financing
Company has commenced discussions for a similar U.S. based lease financing program for BioCloud sales in the U.S.
Monthly Viral Detection as a service versus Capex
BioCloud distributors have expressed the interest in providing customers with a choice of an initial purchase versus an ongoing monthly payment.
With a small initial deposit and a monthly payment of approximately $200 customers will have a flexible financing solution to add Kontrol BioCloud to their business and operations.
At the end of the finance term customers will have a nominal buy-out.
Data and technology advancements
Each BioCloud unit in operation logs thousands of data points daily in real-time.
Through this data collection and monitoring Kontrol has been able to design advancements to the BioCloud technology.
These advancements are considered fine-tuning and adaptive without requiring hardware changes.
An important advancement was achieved by fine tuning laser optics and new a new chemical bonding formulation.
Based on laboratory testing, the new chemical bonding formulation has shown an increase of up to 10 times greater resolution than was previously capable.
AS FEATURED ON:
Early tests suggest new Canadian technology could detect the coronavirus in the air Read More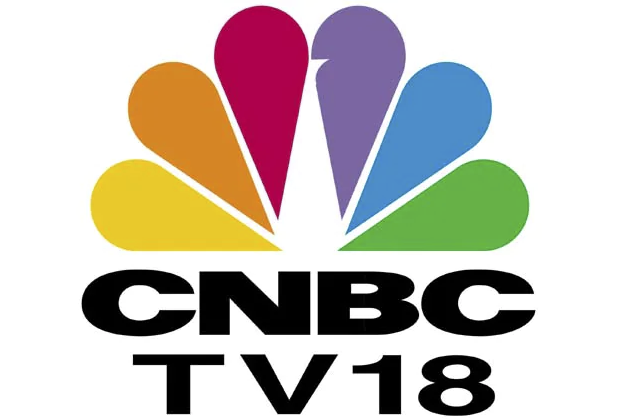 Canadian firm develops tech to 'detect COVID-19 in the air'; stock doubles Read More
Received positive lab results for BioCloud testing against the live virus that causes COVID-19
This positive result follows two successful tests against the dormant SARS-CoV-2 virus
"This technology can improve our surveillance of SARS-CoV-2 by monitoring air quality in
multiple settings."
Dr. Jimmy D. Dikeakos, Ph.D
"This technology will allow for measurement of many different viruses, bacteria, and fungi beyond the immediate need for the virus that causes COVID-19."
Dr. David Heinrichs, Ph.D
Announced that it has received approval for an initial government grant of $50,000 from the National Research Council of Canada to accelerate its new Covid-19 testing technology, the Kontrol BioCloud® analyzer
Developing a new technology designed to detect and alert for COVID-19, in real-time, through rapid on-site air sampling and detection of aerosol and droplet encapsulated viruses in indoor and outdoor environments
Kontrol has developed its initial prototype and has commenced lab testing of the detection chamber
The lab will spend the next 4 weeks testing the detection chamber and the applicable interactions with COVID-19
If Google NEST is the leader in smart home technology, Kontrol Technologies is the small cap leader in smart building technology
Established Blue Chip Customer Base includes:

Beyond Meat

Oxford Properties

Brookfield Asset Management

Telus

Suncor Energy

….. Many More

Signed Major Deal With Toyota (Tsusho Canada)

Targeting 200 Plants Requiring Up To $1 Million Each In Automation Retrofits

MOU With Global European HVAC OEM

Strong Revenue Growth and Recurring
Established Bluechip Customer Base
HOW DOES KONTROL ATTRACT BLUE CHIP CUSTOMERS? RESULTS

Making buildings Smarter …. in real-time.
Kontrol Energy has a simple business model: reduce its customers' overall energy costs while providing a corresponding reduction in GHG emissions.
SEEING IS BELIEVING
CASE STUDIES
Case Study - Toyota Tsusho Canada
Toyota Tsusho is the trading arm of the Toyota Group that operates a diverse set of businesses that span industrial, commercial, and consumer sector
The Toyota Tsusho joint venture has a large pipeline of 200 facilities
Each facility could be worth an average of $150,000 of recurring revenue annually, representing approximately a $30 million pipeline of recurring revenue for Kontrol in one geography – North America.
To date, the joint venture has projects underway in 5 facilities and is targeting 100 facilities by 2023
Case Study - Beyond Meat Beyond Meat (NASDAQ:BYND)
In January 2020, Kontrol Energy announced an initial US$150,000 order to provide Beyond Meat with a real-time analyzer and associated installation and monitoring services to assist in the rapid evaluation, measurement and validation of quality control of their patties and Improving manufacturing of final product
Purpose of the solution is to improve operations and lower operating costs
Beyond Meat contract represented a new market vertical with one of the world leading companies in food processing industry
The Kontrol advantage - Lower price point with lower intrusion. No wiring.
THE OPPORTUNITY

Buildings contribute up to 40% of annual GHG emissions

(Green House Gases)

Emissions legislation is forcing building owners to reduce GHG

Kontrol Energy reduces energy waste + GHG emissions

Combined, energy waste and GHG emissions represent an annual addressable market of:

$100 Billion - North America

$700 Billion - Global

Globally these problems scale the addressable market to about US $700 billion.
GROWTH INDUSTRY – PERFECT TIMING FOR KONTROL
FORECASTS
Consider some of the following forecasts:
A) Smart Building market to grow from US $43.64 billion in 2018 to US $109.48 billion by 2026, a 12.6% CAGR - Fortune Business Insights
B) Global smart building market is expected to grow at a CAGR of ~15.3% from 2019 to 2026 and reach over US $160 billion of market value by 2026 – Acumen Research and Consulting
C) Global smart building market was valued at around US $5,800 million in 2016 and is expected to reach about US$ 61,900 million by 2024 – Zion Market Research
VISION
Strategic Objective is to build $100 million + in revenues over next three years for eventual exit
THE PROBLEM
MOST BUILDINGS HAVE NO INTELLIGENCE - Leads to Energy and Emissions waste of $100 Billion annually
THE SOLUTION
INTELLIGENCE IN REAL-TIME - How? Proprietary and patented Internet of Things (IOT), Cloud and SaaS
Kontrol Energy has three high margin revenue streams:
SaaS

SaaS revenue is predictable, recurring and generally provides high margins

Services

Service revenue is also recurring revenue.

Automation/Retrofit.

R

evenue results from projects that upgrade building energy efficiency, decrease energy demand, and/or reduce GHGs
Products
PATENTED ENERGY TECHNOLOGY
SmartMax®
Can integrate with any legacy Building Automation System quickly and easily

Proprietary gateway device that Kontrol utilizes in conjunction with SmartSite® to access data from over 15 different communication protocols

SmartMax® is housed on-premises either virtualized or standalone

The device scans the network for devices that it can communicate with and provides a connection to SmartSite® to publish the data to our cloud infrastructure
Smart Lan Network
Once the installation is complete, a smart network is created

Many more capabilities can be added in the future once the network is deployed

A sensor can be placed on almost anything
SmartSite® : Cloud
Data is collected, channelled through the building's existing internet connection, and transferred to the cloud where it is analyzed and managed in real time in our SmartSite® platform

A building energy software technology designed to assist in the operation and management of:

Complex heating, ventilation, and cooling systems for factories,

Large multi-residential, commercial, and mission critical buildings.
Through comparison and analysis to over 20 Billion data points spanning more than 200 buildings, Kontrol can quickly identify inefficiencies, savings, and mission critical risk.
SmartSite® operates as a SaaS platform and is highly scalable.
SmartSite® capabilities:
Fast installation (typically 1 hour or less)
Immediate access to energy data

Secure export to Kontrol's energy management system in the cloud

Interoperability across building automation systems and HVAC equipment

Immediate visibility into energy demand and consumption
The SmartSite® platform is the basis for the strategic partnership with Toyota Tsusho to develop Smart Factory solutions and services.
Last changed at 03-Sep-2021 03:45PM by AGORACOM