Proven plasma torch processes for US military, 3D powders for aircraft engines and solar grade silicon metal for solar industry
PyroGenesis Canada Inc Profile
(PYR: TSX) (PYR: NASDAQ)
A world leader in the design, development, manufacture and commercialization of plasma atomized metal powders, environmentally friendly plasma waste-to-energy systems and clean plasma torch products.
Q2 2021 highlights:
Revenues of $8,280,572, an increase of 289% from $2,128,454 in Q2 2020,
Gross margin profit of $4,933,481 an increase of 290% from $1,266,592 in Q2 2020,
Net income from operations (not including share-based expenses) of $850,859, an increase of 329% as compared to Q2 2020,
Modified EBITDA gain of $1,090,915 compared to a loss of $265,804 in Q2 2020,
Cash and cash equivalents at June 30, 2021 of $18,076,539 (December 31, 2020: $18,104,899),
Backlog of signed contracts, at August 16, 2021, of $32.1MM,
LINES OF BUSINESS
Powder Production:
Company expects to see significant year over year improvements in 3D metal powders offering as NexGen™ facility, which incorporates all the previously disclosed benefits (increased production rates, lower capex, lower opex), is now on-line.
There are major top tier aerospace companies and OEMs, in both Europe and North America, eagerly awaiting powders from this new state-of-the-art production line
Currently in the process of supplying sample powders to them for analysis.
Of note, a major tier one global aerospace company entered into an agreement with the Company to qualify its powder, at considerable expense to the global aerospace company, with a view towards having the Company become a supplier.
Company expects that such developments will continue and will translate into significant improvements in contributions to revenue by this segment in the mid-long term.
DROSRITE™:
Company continues to aggressively explore horizontal growth opportunities.
The Company is currently bidding on an up-stream opportunity valued at approximately $40MM.
This process is plasma based, and not only reduces GHG, but seems to be cheaper than alternate technologies.
This project is located in the Middle East and is currently experiencing delays to allow the processing of government documentation to catch up with the bidding process.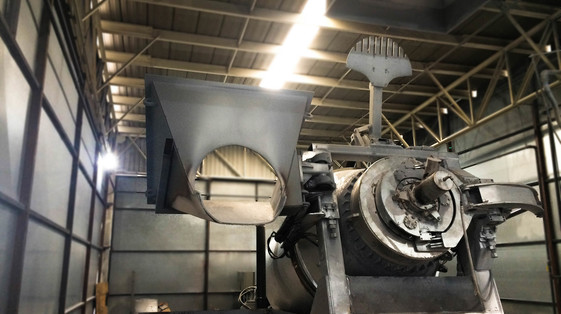 HPQ:
The goal is to continue to expand role as HPQ's technology provider for the game changing family of silicon processes which we are developing exclusively for HPQ and its wholly owned subsidiaries HPQ Nano Silicon Powders Inc and HPQ Silica Polvere Inc., namely:
The PUREVAP™ "Quartz Reduction Reactors" (QRR), an innovative process (patent pending), which should permit the one step transformation of lower purity quartz (SiO2) than any traditional processes can handle into a silicon (Si) of a higher purity level (2N-4N) that can be produced by any traditional smelter, at reduced costs, energy input, and carbon footprint.
The unique capabilities of this process could position HPQ as a leading provider of the specialized silicon material needed to propagate its considerable renewable energy potential; and
The PUREVAP™ Nano Silicon Reactor (NSiR), which, if successful, could position itself as a new proprietary low-cost process that can transform the silicon (Si) made by the PUREVAP™ QRR into the nano-silicon materials (silicon powders and silicon nanowires) sought after by energy storage, batteries, electric vehicle manufactures and clean hydrogen sectors participants.
The aim of the ongoing work is to position HPQ NANO as the first to market with a commercial scale low-cost nanoparticle production system.
A new plasma-based process that could convert Silica (Quartz, SiO2) into fumed silica (Pyrogenic Silica) in one step. This new process could be a low-cost and environmentally friendly option that combines HPQ Silicon High Purity Quartz initiatives with PyroGenesis' industry leading know-how in the development of commercial plasma processes. It is envisioned that the process will eliminate harmful chemicals presently generated by traditional methods. This new process could revolutionize the manufacturing of fumed silica, while repatriating production back to North America.
Government participation in a $5.3MM funding of the fumed silica project confirms our expectation that 2021 should be a year in which significant developments occur on all these fronts.
Chemical Warfare Destruction System:
Tests supported the Defense Advanced Research Projects Agency (DARPA) Agnostic Compact Demilitarization of Chemical Agents (ACDC) program
Successfully completed long-duration performance tests using the Company's tactical Plasma Arc Chemical Warfare Agents Destruction System ("PACWADS") using surrogate chemical warfare agent material
Far exceeded minimum requirements with over 99.9999% destruction efficiency.
PACWADS is now scheduled to go through final testing using real chemical warfare agents by the US Military).
Other Contracts:
US Military
Announced that it should be awarded a two-ship build for its PAWDS unit, for approximately $10MM
Seeking to establish a presence in the USA to, amongst other things, better serve the US Military's needs.
U.S. Navy has reached an agreement with the shipbuilder, Huntington Ingalls Industries (HII), to move forward with the purchase of two Ford-class aircraft carriers.
Torch/Equipment Sales:
PyroGenesis often considers opportunities to leverage its plasma expertise and they continue to review torch technologies which could complement existing offerings and leverage off of their unique relationships. There is nothing currently being discussed that, at this time, has a material probability of being concluded.
12 Month Stock Chart:
Last changed at 11-Nov-2021 01:26PM by AGORACOM