Proven plasma torch processes for US military, 3D powders for aircraft engines and solar grade silicon metal for solar industry
PyroGenesis Canada Inc Profile
(PYR: TSX) (PYR: NASDAQ)

Company Highlights:
Completed Contract for Specialty 3D Metal Powder; Full Payment Received
Received an additional US$325K (approx. CA $457K) under the exclusive agreement with a US based tunneling company
Payments totalling 7.5MM have already been received under the exclusive contract with Drosrite International LLC
Nominated "Materials Company of the Year" at the 3D Printing Industry Awards 2019 (2nd year in a row)
Quality management system for the production of metal powders for the Additive Manufacturing (3D Printing) industry, has been approved by one of the premier non-European aerospace companies
Clients include: U.S Air Force, U.S NAVY, Canada Natural Resources
2020 results reflect the following highlights:
Revenues of $17,775,029, an increase of 269% over $4,813,978 posted in the prior year,
Net earnings and comprehensive income of $41,768,404 an increase of $50,939,521 over 2019,
Net earnings and comprehensive income from operations (before share-based expenses) of $2.9MM during fiscal year 2020 vs ($7.9MM) posted over the same period in 2019,
Gross margin of 58%, an increase of 21% year over year,
Cash and cash equivalents at December 31, 2020 of $18,104,899 (December 31, 2019: $34,431),
Backlog of signed contracts of $30MM,
Basic Earnings per Share (EPS) of $0.28 for 2020 as compared to ($0.07) in 2019,
Total Assets at December 31, 2020 of $74.5MM (December 31, 2019: $9.6MM),
Shareholders' Equity at December 31, 2020 of $59.4MM (December 31, 2019: ($6.1MM)).
LINES OF BUSINESS
Powder Production:
Company expects to see significant year over year improvements in 3D metal powders offering as production kicks into gear by incorporating all the previously disclosed benefits (increased production rates, lower capex, lower opex) locked into our production line.
There are major top tier aerospace companies and OEMs in both Europe and North America eagerly awaiting powders from this new state of the art production line
Whereas in the past we have been primarily targeting the very demanding Aerospace industry, company has recently expanded the target market to also address the unique needs of the electric vehicles marketplace who have recently approached us with their powder needs.
DROSRITE™: Within the DROSRITE™ offering, the Company is aggressively exploring horizontal growth opportunities.
Company is currently bidding on an RFQ, valued at approx. $40MM (estimated award date: within 4 months; estimated time to completion: approx. 15 months).
Management notes that it has been very successful in the selection process to date, but does not yet consider it to be a high-probability outcome at this stage, and provides such as an example of its commitment to this strategy.
Market potential for PyroGenesis' DROSRITE™ system, from Aluminium dross alone, exceeds $400MM.
Enters the Zinc Market; first DROSRITE™ zinc paid-for-demonstration,
Second DROSRITE™ Furnace System Completed,
Embraces Tolling Strategy; Signing with multi-billion-dollar Japanese corporation to move forward to jointly toll with DROSRITE™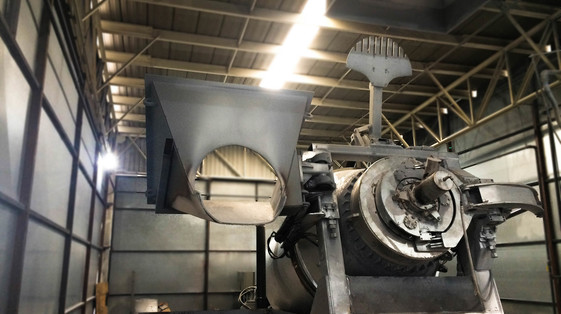 HPQ:
The goal is expanding role as HPQ technology provider for the game changing PUREVAP™ family of silicon processes which the company is developing exclusively for HPQ and its wholly owned subsidiary HPQ Nano Silicon Powders Inc.
The PUREVAP™ "Quartz Reduction Reactors" (QRR), an innovative process (patent pending), which should permit the one step transformation of lower purity quartz (SiO2) than any traditional processes can handle into a silicon (Si) of a higher purity level (2N-4N) that can be produced by any traditional smelter, at reduced costs, energy input, and carbon footprint. The unique capabilities of this process could position HPQ as a leading provider of the specialized silicon material needed to propagate its considerable renewable energy potential; and
The PUREVAP™ Nano Silicon Reactor (NSiR), which, if successful, could position itself as a new proprietary low-cost process that can transform the silicon (Si) made by the PUREVAP™ QRR into the nano-silicon materials (spherical silicon powders and silicon nanowires) sought after by energy storage, batteries, electric vehicle manufactures and clean hydrogen sectors participants. The aim of the ongoing work is to position HPQ NANO as the first to market with a commercial scale low-cost nanoparticle production system.
Chemical Warfare Destruction System:
Tests supported the Defense Advanced Research Projects Agency (DARPA) Agnostic Compact Demilitarization of Chemical Agents (ACDC) program
Successfully completed long-duration performance tests using the Company's tactical Plasma Arc Chemical Warfare Agents Destruction System ("PACWADS") using surrogate chemical warfare agent material
Far exceeded minimum requirements with over 99.9999% destruction efficiency.
PACWADS is now scheduled to go through final testing using real chemical warfare agents by the US Military).
Other Contracts:
US Military
Announced that it should be awarded a two-ship build for its PAWDS unit, for approximately $10MM
Seeking to establish a presence in the USA to, amongst other things, better serve the US Military's needs.
U.S. Navy has reached an agreement with the shipbuilder, Huntington Ingalls Industries (HII), to move forward with the purchase of two Ford-class aircraft carriers.
Torch/Equipment Sales:
The company expects this offering to be significantly impacted by continued developments in the iron ore pelletization industry, where serious consideration is being given to replacing the fossil fuel burners, currently being used throughout the industry, with PyroGenesis' proprietary plasma torches, in an effort to reduce their carbon footprint.
To date, everything is proceeding as expected. Initial discussions have evolved into confirmation stages which typically consist of a computer simulation followed by a small torch order. These confirmation stages are expected, if successful, to result with a roll-out program to replace fossil fuel burners with PyroGenesis' plasma torches in the iron ore pelletization industry, in which PyroGenesis is patent protected.
PyroGenesis is proactively targeting other industries which are experiencing significant pressure to reduce GHGs, and which utilize fossil fuel burners as well.
Separately, the Company also offers plasma torches to niche markets where there is a high probability of on-going sales from successful implementation. One such example is the previously announced contract with a small company to produce a plasma torch ideal for tunnelling. PyroGenesis is currently re-evaluating its relationship with respect to this opportunity as there may be evidence that the real plasma-based tunnelling opportunity could lie outside of the scope of the current agreement.
As sales of PyroGenesis' plasma torches increase, the Company will also benefit from providing proprietary spare parts from which the Company expects to generate significant recurring revenue, thus complementing the Company's long-term strategy to build upon a recuring revenue model.
12 Month Stock Chart:
Last changed at 24-May-2021 02:52PM by AGORACOM